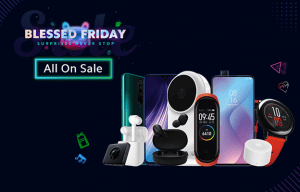 Finally the entire product line of blessed Friday is live on mistore.pk, so far Blessed Friday sale is growing by leaps and bounds. The Blessed Friday sale is on the verge of its end now, and with this every category is now live.
The biggest sale of Pakistan will see its end with the emergence of 3rd December 2019.
The sale is segregated into 4 major categories and the categories are:
Smartphone and audio
Fitness
Lifestyle
Cameras and new arrivals
In 1st category Xiaomi is offering discounts on smartphones and audio products.
In 2nd and 3rd category Xiaomi is offering discounts on lifestyle and fitness products.
In 4th and final category Xiaomi has decided to feature Mi cameras and new arrivals.
Mi band 4:
The Xiaomi Mi band 4 has a much wider display, it has a full color touch display with screen resolution. It is a big change as previous Mi Band has monochrome display. The color display is a game changer for the Mi Band especially right now that most of the wearables (smartband) has a color display.
The smartband is packed with different sensors, it has a heart rate monitor, ADI ultra low-acceleration sensor. It is precise with accurate sensor to keep track of your health stats. It is connected to your smartphone via Bluetooth V5.0 and compatible Android 4.4 and iOS 9.0. There is also a version with NFC support.
Mi led bulb:
Light color has a profound effect on the human senses. It can stimulate the nervous system, and it has a significant influence on emotional and psychological states. Different color temperatures can also help improve the quality of people's lives. Slowly increasing the intensity of lighting to a certain point before you wake up can improve your mood and make getting up easier. But lighting can do even more than this; it can bring magic to your life.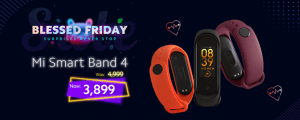 Mi sphere camera kit:
The Xiaomi Mi Sphere 360 can capture spherical video at up to 3.5K/30p using its twin fisheye lenses and 16MP Sony sensors. It can capture up to 75 minutes of 3.5K video or 90 minutes at lower resolutions using its built-in battery. It has "6-axis" electronic IS, IP67 weather-sealing and a microSD card.
Mi A3:
Xiaomi Mi A3 smartphone runs on Android v9.0 (Pie) operating system. The phone is powered by Octa core (2 GHz, Quad core, Kryo 260 + 1.8 GHz, Quad core, Kryo 260) processor. It runs on the Qualcomm Snapdragon 665 Chipset. It has 4 GB RAM and 64 GB internal storage.
Patron
All the products come with the exceptional warranty of smart link technologies. Smartlink technology is the official partner of Xiaomi in Pakistan.