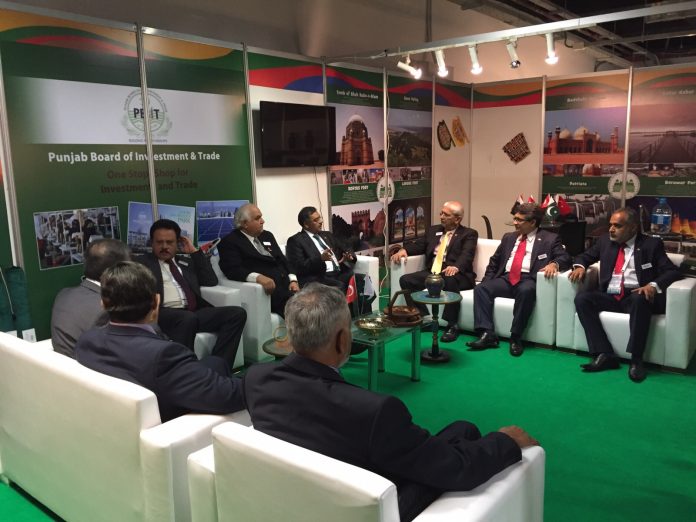 About 22 leading Pakistani companies have exhibited their products at the 3rd TUMSIAD Industry and Trade Fair (TUMEXPO), being held in Istanbul Congress Centre from 22-25 October 2015. The All Industrialist's and Businessmen's Association of Turkey (TUMSIAD) has organized the event which was inaugurated by Turkish President Mr. Recep Tayyip Erdogan this morning.
"Pakistan Pavilion" setup at the exhibition includes products in diverse sectors such as textiles, garments, gems, jewelry, handicrafts, manufacturing, sports goods, surgical instruments, tourism and food sectors.
Punjab Board of Investment & Trade (PBIT), Embassy of Pakistan in Ankara and the Consulate General of Pakistan in Istanbul initiated necessary preparations to set up Pakistan Pavilion at TUMEXPO 2015. Pakistan delegation is led by Ch Muhammad Shafique, Minister for Industries, Government of the Punjab and includes Mr. Sohail Mahmood, Ambassador of Pakistan to Turkey, Dr. Yusuf Junaid, Consul General Istanbul, Mr. Abdul Basit, Chairman PBIT, Mr. Habib Ur Rehman Gilani, Chief Executive of PBIT, Mr. Bilal Ahmad Butt, Managing Director of Punjab Small Industries Corporation and Mr. Muhammad Ilyas Ghauri, Chief Executive of Pakistan Agriculture Meat Company. Pakistan delegation also includes members of leading Chambers of Commerce and Industry as well as Trade Associations in Pakistan.
In recent years, Pakistan's bilateral relations with Turkey have grown into a strategic partnership characterized by deeper economic and commercial cooperation. Turkey has also emerged as a key partner of Pakistan in a number of infrastructure projects.
Mr. Yasar Dogan, Chairman of TUMSIAD earlier visited Lahore in September 2015 and extended an invitation to the Chief Minister, Punjab, for sending a large delegation from Pakistan. This initiative has brought together over 100 businesses from Pakistan to extend partnerships and develop collaborations with the Turkish businesses.