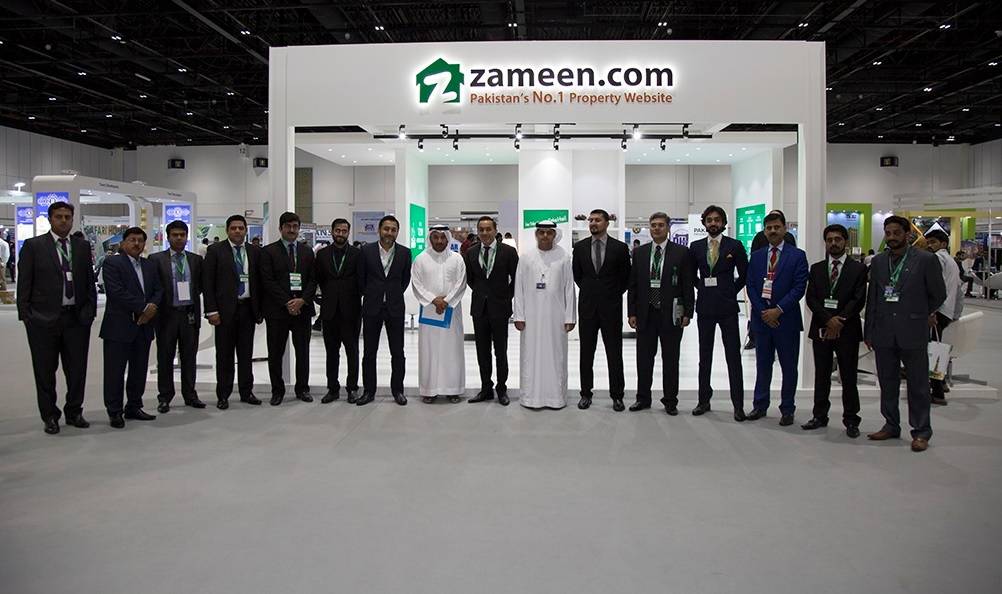 Pakistan Property Show Dubai aims for a bigger return in 2018
 Pakistan Property Show Dubai aims for a bigger return in 2018
Lahore, October 25, 2017: The Pakistan Property Show will return to Dubai with a greater number of exhibitors, a larger real estate inventory and a bigger space to accommodate even more visitors at Dubai World Trade Centre in 2018. This was today stated by the management of Zameen.com on conclusion of a highly successful show that attracted over fourteen thousand visitors on Oct.20-21 at Za'abeel Hall 5 at the prestigious Dubai World Trade Centre. Pakistan Property Show Dubai has set a new benchmark as the first ever and most attended exclusive Pakistani property show in Dubai.
The show was inaugurated by Chief Guest H.E. Sultan Butti Bin Mejren, Director General of Dubai Land Department on October 20th. His Excellency, along with CEO Zameen.com Mr. Zeeshan Ali Khan took a round of the exhibition area and met with exhibitors.
His Royal Highness Sheikh Abdul Aziz Bin Jamal Al Qasimi of the ruling family of Sharjah also graced Pakistan Property Show on the second day. He was briefed by Zameen.com management on the event's success.
H.E. Mr. Moazzam Ahmad Khan, Ambassador of the Islamic Republic of Pakistan to the UAE attended the event to extend his full support. He appreciated Zameen.com's efforts in bringing Pakistani realty to global stage and in providing much needed service to overseas Pakistani community at their doorsteps. He was accompanied by Mr. Kamran Khan, Commercial Attaché, Embassy of Pakistan, Abu Dhabi and Dr. Nasir Khan, Commercial Counsellor, Consulate-General of Pakistan, Dubai.
A celebrity entry was made by a star player of Pakistan Cricket Mr. Mohammad Hafeez who visited the exhibition hall.
Some 50 real estate developers and agencies brought forth their best offerings including both residential and commercial properties suited to the varying needs of overseas Pakistani community. Properties from Peshawar, Islamabad, Lahore, Faisalabad, Sargodha, Karachi, Gwadar and places in between were brought to the doorsteps of potential home owners and investors. Thousands of leads were generated and commitments made paving the way for more remittance inflows to Pakistan. Exhibitors were very pleased with the heavy visitor inflow and expressed the desire to participate with bigger teams to better service all the visitors.
Commenting on the success of the show the CEO Zameen.com Mr. Zeeshan Ali Khan said, "Pakistan First – remains our foremost agenda at Zameen.com. I thank all the dignitaries, exhibitors and visitors for making this show a tremendous success. The fourteen thousand visitors at the Pakistan Property Show are proof that Pakistani realty has a major role to play in attracting overseas remittances and Foreign Direct Investment (FDI). It is also an endorsement in favor of Pakistan Property Show as their realty investment platform of choice. We aim to come back to Dubai with a bigger show in 2018 in-sha-Allah."Pakistan Property Show is a bridge to tap into the estimated US $700 billion Pakistani realty market. Overseas Pakistani worker remittances amount to US $19.3 billion. Pakistan Property Show will help reduce the deficit by increasing remittance volume and by encouraging foreign direct investment by high net worth investors, investment companies, international developers and brokerage firms." He added.
Mr. Haider Ali Khan, the CEO of Bayut.com – the most influential property portal in the UAE – said, "UAE is home to 1.5 million overseas Pakistanis. The economic significance of these numbers is the US $4.33 billion remittances per year that makes up for 22.367% of the yearly remittances from overseas Pakistanis globally.The only missing part of the equation was a platform that provides secure access to the Pakistani realty across Pakistan – Pakistan Property Show Dubai has completed the equation."
Mr. Imran Ali Khan, the CEO of Emerging Markets Property Group (EMPG), stated, "EMPG's group companies with Bayut.com in UAE, Zameen.com in Pakistan and bproperty.com in Bangladesh are helping the regional multi-trillion-dollar real estate industry in realizing its full potential. EMPG has successfully innovated a unique regional framework for collective economic growth that we hope will guide regional markets in other parts of the world. Pakistan Property Show will serve as a model for other countries to follow."