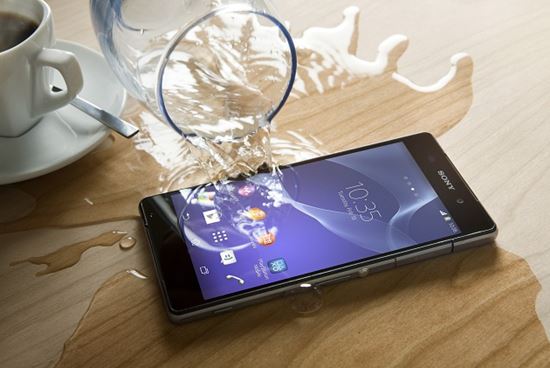 Water resistant feature is favored by many people on a smartphone but not the phone is also equipped with this feature. Let's go through the water against the best smartphone available today.
Waterproof feature seemed only to the phones of customers "workhorse" with the concept before, but now this feature has been fitted in many high-end smartphones. Leading mobile manufacturers like Samsung, Sony are already grasping the practical needs of users in the launch of the product is resistant to water.Below is a list of the best waterproof smartphone available today.
Sony Xperia Z3
Saying Waterproof Smartphone can not fail to mention the family of Sony products including the Sony Xperia Z3 is a typical representative.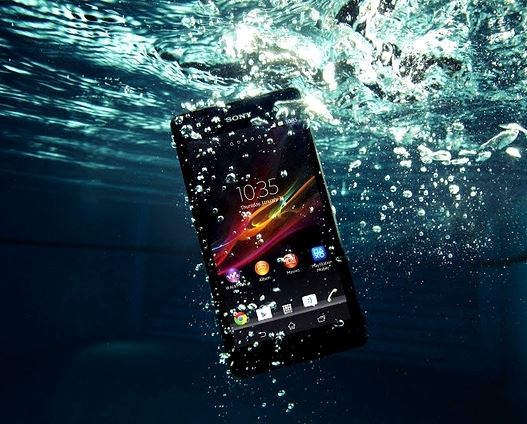 Z3 own a beautifully designed, ultra slim and class, worthy of a jewel for its owner and not merely a handset. Xperia Z3 toughened glass paneled front, 5.2 inch screen, the edges are beveled rounded edges and not too easy to hold and fits in the palm. Thanks to the metal frame should Z3 although thin but still very solid. The senior Smartphone Sony 20.7 MP camera equipped brings a touch of professional photography, film quality hyperbolous: 4K.
But the most remarkable point where we have to mention here that water resistance of Z3. Product standards IP 58 waterproof, ie machine can soak in water for 30 minutes under 1.5 meters depth. In fact the machine can drench a lot longer, but we should not give Z3 "Extra" salt water for extended periods.Underwater screen inoperable Xperia Z3 as many other phones but still completely normal camera, enabling users to take pictures underwater.
Xperia Z2
Xperia Z2 is the "predecessor" of Z3 above, this is a smartphone capable Waterproof Standard IP55 / 58.Xperia Z2 not much different than the Z3, also capable of shooting 4K video and camera 20.7 MP.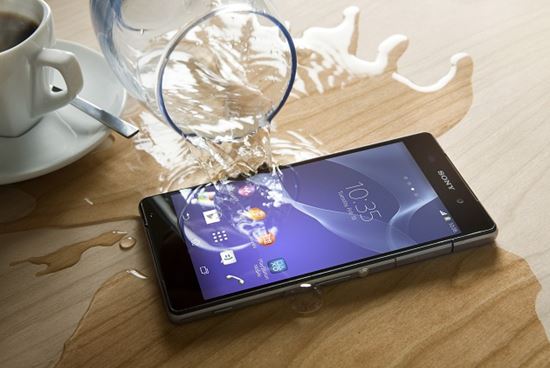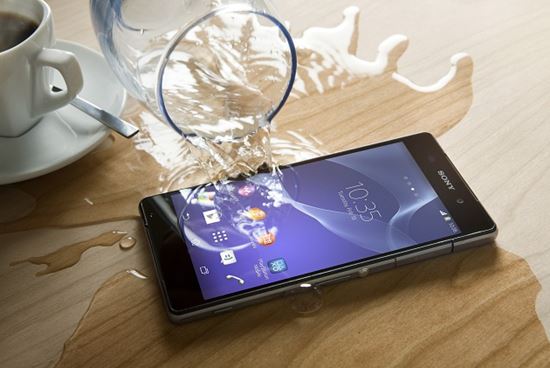 Thanks to manufacture international standard IP55 / 58 should Z2 can waterproof, dustproof, given all the ports have been closed, the device may protect against low pressure water jets from all directions ( according to IP 55), maintains operations under 1.5m depth for 30 minutes (according to IP 58) and even the harshest environments such as desert ..
Sony Xperia M2 Aqua
Sony Xperia M2 Aqua comes, you will see a product with outstanding design, 4.8-inch qHD display bright, IPS technology that reproduces stunning images at any angle.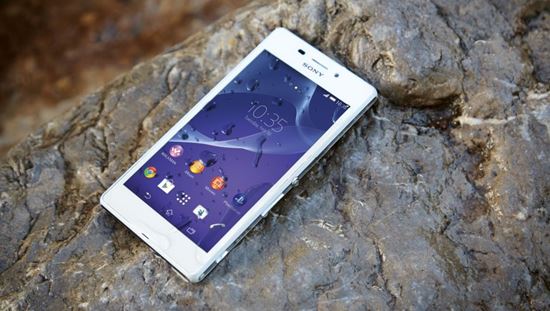 Some features may M2 Aqua including: equipped with Snapdragon chipset 400 (Cortex-A7 quad 1.2GHz, Adreno 305, 1GB RAM), 2,300mAh battery, 8MP 1080p camera with Exmor RS, HDR and video stabilization SteadyShot ….
Like many other products to make up waterproof phone features Sony, M2 Aqua bring waterproof index and most advanced anti-dust: IP 65/68. Also resistant to water, this smart phone can completely dustproof and still works well despite being buried under the depth from 1 to 3 meters.
Sony Xperia Z Ultra
Sony Xperia Z Ultra has an ultra slim design with a thickness of 6.5 mm at the same time it is one of the first devices equipped with processor Qualcomm Snapdragon S800 4 workers with 400 Krait processor with speeds up to 2 , currently the most powerful 2 GHz arena. The machine, which was developed from the Xperia Z and with many improvements both in design and hardware. Xperia Z Ultra's screen is a screen in the best quality on the market today, using new technology Triluminous applied on samples Sony Bravia TV, 2013.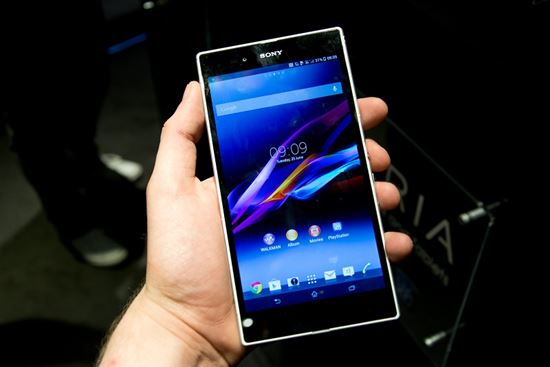 Besides it is resistant to IP58 standards when the country can stay in water with a depth of 1.5 meters for 30 minutes, the connectors are sealed except for the headphone jack, but able to open water resistant design thanks to closed / open special.
Galaxy S4 Active
Galaxy S4 Active is handset-friendly design and high reliability of Samsung. By focusing on reliability and performance in addition to the S4 Active environment equipped with features dustproof, waterproof and shock resistance ..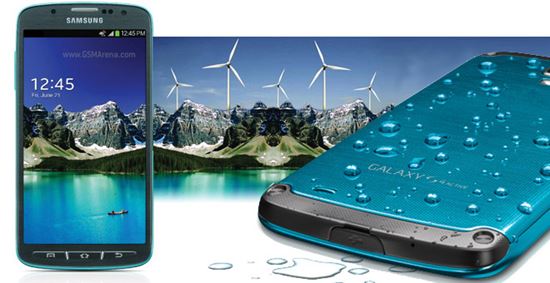 This is the first high-end Smartphone Samsung integrated waterproof features, even the design of the product can also do this with the screen tight shell, surface protection drunk rubber ring to prevent water intrusion area battery and the machine's components.
Galaxy S5 Active
After birth Galaxy S5, Samsung continues to version S5 Active . Indeed, like Active S5 S5 but was put on the wing pit. Overall this is a smartphone designed for those who frequently use in the harsh environment by water resistance, anti-dust, impact resistant exterior is very good.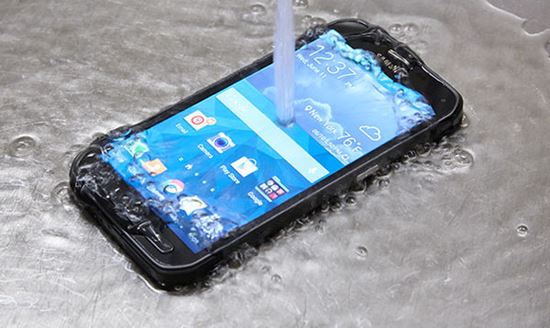 Active Galaxy S5 IP67 standard for dust and water resistance, can be soaked in a depth of 1 meter for a maximum time of 30 minutes and still function normally. Active S5 can do that is through a special design with rubber gaskets, shielding slots, connectors and the openings of the machine ..
HTC Desire Eye
HTC also present a representative on the list of water-resistant smartphones now with HTC Desire Eye .
This is the phone possesses many attractive features colorful designs with a youthful, full HD screen. Eye Desire is also the first smartphone with flash on the front serve selfie shooting.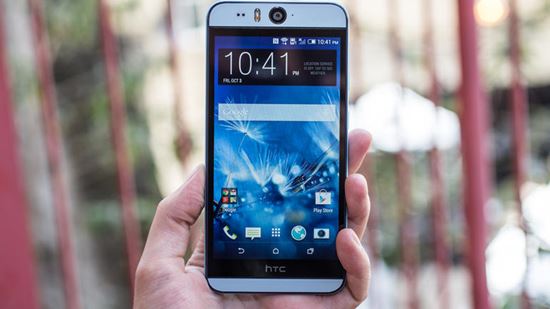 Talking about water resistance, HTC Desire Eye is still a rookie compared with products known for this feature of Sony and Samsung when only standard that is impossible IPX3 soak in a bathtub or pool, just can resist water jets in the vertical direction to one angle of 60 degrees (you can use Eye Desire to rain showers that are not too worried).
Above are some water-resistant smartphones are highly mobile in the market today. Waterproof is a feature that users preferred, so make sure the phone company will not ignore this opportunity to equip on your products in the future.