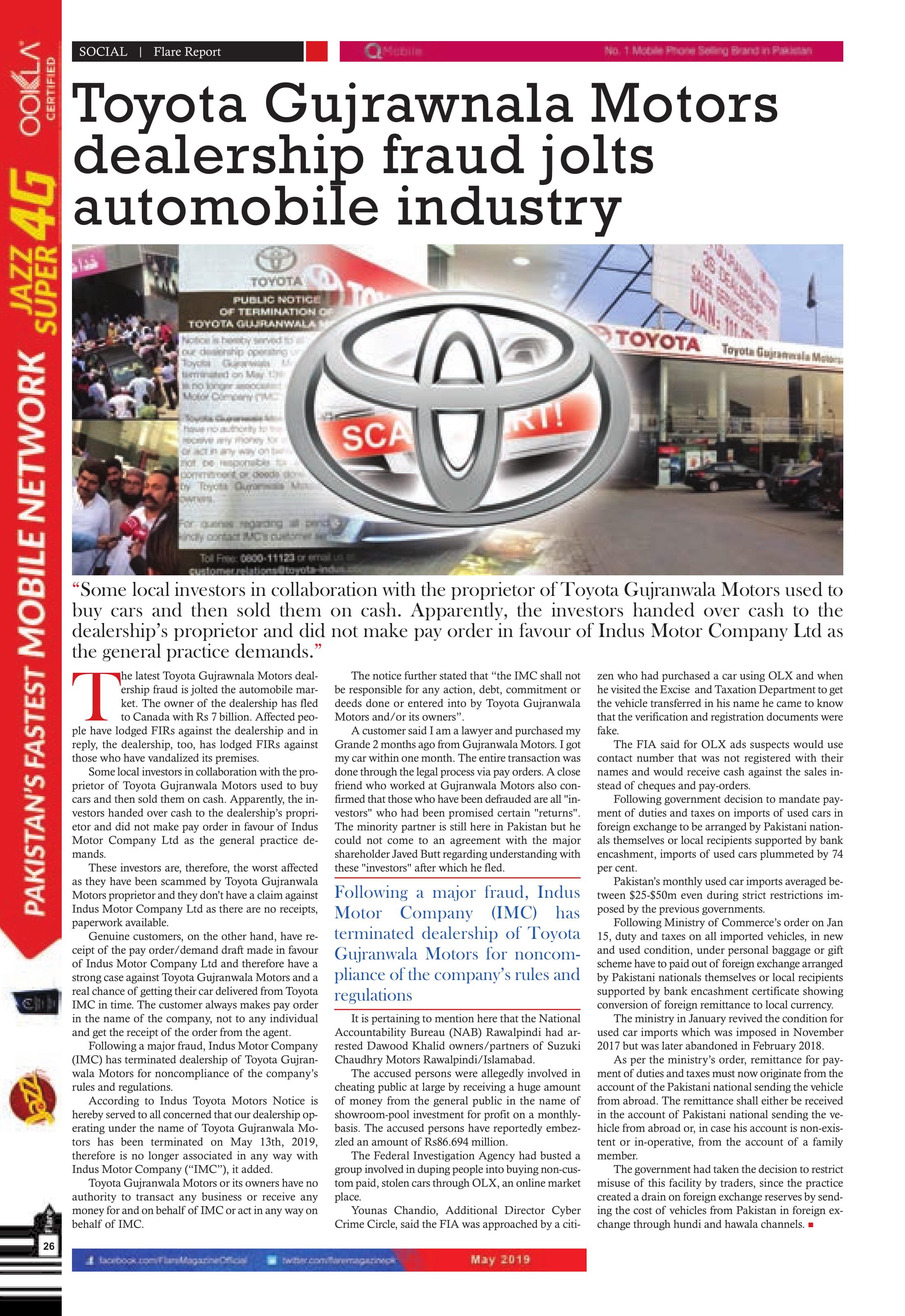 Toyota Gujrawnala Motors dealership fraud jolts automobile industry
"Some local investors in collaboration with the proprietor of Toyota Gujranwala Motors used to buy cars and then sold them on cash. Apparently, the investors handed over cash to the
dealership's proprietor and did not make pay order in favour of Indus Motor Company Ltd as the general practice demands."
Following a major fraud, Indus Motor Company (IMC) has
terminated dealership of Toyota
Gujranwala Motors for noncompliance of the company's rules and regulations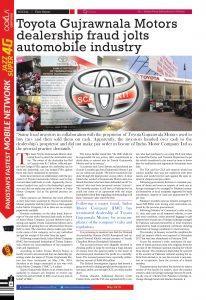 The latest Toyota Gujrawnala Motors dealership fraud is jolted the automobile market. The owner of the dealership has fled to Canada with Rs 7 billion. Affected people have lodged FIRs against the dealership and in reply, the dealership, too, has lodged FIRs against those who have vandalized its premises.
Some local investors in collaboration with the proprietor of Toyota Gujranwala Motors used to buy cars and then sold them on cash. Apparently, the investors handed over cash to the dealership's proprietor and did not make pay order in favour of Indus Motor Company Ltd as the general practice demands.
These investors are, therefore, the worst affected as they have been scammed by Toyota Gujranwala Motors proprietor and they don't have a claim against Indus Motor Company Ltd as there are no receipts, paperwork available.
Genuine customers, on the other hand, have receipt of the pay order/demand draft made in favour of Indus Motor Company Ltd and therefore have a strong case against Toyota Gujranwala Motors and a real chance of getting their car delivered from Toyota IMC in time. The customer always makes pay order in the name of the company, not to any individual and get the receipt of the order from the agent.
Following a major fraud, Indus Motor Company (IMC) has terminated dealership of Toyota Gujranwala Motors for noncompliance of the company's rules and regulations.
According to Indus Toyota Motors Notice is hereby served to all concerned that our dealership operating under the name of Toyota Gujranwala Motors has been terminated on May 13th, 2019, therefore is no longer associated in any way with Indus Motor Company ("IMC"), it added.
Toyota Gujranwala Motors or its owners have no authority to transact any business or receive any money for and on behalf of IMC or act in any way on behalf of IMC.
The notice further stated that "the IMC shall not be responsible for any action, debt, commitment or deeds done or entered into by Toyota Gujranwala Motors and/or its owners".
A customer said I am a lawyer and purchased my Grande 2 months ago from Gujranwala Motors. I got my car within one month. The entire transaction was done through the legal process via pay orders. A close friend who worked at Gujranwala Motors also confirmed that those who have been defrauded are all "investors" who had been promised certain "returns". The minority partner is still here in Pakistan but he could not come to an agreement with the major shareholder Javed Butt regarding understanding with these "investors" after which he fled.
It is pertaining to mention here that the National Accountability Bureau (NAB) Rawalpindi had arrested Dawood Khalid owners/partners of Suzuki Chaudhry Motors Rawalpindi/Islamabad.
The accused persons were allegedly involved in cheating public at large by receiving a huge amount of money from the general public in the name of showroom-pool investment for profit on a monthly-basis. The accused persons have reportedly embezzled an amount of Rs86.694 million.
The Federal Investigation Agency had busted a group involved in duping people into buying non-custom paid, stolen cars through OLX, an online market place.
Younas Chandio, Additional Director Cyber Crime Circle, said the FIA was approached by a citizen who had purchased a car using OLX and when he visited the Excise  and Taxation Department to get the vehicle transferred in his name he came to know that the verification and registration documents were fake.
The FIA said for OLX ads suspects would use contact number that was not registered with their names and would receive cash against the sales instead of cheques and pay-orders.
Following government decision to mandate payment of duties and taxes on imports of used cars in foreign exchange to be arranged by Pakistani nationals themselves or local recipients supported by bank encashment, imports of used cars plummeted by 74 per cent.
Pakistan's monthly used car imports averaged between $25-$50m even during strict restrictions imposed by the previous governments.
Following Ministry of Commerce's order on Jan 15, duty and taxes on all imported vehicles, in new and used condition, under personal baggage or gift scheme have to paid out of foreign exchange arranged by Pakistani nationals themselves or local recipients supported by bank encashment certificate showing conversion of foreign remittance to local currency.
The ministry in January revived the condition for used car imports which was imposed in November 2017 but was later abandoned in February 2018.
As per the ministry's order, remittance for payment of duties and taxes must now originate from the account of the Pakistani national sending the vehicle from abroad. The remittance shall either be received in the account of Pakistani national sending the vehicle from abroad or, in case his account is non-existent or in-operative, from the account of a family member.
The government had taken the decision to restrict misuse of this facility by traders, since the practice created a drain on foreign exchange reserves by sending the cost of vehicles from Pakistan in foreign exchange through hundi and hawala channels.