"The USF official said: "Preliminary study conducted by the USF revealed that 3,140 out of 6,061 Union Councils (UCs) are with optic fiber connectivity and efforts are
nderway to connected the remaining UCs"
USF has undertaken multiple
special projects to extend the
benefits of modern technologies to the marginalized sectors of the
society like girls, women, orphans and visually impaired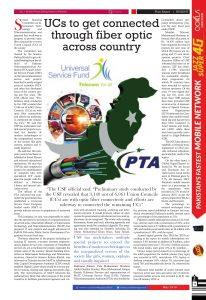 Senate Standing Committee on Information Technology and Telecommunication was apprised that work was in progress to provide optic fiber connectivity to every Union Council (UC) of the county.
The committee was chaired by the Senator Rubina Khalid to get a detailed briefing from the official of Pakistan Telecommunication Authority (PTA) and Universal Services Funds (USF) on the telecommunication service and projects launched in newly merged areas of erstwhile FATA and other less developed areas of the country during last five years. The USF official said: "Preliminary study conducted by the USF revealed that 3,140 out of 6,061 Union Councils  (UCs) are with optic fiber connectivity and efforts are underway to connected the remaining UCs." He said that USF has undertaken multiple special projects to extend the benefits of modern technologies to the marginalized sectors of the society like girls, women, orphans and visually impaired.
He said that 144 computer centers had been established at Sweet Homes and selected educational institutions. He said that USF has also completed a project for establishment of computer labs with specialized ICT equipment for people with disabilities at National Library and special education center.
The official of the PTA informed the committee the government has established a Universal Service Fund Company limited under MoIT to provide telecom services to population of un-served areas.
This company, he said, was responsible to subsidize the operators for provision of communication in un-served areas. Meanwhile, Ministry of Information Technology and Telecommunications (MoIT) has prepared 15 new projects and sought allocation of Rs9814.394 under Public Sector Development Programme for next fiscal year.
The basic objectives of the projects including enhancing IT exports, e-women (women empowerment), digital service unit, expansion of broadband services etc are to facilitate the people, especially the remote areas of the country. Senate Standing Committee on Information Technology and Telecommunications, chaired by Senator Rubina Khalid, was informed on Tuesday that the MoIT in collaboration with Capital Development Authority (CDA) would establish Digital Locker which would be a secure portal for storing, sharing and signing documents digitally. The representatives of MoIT informed the parliamentary Body that other purpose of the portal would be to facilitate government agencies and citizens with document tracking, archiving and information retrieval. It would promote culture of open system for government so all relevant services and applications can be integrated. The works with existing documents, forms and tools, allowing approvals and agreements would be completed digitally. The meeting was also attended by Senators including Dr Ghous Muhammad Khan Niazi, Sana Jamali, Rukhsana Zubairi, Fida Muhammad, Maulana Abdul Ghafoor Haidari, Mian Muhammad Attique Shaikh, Kalsoom Parveen and representatives of MoIT, Universal Service Fund (USF), Pakistan Telecommunication Authority (PTA) who briefed the Committee about proposed development projects for next fiscal year under PSDP.
Member Telecom, Muhammad Mudassar informed that allocation of Rs. 16,476 million have been requested for total 23 projects for next year, of which 08 projects are on-going and 15 new development projects. Chief Executive Officer of USF informed that since its inception, USF has identified 11,594 unserved mauzas under broadband for sustainable development programme for which 29 contracts have been awarded to various telecom operators. Of the total, 19 were signed during last five years and more than 7200 mauzas have been provided USF services so far. A representative of Special Commutation Organization (SCO) informed the Committee that mobile broadband (3g and 4g) services have been launched in Azad Jammu and Kashmir (AJK) while these have been partially introduced in Gilgit-Baltistan (GB).
The SCO also plans to establish a technical traininginstitute in GB to provide technical education, particularlyto youth of the region.
On the other hand, a Global Digital Report released by We are Social and Hootsuite has revealed active social media users in Pakistan grew by 5.7% till January 2019. Pakistan's mobile internet users as a percentage of the population were recorded at 21% at end of January 2019, as per the report prepared by We Are Social and Hootsuite.
The percentage remained unchanged from the previous report published in January last year, which documented Pakistan's mobile internet users as a percentage of the population at 21%.
Pakistan's mobile subscriptions stood at 154.3 million, internet users with a penetration of 22%, active social media users at 37 million with a penetration of 18% and mobile social media users at 36 million with a penetration of 18%, said the report.
Annual digital growth (Jan 2018-Jan 2019) according to the report for mobile subscriptions witnessed a 5.6% increase or addition of 8 million, active social media users rose 5.7% or by 2 million and mobile social media, users grew 13% or by 4 million.
Device usage (survey-based) as a percentage of the adult population for mobile phones (any type) was recorded at 82%, smartphone 32%, laptop or desktop computer 10%, tablets 1%, television (any kind) 76% and wearable tech device 1%, observed the report.
Pakistan's total number of active internet users based on active user data and active use of internet-powered mobile services was recorded at 44.61 million till January 2019.