Huawei Y5 A smart phone for everyone
Leading Chinese technology solutions providing company, Huawei has launched an outstanding smartphone whose colorful medium body encases many amazing and unique features for the customers. This Smartphone's OS, Processor, RAM/ROM, camera quality, Battery power and many other apps available through Google Store are a must to tempt the buyers. Particularly those customers, who are looking for an easy to carry and technology loaded smartphone which is also not expensive, then they must go after Huawei Y5.
Key Specifications:
This wonder filled smartphone has the following key specifications to offer to its users:
3GHz quad-core processor
1GB of RAM+8GB ROM
5-inch display
8GB of storage, expandable via microSD
8-megapixel rear camera with LED flash
2-megapixel front camera
Dual SIM, dual standby
3G
Wi-Fi, Bluetooth, GPS
Android 4.4 KitKat, EMUI 3.0 Lite
1730mAh battery
Physical Build & Design:
The design of Huawei Y5 is very elegant and classy; the feel of it in the hands is very smooth an easier to carry around. This gadget has been built with our geometrical design, with Matte feeling and quality, the back cover is scratch free because of its natural patterns. The light weight added with the seamless design makes it easier to use single-handedly, play games and do limitless chatting.
The screen is 4.5 inch display with full touch supported by 2 point multi-touch having capacitive keys at the bottom and physical keys, volume and power, are at the right side of the smart phone. The screen has very bright and vibrant color scheme, which displays clear and neat images, videos, movies etc. Huawei has without doubt done an amazing job in creating such an amazing smartphone and most importantly at such an affordable price.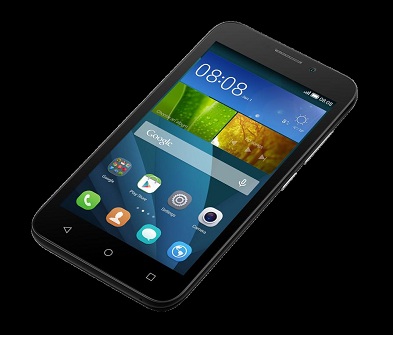 Performance:
Now let's shed light on the flawless performance of Huawei Y5, this smartphone runs on Android 4.4 KitKat OS, 1.2 GHz Quad-core processor with Spreadtrum SC7731 and Cortex A7 CPU making it fully equipped with latest and advance software to provide seamless and smooth internet streaming, video and music playing and gaming.
The storage capacity of Y5 is 1GB RAM and 8GB ROM (memory extendable to 32GB with micro SDcard) providing enough space to store various documents, pictures and other data. With 1GB RAM, web browsing is greatly enhanced and lag free, videos don't take much time to buffer and get in to running almost instantly, allowing the you to enjoy movies, music videos etc online.
This feature also facilitates gaming, those who are not hardcore gamers but still like to spend their free time by playing some healthy games on their smart phones then Y5 provides this opportunity to them. As Huawei Y5 is 3G enabled which provides fast speed networking making the games more enjoyable and lag free.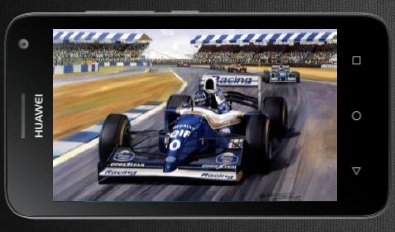 Features & apps:
Y5 has the OS Android 4.4 KitKat which is from GoogleTM , which makes this slim and attractive smartphone fully loaded with many amazing apps and games accessible through Google Play. The apps available for downloading office files, even the creation of such files (they can be in Word, PowerPoint or Excel Format) easy and smooth. This smart phone also has apps for the optimization of this smartphone so that it is cleaned when required, which in turn enhances the performance of the device by deleting the unnecessary files and docs and also closing the unwanted apps running in the background.
Huawei Y5 has been equipped with EMUI 3.O Lite, a latest and efficient management system, which has made this gadget easy to use and access different apps, by providing a friendly User Interface with the help of which one does need to explore his phone too much to find his desired app, instead he can access with one or two clicks. This smart phone also has very cool and attractively colored Multi-Themes and Magazine Lock Screen, which makes you feel good, whenever you turn on unlock your phone.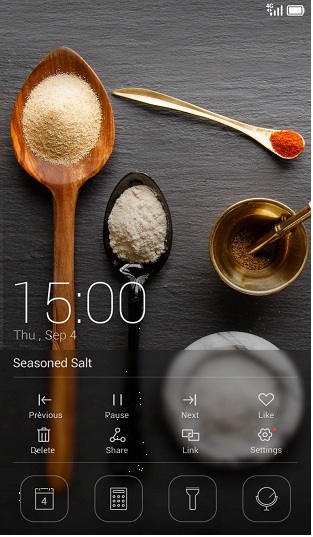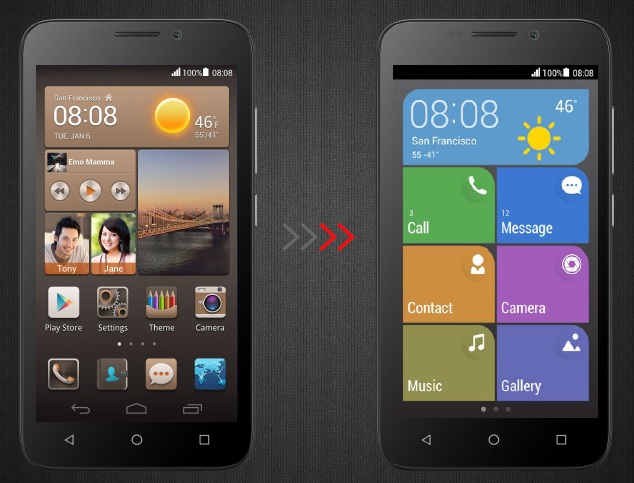 Another amazing quality of Y5 is the fast speed sharing it provides with "Wi-Fi Direct", which allows you to share 1 Movie, 100 Music Videos and 1000 pictures in 10s, now this is something actually awesome.
Camera:
The camera quality of Y5 is another attractive feature, which is built to capture moments in an instant and also make them more fun filled and amazing with the effects available in this smartphone. The 8MP rear camera with LED Dual Flashlight has been aptly equipped to seize creative and unforgettable moments, pictures and videos without missing even a single moment of the fast shutter speed i.e. 1.2s. With the "Panoramic Effect", you can create totally drama like videos of the fascinating places you visit and share them with your family friends. If you are to capture a shot and background light is dim, you wouldn't need to worry because Y5 has got it covered with the Dual Flash light this smartphone will allow you to capture bright, clear colorful pictures with lightened up background.
The front camera of Y5 is 2MP, which works totally fine when you are video chatting with family friends. This camera is also capable of taking better quality Selfies, in comparison to other peer smart phones which certainly do not provide such high quality camera features.
Battery:
The power house of a smartphone is also one of those features which a customer asks for before buying it. Well good news is, Huawei has kept its high standard here as well by equipping Y5 with a fully power-packed battery i.e. 1730 mAh which is backed with super power saving technology. The power loaded battery with power save technology saves the battery up to 30% more in comparison to its competitive smart phones allowing you to use this smartphone throughout the day without feeling the constant need to recharge your phone. You can do your office's small tasks, listen to music while on a ride, browse internet and do text and video chatting endlessly.
Verdict:
To sum it all up, Huawei Y5 is recommended to all those customers who are looking for a beautifully colorful, feature loaded and within their budget smartphone. Huawei has successfully delivered this device in to market to fulfill the technology needs of its customers, who want to actively stay connected with the world and enjoy best innovative technological features, encased in a smartphone.