PIA HAJJ OPERATION 2015 BEGINS
Pakistan International Airline's Hajj Operation commenced on Monday, 17 August 2015 with flights departing from Lahore, Peshawar, Karachi and Islamabad for Jeddah, Saudi Arabia.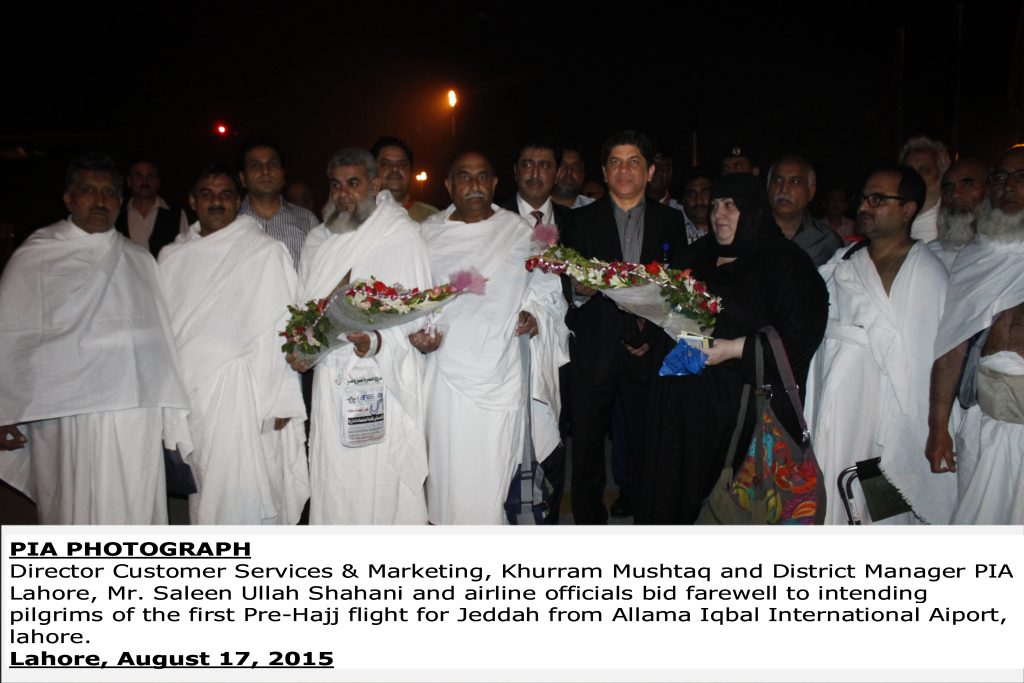 Special Assistant to Prime Minister on Aviation, Shujaat Azeem and senior officials of PIA bid farewell to the intending pilgrims of the airline's first flight from Islamabad PK 6011.
While the intending pilgrims of first Pre-Hajj flight from Karachi PK 6009 was seen off by Chairman PIA, Nasser N S Jaffer, Managing Director PIA, Shahnawaz Rehman and senior officials of the airline at Karachi, Director Customer Services & Marketing PIA, Khurram Mushtaq saw off the pilgrims of flight PK 6003 from Lahore; the intending pilgrims of flight PK6005 from Peshawar were seen off by Advisor to Chairman PIA, (AVM) Rana Mohammad Imran.
PIA will be transporting more than 55,800 intending pilgrims to Saudi Arabia of which nearly 43,600 will be carried through 148 Pre-Hajj flights to Saudi Arabia while more than 12,200 intending pilgrims will be carried through the airline's regular scheduled flights to Saudi Arabia.
PIA is conducting hajj operation with fleet consisting of Boeing 777, Airbus 310 and Airbus 330 aircraft and is operating Pre-Hajj flights from seven major cities of Pakistan namely; Karachi, Lahore, Islamabad, Peshawar, Quetta, Multan and Sialkot.
This year also, PIA scouts will be deputed for assisting the pilgrims at Airports in Pakistan and Saudi Arabia. Leaflets containing information regarding Baggage allowance, excess baggage, change of booking and related information have already been sent to Hajj camps, PIA ticketing Offices and the airline's travel agents for distribution to the pilgrims.
The Pre-Hajj operation will conclude on 17 September 2015. While the airline's Post Hajj operation of bringing back Hajjis will commence from 27 September and will conclude on 28 October 2015.–