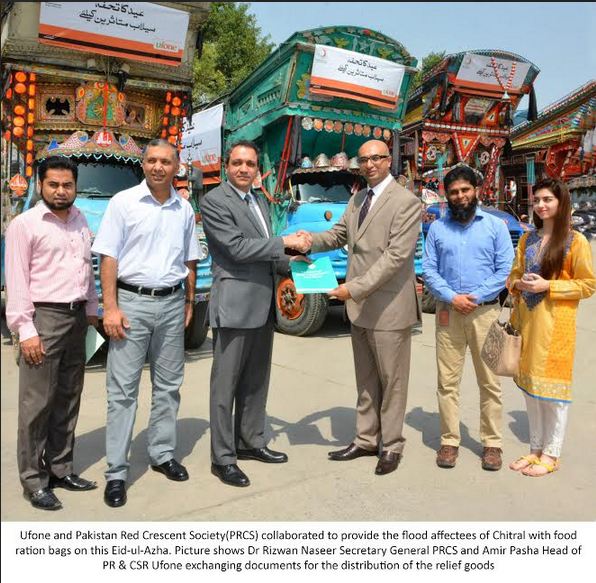 Ufone, PRCS collaborate to facilitate flood affectees on EidulAzha
Pakistan's premier telecom operator Ufone has joined hands with Pakistan Red Crescent Society (PRCS) to pursue its tradition of remembering the  flood affectees through thick and thin. On the occasion of Eid, Ufone and PRCS have collaborated in an effort to provide food items to areas where floods devastated livelihoods of hundreds of thousands of families reside in Chitral.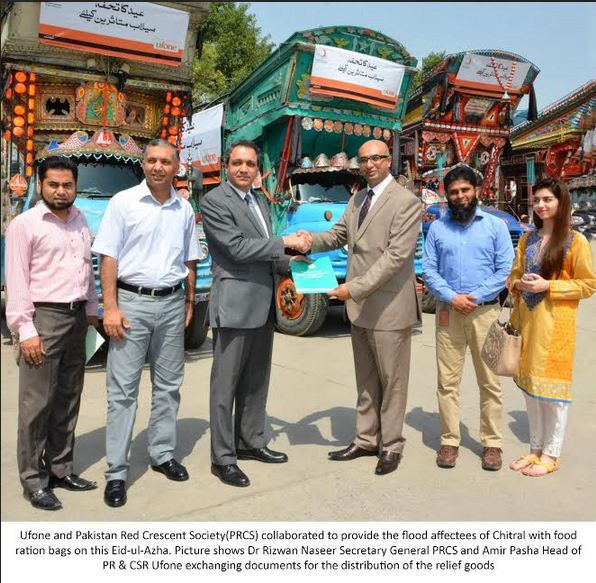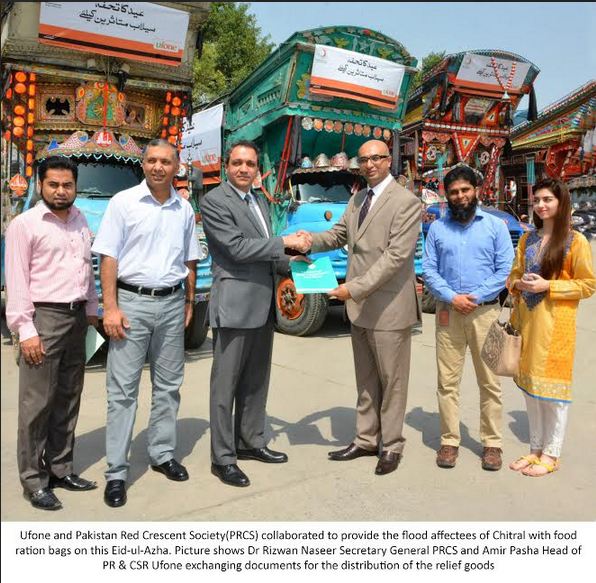 In line with Ufone's vision of helping people and giving back to the society, Ufone has handed over a consignment of 1 week of ration for 1000 families to PRSC, after the latter helped Ufone in identifying key areas which needed immediate attention. The areas in which PRSC will be serving as a distributor areBamburait, Rumboor, Reshun, Mulkhow, Orghuch, Doom Shugohre, GaramChashman, Zitur,Droshp, Brep.
Expressing his views Mr.Amir Pasha Head of PR & CSRUfone said, "Ufone along with PRCS has taken this initiative to facilitate these floods hit brothers by providing them with much needed rations fulfilling their immediate needs, so that they may not feel left behind on this auspicious occasion of Eid-ul-Azha."
Regarding this initiative, Dr. RizwanNaseerGeneral Secretary at PRCS said, "It is indeed sad that so many people lost their livelihoods because of the recent catastrophic floods, this initiative was the need of the hour and we highly appreciate Ufone's efforts in this regard, as this would not only provide timely relief to the flood affectees, but also bring smiles on their faces on the upcoming Eid."
The flood relief rations have been handed over to PRCS by Ufonefor the distribution,in a ceremony held at PRCS Headquarters. This will not only provide a quick relief to the affecteesbut establish a sense of equality among theChitrali citizens on the nationwide occasion of Eid.
About Ufone: Ufone the leader in innovation is an Etisalat Group Company with its presence in all the major cities of Pakistan along with a comprehensive coverage across all major towns, villages and tehsil headquarters of the country. The company employs more than 4,780 people and operates with a network of more than 388 franchises and 23 company-owned customer service centers.
PAKISTAN RED CRESCENT SOCIETY, is a humanitarian relief organization constituted under an Act of Parliament, Act No. XV of 1920, which gives it a legal status.PRCS main activities are relief work during and after natural or manmade disasters, and primary health and welfare services for the less privileged and marginalized people of the society. PRCS also works alongside the Government of Pakistan and supplements its efforts for relief and rehabilitation of victims of such disasters.