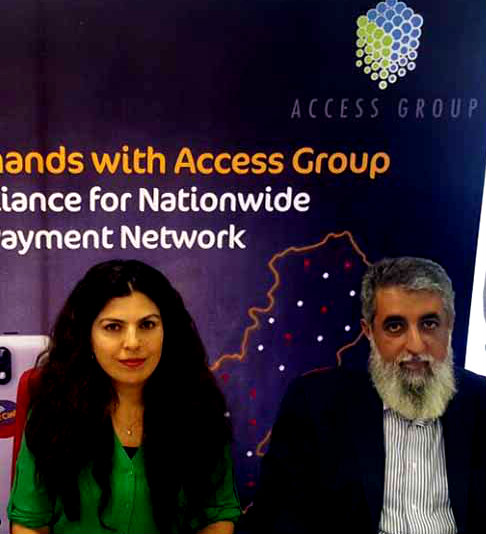 Jazz Cash Joins Hands With Access Group
Jazz Cash Joins Hands With Access Group
Islamabad – 1st September, 2016: JazzCash has announced a strategic alliance with Access Group for nationwide retail payment acceptance.Expanding the reach of innovative payments, this collaboration will utilize state-of-the-art digital methods for acceptance of JazzCash at designated retail outlets on Access Group's network.
One such innovative payment method to be promoted under this agreement is JazzCash's recently launched near field communication (NFC) payment solution.  This technology has gained popularity in both developed and developing markets primarily due to its ability to improve customer experience, security and merchant sales.    The partnership will also assist JazzCash in scaling up merchant payments throughout the country as it looks to serve as a foundation stone towards mobile payment eco system.In first phase, NFC & USSD payments will be accepted at 500+ retail outlets in Karachi, Lahore & Islamabad.In phase two of the partnership, JazzCash will add QR codes to its financial suite which will enable customers to pay seamlessly by simply scanning the unique QR code. Along with the NFC, USSD and QR code the partnership will cover more than 10,000 retail outlets nationwide."We believe this alliance will benefit JazzCash users by expansion of our payment acceptance forecourts, while offering them security and convenience. We are pleased to be partnering with Access Group, for enablement of this unique payment service," said Aniqa Afzal Sandhu, VP Digital & Mobile Financial Services – Mobilink. "Through this strategic alliance, we aim to open new avenues for JazzCash's acceptance via multiple channels in diverse market segments backed by a significant number of merchants who are onboard," said Imran Qureshi, President, Access Group, while expressing his views on this partnership."It is a proud moment for us at Access Group to be partnering with Pakistan's leading mobile financial services provider," he further added.
About JazzCash
JazzCash, a mobile financial service offering under Jazz's ecosystem has over 60,000 retail outlets across Pakistan. JazzCash offers a broad portfolio of Branchless Banking services for customers including money transfer, Online Payments Gateway, NFC enabled payments, payment of utility bills, corporate disbursements, mass payment collections, and insurance services.
About Access Group:
Access Group is amongst Pakistan's leading technology solutions provider, with offerings including enterprise grade platforms, branchless banking solutions, enterprise loyalty solutions and payment acceptance at various forecourts. Over the years, Access Group has built up one of the largest nationwide support network for servicing its customers spanning over 200 cities, towns and villages across Pakistan. With the recent acquisition of ORIX Leasing Pakistan's e-Business related assets including POS Network and Terminals, Access Group is now Pakistan's largest third party transaction processing network which processes transactions worth PKR 7.37 billion every month.