Foodpanda's 'Best of 2016' Sets New Benchmarks For The Food Ordering Industry
Foodpanda's 'Best of 2016' Sets New Benchmarks For The Food Ordering Industry
foodpanda's Best of 2016 campaign was a roaring success. The greatest food discounts in the history of Pakistan were held out by the Pakistan's favouritefood ordering juggernaut enabling foodiesto munch on as much as 80% in discounts for three consecutive days!

The buzz of #DontCook was all over the digital media since last two weeks.And with the launch of the campaign on Friday noon, the traffic on foodpanda's Mobile App and website have been exceptionally high.This trend continued for all three days resulting in 400% more customer traffic than any normal day. Far above expectation, 25% of the total orders were placed by the customers who visited foodpanda for the first time!Restaurants in Pakistan make delicious food. With Best of 2016, we tried to prompt food lovers across the country to lock their kitchens for three consecutive days, trying out various amazing food options at an unbelievable price. And with such an overwhelming response over the weekend,where 725% more new customers ordered through foodpanda during the campaign as compared to a normal day, it stands to reason that we have been more than successful in our mission!' said Nauman S. Mirza, CEO foodpanda.The preparations to cater this exceptional customer load had already begun at foodpandaa few weeks back. foodpanda'sVendor ServiceTeam (VST) coordinated with all the vendors, restaurant managers, their order bookers and other staff to train them for handling the anticipated traffic efficiently. Various controls, for instance, order limit caps, were put in place so that amaximum number of foodies could be catered during the campaign. Moreover, the VST staff was increased to double during the campaign to assist the restaurants, ensure timely deliveries and push the restaurant staff in case of delays.Additionally, foodpanda's Complaint Resolution Unit was staffed to full capacity to ensure immediate response to any and every customer query as well as an instant resolution of any prospective complaints. They are always available 24/7 and aim to personally approach each and every customer whose experience had not been up to the mark.Despite an exceptional number of orders, 91% of the orders were prepared and delivered in time. The happy foodies on social media gave a shout out on how they celebrated #DontCook:
They planned…For all three days!
Mothers were more than happy to catertheir kids'farmaishein
And some just lost control! 😀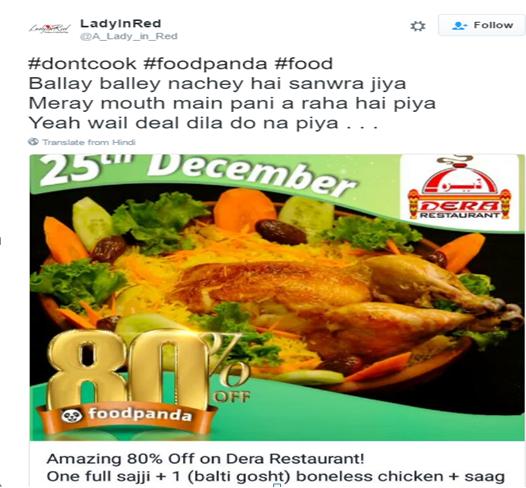 While the whole country enjoyed the festivity of Best of 2016, foodpanda has observed some interesting facts and figures from the campaign: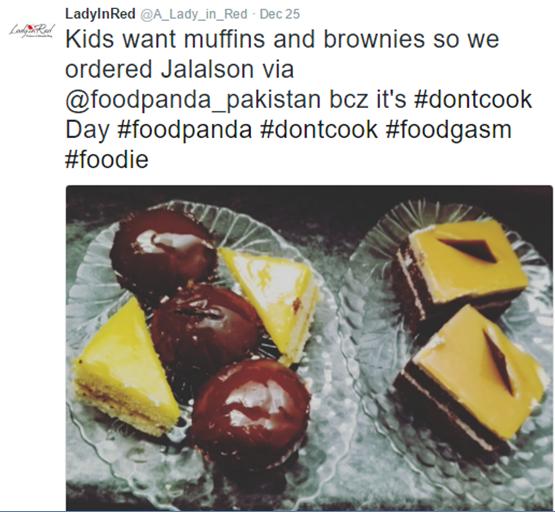 82% of the traffic came through the foodpanda Mobile App, including 52% from Android and 30% from iOS which reflects the tech-savviness of our foodies.
30,000+ App downloads recorded from 23rd to 25th December 2016 which confirms the introduction of an exceptional number of customers to online food ordering space.
10 Million+ taps were observed on foodpand's Mobile App in three days.
The discounts by Pizza Max, Kababjees, Bumzees, LaChine, Karachi Hot N Spicy and Pizza N Steak were the most-loved with 15000+, 10000+, 2000+, 2000+, 1200+ and 1000+ items ordered, respectively.
Pizzas were the most loved food item followed by Burgers and BBQ.
Kababjees – MACHS managed to cater the most number of orders during the campaign
63% of the total orders were from Karachi, followed by 22% from Lahore, 10% from Islamabad, 4% from Rawalpindi and rest from other major cities including Hyderabad, Multan, Sialkot, Peshawar, Gujranwala, Quetta, Larkana, Sukkur, Sargodha and Jhelum.
This was certainly the best possible closing to such a happening 2016 and team foodpandais absolutely thrilled to bring their customers many more exciting campaigns throughout the next year!
About foodpanda
foodpanda is a global mobile food delivery marketplace headquartered in Berlin, Germany, and operating in 24 countries and territories. The service allows users to select from local restaurants and place orders via its mobile application as well as the website. The company has partnered with over 40,000 restaurants. foodpanda is one of the fastest growing e-commerce businesses in Pakistan; recently the online giant achieved a truly extraordinary milestone in record time when it reached PKR 1 billion in revenue generation.