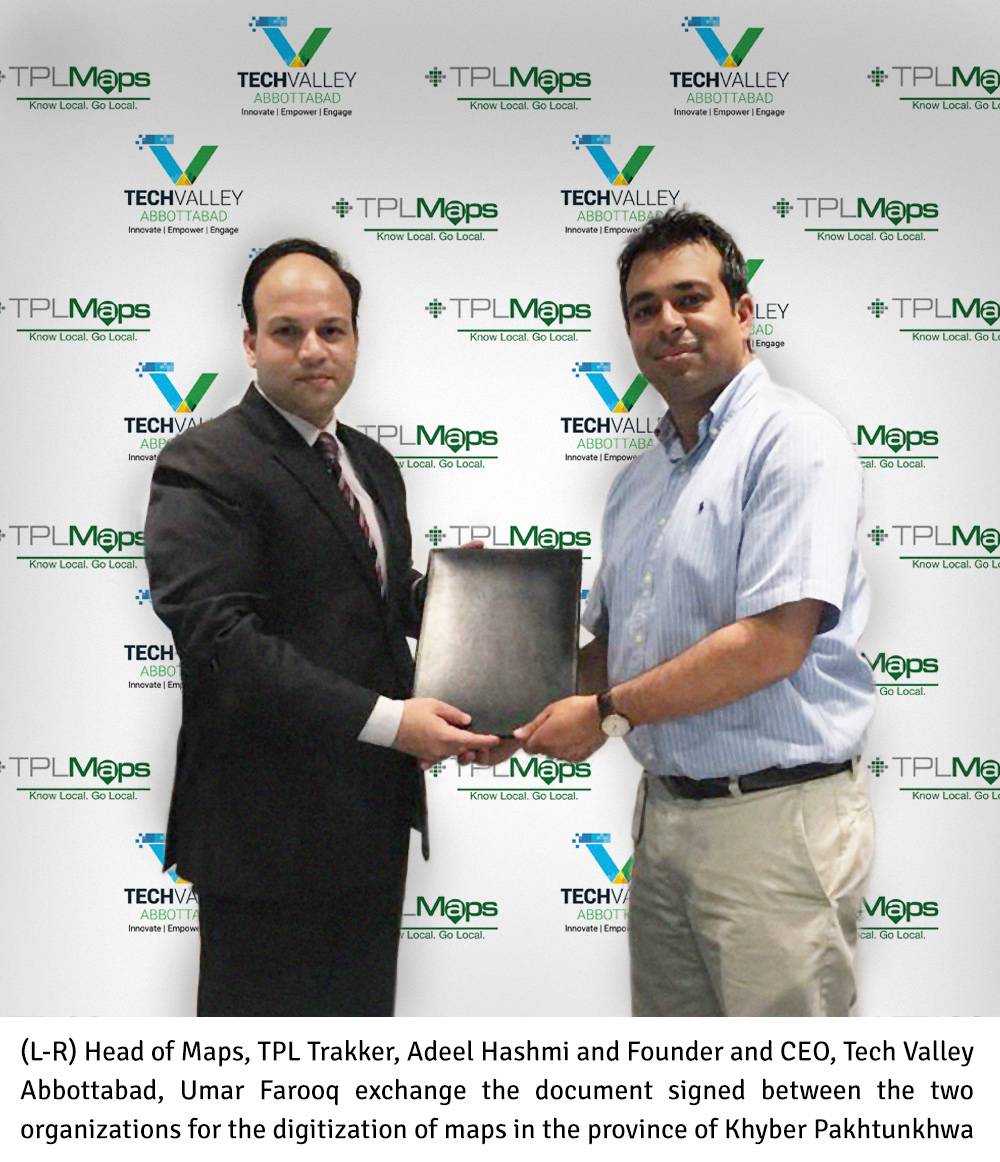 TPL Maps and Tech Valley Abbottabad Ink MoU To Digitize Maps In Khyber Pakhtunkhwa
TPL Maps and Tech Valley Abbottabad Ink MoU To Digitize Maps In Khyber Pakhtunkhwa
Karachi, May 03, 2017: Khyber Pakhtunkhwa (KP) government announced TPL Maps as the mapping partner to introduce street mapping and Street Vision across the province. For KP government a memorandum of understanding (MoU) recently signed by TechValley Abbottabad and TPL Maps. Under the agreement, TPL Maps will be the maps digitization partner for the KP government.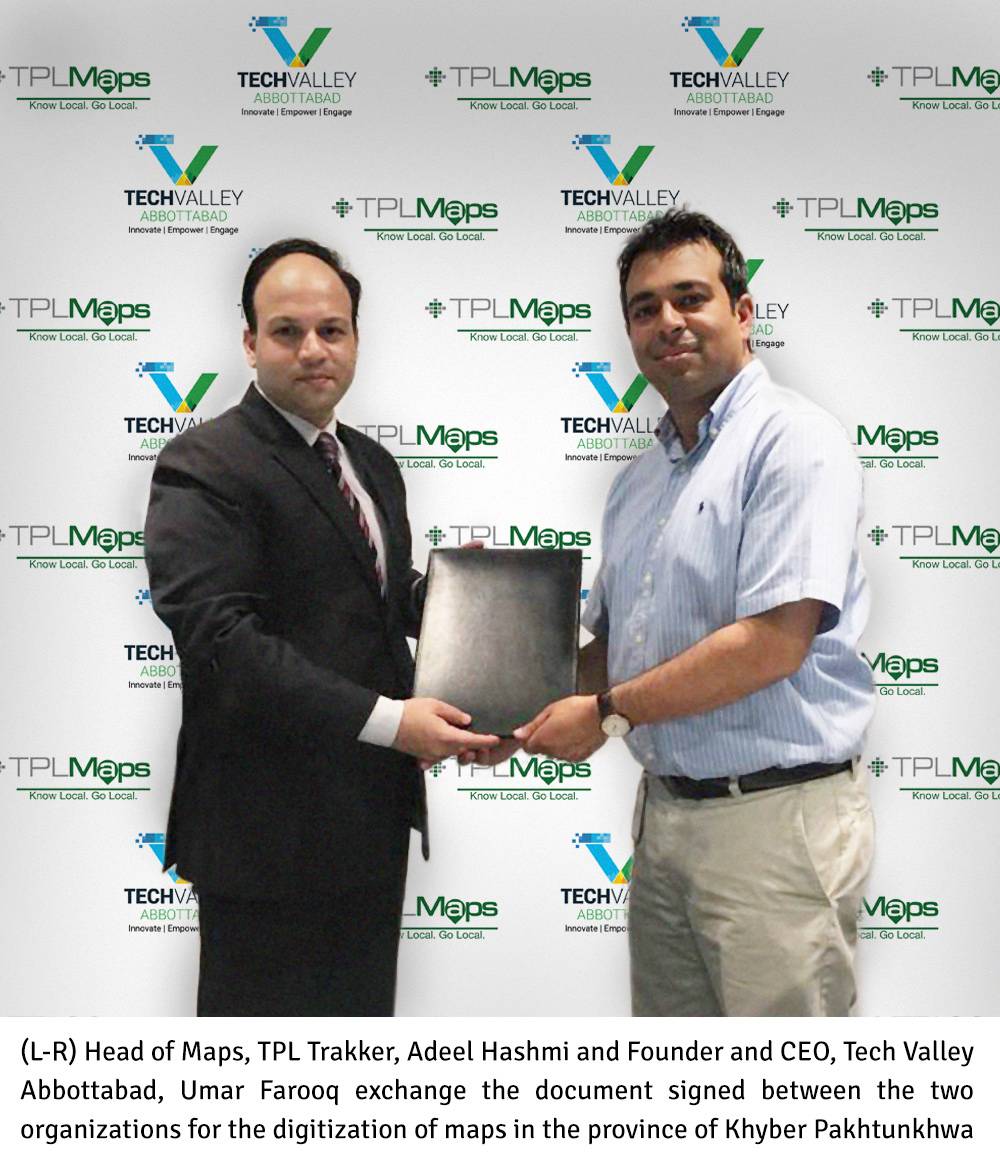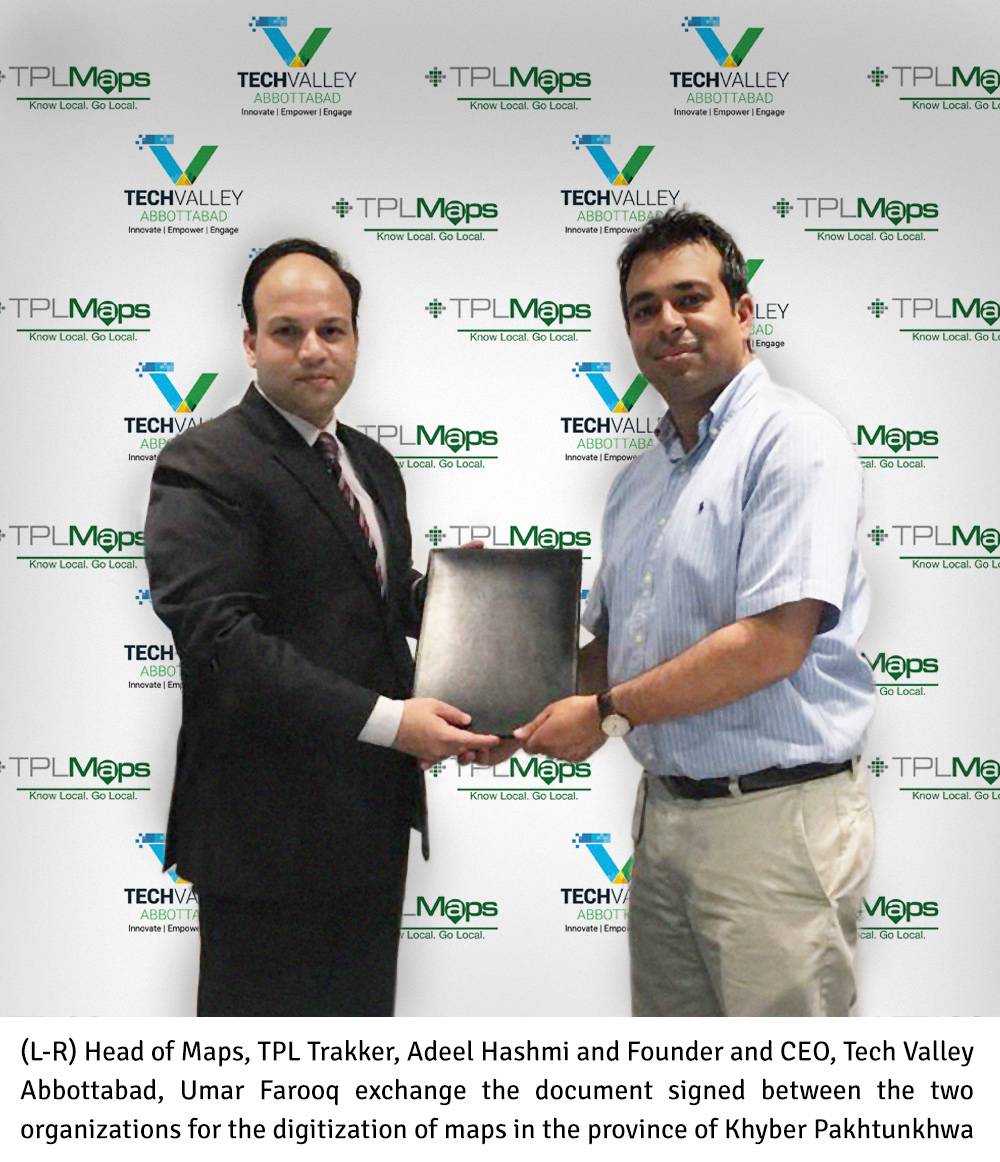 The partnership intends to cover various prospects from providing a range of mapping solution across the cities of the province to creating employment opportunities for students which will play a pivotal role to curb the upsurge in unemployment rate. The alliance also intends to enhance visual and mapping data for the education system, along with improved residential and commercial areas mapping.
The collaboration is a classic example of a private-public partnership. For a province like KP, with a population of 27.3 million people and 26 districts, the partnership itself is a huge task to manage and digitizing the entire province is a big win for TPL Maps. This also demonstrates the confidence of the Tech Valley on using local talents and technologies to map the entire province and it strongly aligns with its strategy to bridge the gap between industry and government.
Speaking at the occasion, Umar Farooq, Founder and CEO TechValley Abbottabad said, "We are extremely delighted to have signed the partnership with TPL Maps as digitizing KP province is a key priority for TechValley as well as provincial government. TPL Maps will provide us the opportunity to visually and digitally showcase the historical, leisure, food and many similar locations for the world to know. KP has so much to offer and together with TPL Maps we will enhance business activities, tourism economy and positively impact consumer lives in the province. This is yet another big step towards implementing our tourism policy 2016 into reality. I feel once done, this will be a game changer for us. "
Moreover, this collaboration also expands into mapping CPEC routes, connecting routes and other economic networks as a step towards improving the economic climate of the country by paving the way for more business opportunities. Lastly and more importantly, TechValley startups will also be able to use TPL Maps API free of cost.
Speaking on the occasion, Adeel Hashmi, Head of Maps, TPL Trakker said: "We are thrilled to collaborate with the KP Tech Valley Abbottabad to reach out our potential customers within the province. This alliance is a dynamic milestone in terms of technology itself and we aim to add more value to this locally developed digital mapping solution, by being the pioneers in mapping the rich culture and locations of KP province, a best kept secret of Pakistan.
"TPL Maps stays a game changer for digital services and we are constantly working with local bodies to provide customized digital mapping solutions. This will be one of the many such alliances, which will contribute to a more digital Pakistan in future. " he concluded