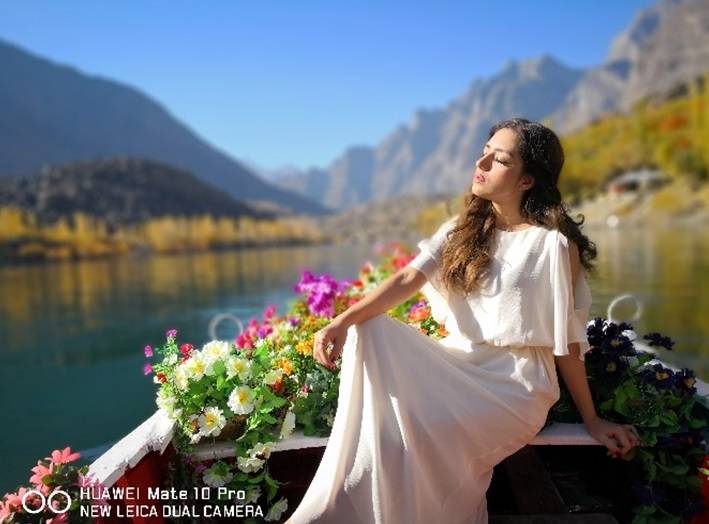 Have a Look at Pakistan's First-ever Smartphone Fashion Shoot The Country's First-ever Smartphone Fashion Shoot Looks Mesmerizing Drop Everything!!! Pakistan's First-ever Smartphone Fashion Shoot is Here
Have a Look at Pakistan's First-ever Smartphone Fashion Shoot The Country's First-ever Smartphone Fashion Shoot Looks Mesmerizing Drop Everything!!! Pakistan's First-ever Smartphone Fashion Shoot is Here
Tapu Javeri shot Pakistan's first-ever smartphone fashion shoot with the HUAWEI Mate 10 Pro
He chose Skardu for its resplendent landscape that was perfect for an avant-garde fashion shoot
HUAWEI Mate 10 Pro has dual cameras with 12MP RGB sensor, 20MP Monochrome sensor and the world's largest aperture f/1.6
The camera is co-engineered with Leica – making HUAWEI the world leader in dual-camera smartphone photography
Stop what you're doing for the country's first-ever smartphone fashion shoot is here. Ace-photographer and Pakistan's favourite shutterbug Tapu Javeri went on a breathktaking quest to Skardu to conduct a never-seen-before fashion shoot from a HUAWEI Mate 10 Pro – and boy are we mesmerized by the results!
Tapu Javeri and HUAWEI Mate 10 Pro are a match made in heaven! Tapu chose the picturesque Skardu valley to exude his passion for photography all through the lenses of HUAWEI Mate 10 Pro.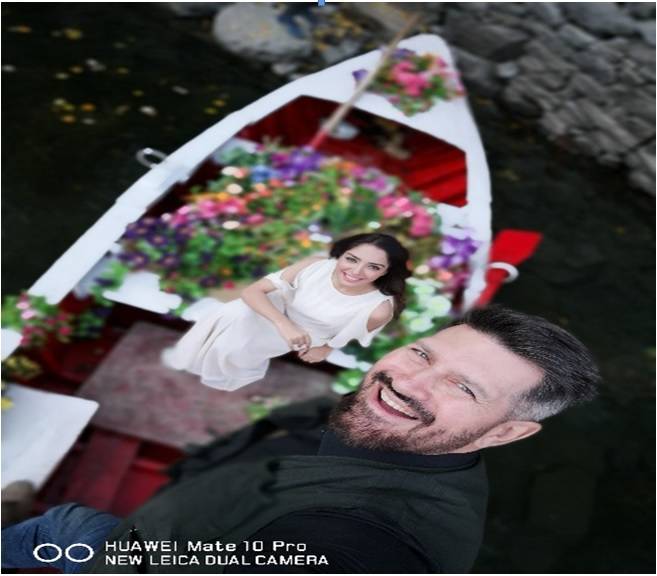 An ecstatic Tapu in Skardu with his muse Mahi
Nestled on the confluence of the Indus and Shigar rivers, Skardu is the gateway to mighty mountains, scintillating lakes and wilderness that wears a different colour in every season. It was only fitting for Tapu to choose this location for an avant-garde fashion shoot.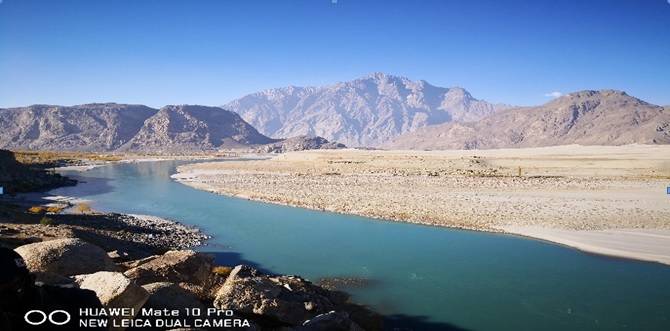 The Shigar River flowing through the Shigar Cold Desert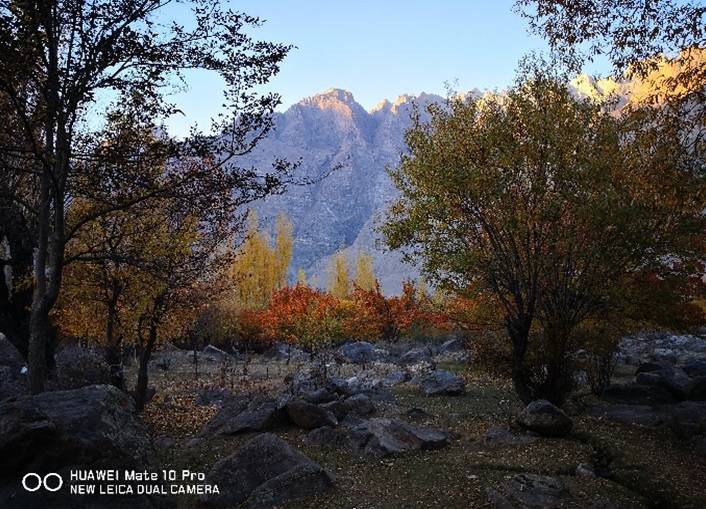 Autumn in full bloom in Skardu
Mahi – Tapu's muse looked ravishing as she posed at the Shigar Cold Desert. The vast stretch of plains among high mountains gave an eclectic mix of landscape and depth to the shoot altogether. The camera on the HUAWEI Mate 10 Pro – co-engineered with Leica – captured some candid shots of Mahi dressed in vibrant travel attire through its SUMMILUX-H lenses.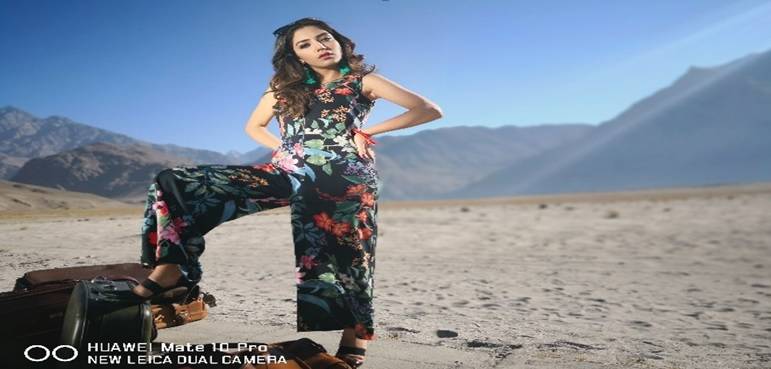 Mahi in vogue at the Shigar Cold Desert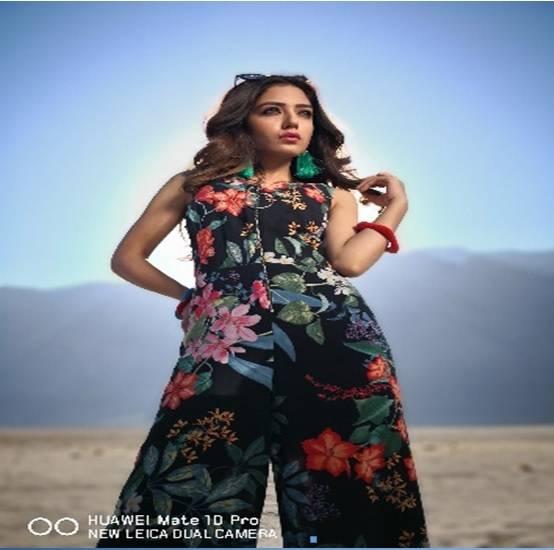 Mahi in vogue at the Shigar Cold Desert
Tapu Javeri loved the experience of his HUAWEI Mate 10 Pro and put its 12-megapixel RGB sensor to good use. Things got really exciting when Mahi cuddled up with colourful flowers on a boat on the scenic Upper Kachura Lake. It was a moment worth living, as the boat glided on serene waters of the lake and Tapu took vivid shots through the smartphone. An AI-powered Real-Time Sense and Object Recognition system identified human shots and flower shots adjusting its settings automatically.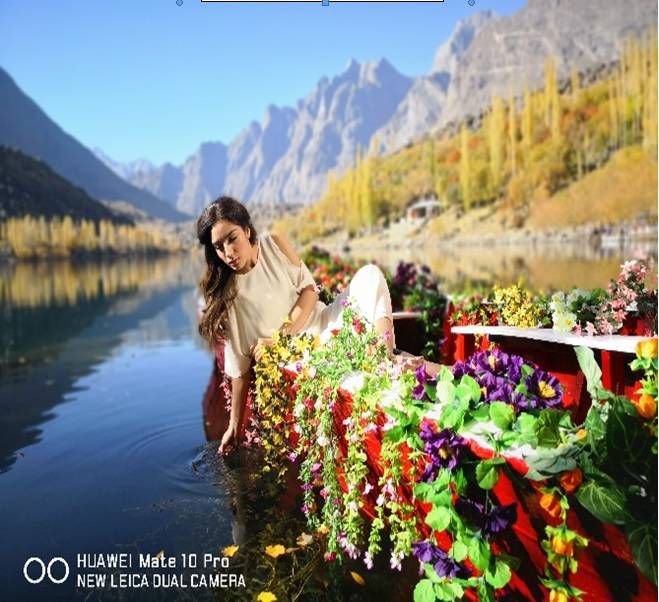 Mahi feeling the serene air at Upper Kachura Lake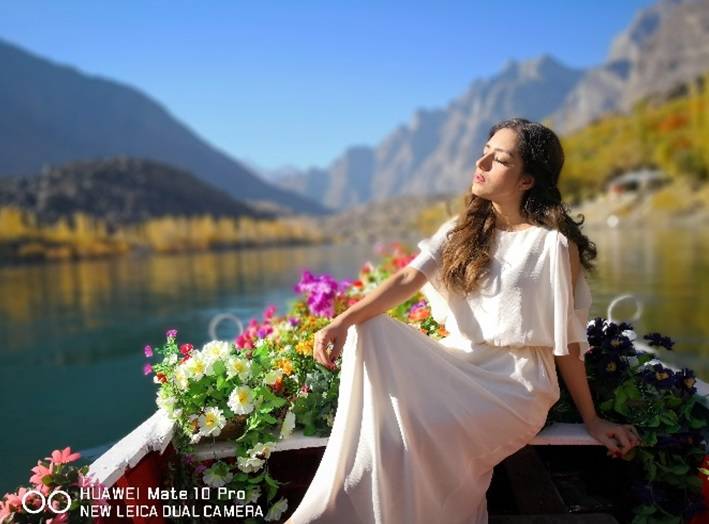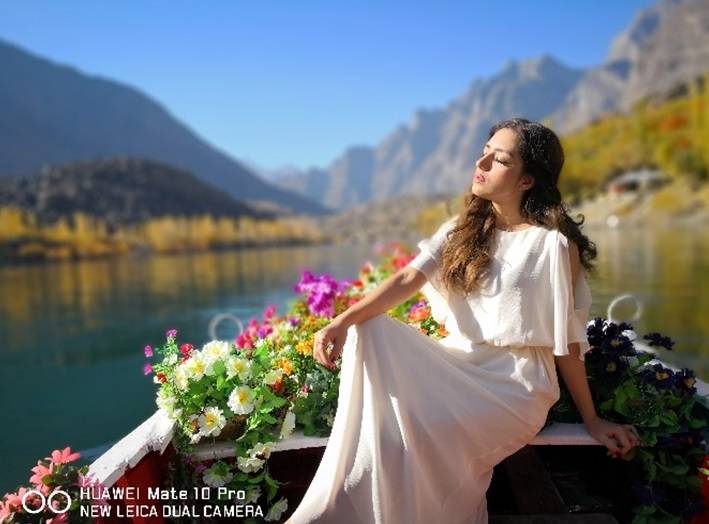 A vibrant shot of the Upper Kachura Lake
A village near Upper Kachura Lake also caught Tapu's wild imagination. Its trees dyed in hues of autumn created an ethereal aura that looked right out of a dream. Hopped on a cycle, Mahi had an angelic glow that HUAWEI Mate 10 Pro's camera masterfully encapsulated. The camera's AI-powered Bokeh Effect created brilliant portraits – no less than a DSLR.
The hues of autumn give an eclectic flavor to the landscape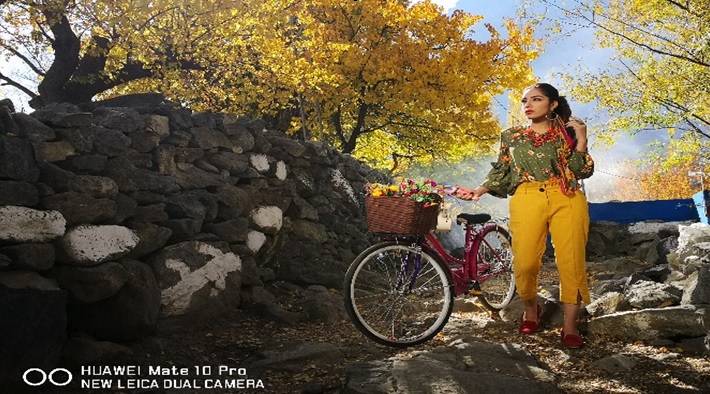 An ethereal presence
Not only was Tapu spellbound by the landscape, but was also drawn to the warmth of Skardu's people. While a group of friends bonded over tea, Tapu memorialized the moment in exquisite monochrome portraits taken through the 20-megapixel Monochrome sensor. The HUAWEI Mate 10 Pro also took some classic bokeh shots that added a unique candidness to the gathering.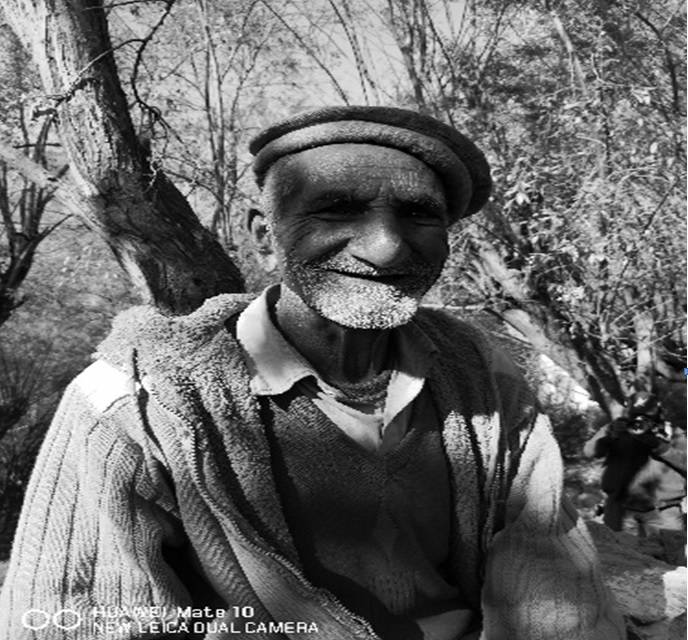 A cheerful portrait
The locals bonded over tea while Tapu captured the moment
As night fell on the Lower Kachura Lake and an eerie silence fell over the valley, Tapu indulged himself into another photographic experience. With the HUAWEI Mate 10 Pro's wide aperture of f/1.6, he embalmed a low-lit shot of the lake, as it reflected a shimmering moon on its tranquil surface.
Breathtaking tranquility of the Lower Kachura Lake