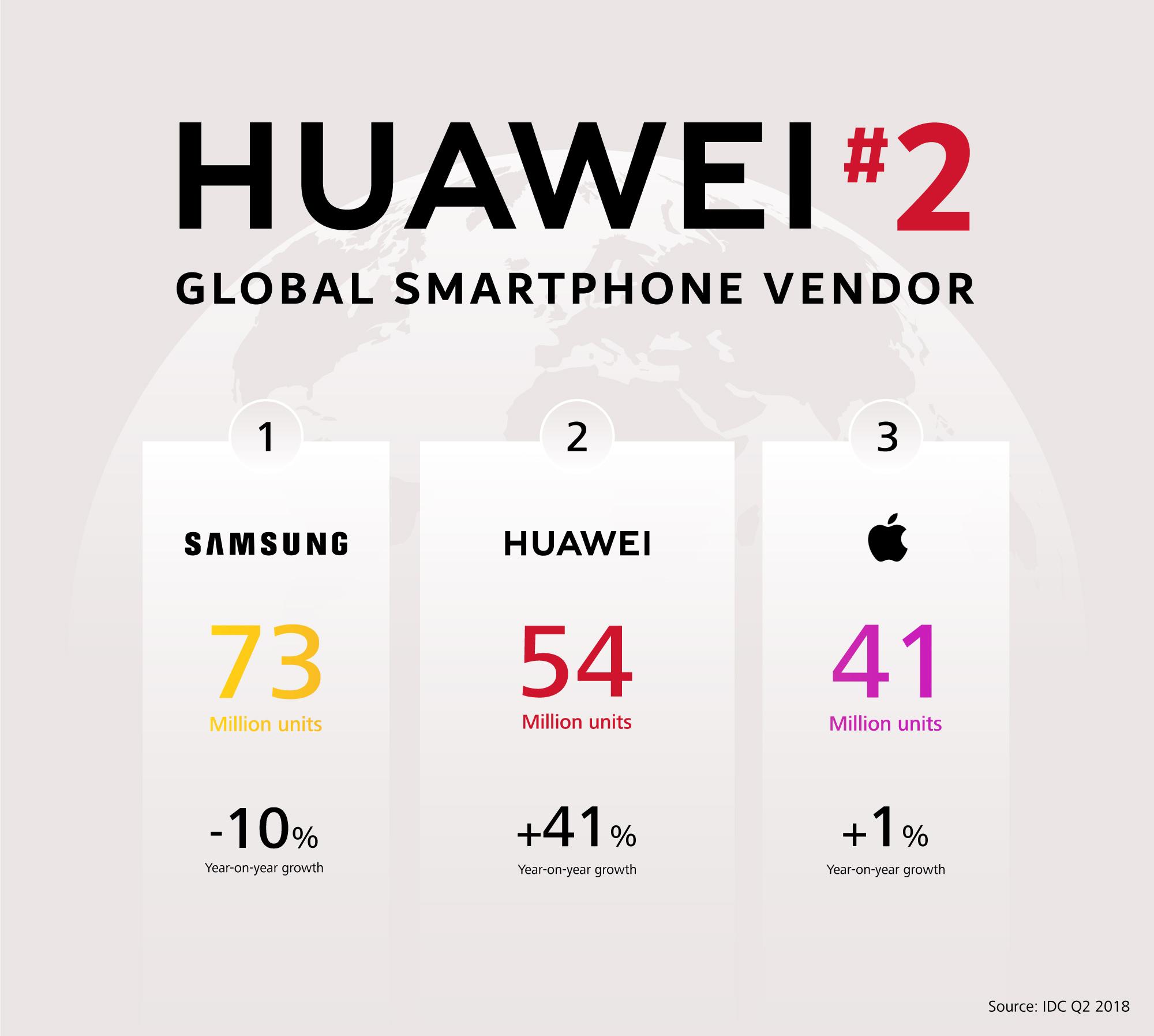 Huawei Surpasses Apple to Grab Number Two Spot Globally
Huawei Consumer Business Group (CBG), the global smartphone giant, overtook Apple in second quarter of 2018 to become number two smartphone vendor globally for the first time. According to International Data Corporation (IDC) Worldwide, Huawei earned 15.8% market ahead of Apple at 12.1%.
The entry of Huawei in the second position marks a turning point for the smartphone industry as it delivered shipments of 54.2 million units with a record high market share of 15.8%. Huawei has recorded 41% year-on-year growth leaping ahead of the other two brands globally during the same period last year.
It is also important to highlight that Huawei has also grabbed the second spot ahead of Apple in the Middle East and Africa. According to the GfK May 2018 report, Huawei CBG market share in Middle East and Africa is 21%, an increase of 31.25% when compared with the brand's market share in December 2017. Huawei's market share across countries in the MEA region exceeds 20%, including Levant at 37.4%, Oman at 30%, Saudi Arabia at 27%, Iraq at 25%, Egypt at 24%, Pakistan at 22.2% and the UAE at 20%.
Huawei is leading the innovation space in the smartphone industry. It is important to highlight that the company is the 6th biggest spender in R&D globally, with USD 60.4 billion spent over the last 10 years and a whopping USD 13.8 billion last year only.
The company's efforts have clearly paid off as its latest products have received several accolades globally. Huawei leads Artificial Intelligence (AI) chipsets in smartphone industry and had launched the world's first processor with built-in AI chipset – Kirin 970 in its smartphones. Its breakthrough flagship phone HUAWEI P20 Pro introduced an unprecedented 40-megapixel AI triple camera with stunning night shot photography features. HUAWEI P20 Pro found strong demand in the premium phone segment as P20 Series has exceeded 6 million phones shipped worldwide; just a few months after its launch.
Huawei continues to showcase its commitment to innovation and customer service with the release of its "GPU Turbo" technology that allows users to effortlessly upgrade their devices and enjoy much-improved devices for an ultimate gaming experience at no cost.
The company recently announced that it was placed 79th on Forbes' World's Most Valuable Brands 2018 for the second year in the row and is the only Chinese company on the list for 2018.