Minha Edible Oils launchanew product range; 'Minha Banaspati and Oils'in Lahore
Minha Edible Oils celebrated the launch of its new range of 'Minha Banaspati and Oils'at a grand musical evening held at Pearl Continental Hotel, Lahore.The Chief Guest in attendance was Mr. FarhajSarwar, Director of Minha Edible Oils while traders, distributors and distinguished guests also attended the event in large numbers.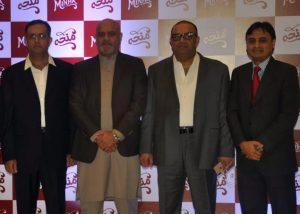 The company first launched the 'Jashan' brand through an event held in Lahoreand Karachi on July 30 and August 16, 2018 respectively.
Minha Banaspati and Oilis a new addition to the product range that bring an exceptional taste to every food. Minha Banaspati and Oil is processed and produced at a state-of-the-art plant situated in Lahore, ensuring production of the highest quality of oil at par with global standards.
Speaking at the event, FarhajSarwar, Director of Minha Edible Oils,said:
"In this day an age when consumers are getting more health conscious, Minha Banaspati and Cooking Oil has all the required ingredients available which make it an excellent source of cooking and eating healthy food and leading a healthy life. All of our products are full of Vitamins A, D and E,and an excellent source of essential minerals."
Speaking at the event, SarwarNasarullah, Chief Operating Officer of Minha Edible Oils,said:
"After the successful launch of our brand Jashan Banaspati and Cooking Oil we are really excited to launch Minha Oils and Banaspati as this assortment of brands will take us to a whole new level of business. The launch of these brands further demonstrate our commitment to produce quality products for consumers."
Minha Edible Oils is part of NRS International headquartered in Dubai, UAE and, Lahore, Pakistan. NRS International UAE is a reputed name in the international corporate arena and is now starting to enter the world of food products with Minha Edible Oils. The launch event was widely attended by distributors, retailers and other distinguished guests belonging to the corporate industry who appreciated the launch of a high quality edible oil and banaspati range at par with global health standards.
The event was held at Pearl Continental Hotel, Lahore. The hallmark of the event was a musical night. Notable singers enthralled the audience with their performances which was appreciated by all the guests present on the occasion.