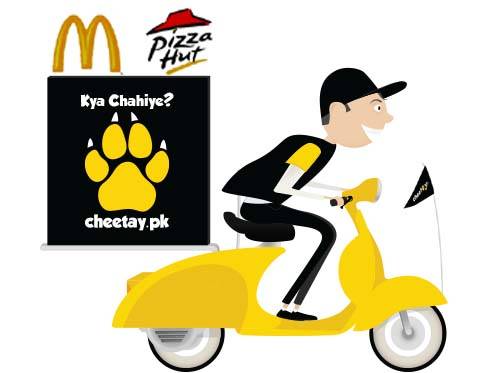 Feeling Hungry? These apps can help you hunt down food in Pakistan within seconds
Pakistan is known for its melting pot of cuisine and cultures, thanks to its geographical location. Our eating behavior has become quite the phenomenon and a culture on its own.
Gone are the days when Fast-food was the only food item that could arrive at your doorstep within a short period of time. In this digital era, more options are emerging to order food online and get it delivered right to your doorstep. Here are some best options for foodies to order food online in Pakistan:
Foodpanda is German online food delivery service, headquartered in Berlin, Germany. Currently it is operating in 18 countries around the globe. Food panda has been operating in all major cities of Pakistan including – Lahore, Karachi, Islamabad, Faisalabad, Multan, Peshawar and so on. It allows users to order food from nearby restaurants; you can simply order food through their official mobile app or website.
Cheetay.pk is a Pakistani born e-commerce platform (currently based in Lahore) which allows its users to browse across multi categories such as Food, Cheetay Tiffin (home cooked food), Books, Healthcare products, make-up and they are launching grocery soon. With over 450 restaurants to choose from and amazing discounts, Cheetay lets you to get your food delivered anywhere in Lahore. When it comes to food Cheetay is different from Food panda. If you live in Defence and you want to order food from Walled City well Cheetay is your companion. They offer convenience by placing an order with the click of a button through their cutting-edge app and website.
Eat Mubarak is a new player in the market, catering the need of foodies in Lahore, Islamabad and Karachi. Eat Mubarak lets you search and discover restaurants around you and order food from them. Just like other food apps, it allows you to search for eateries by location or category e.g. burgers, pizza desserts, etc. If you are struggling to decide which restaurant to dine in, this app might come in handy. As you can easily browse through restaurant pictures, menus, reviews, contact number and other information (such as type of seating the restaurant has, Wi-Fi, etc).
Supermeal initially launched in South Asia and branched out to United Kingdom later. It is a first of its kind food delivery platform that aims to reward foodie with cash-back on each and every order. Supermeal is based in six cities of Pakistan, Lahore, Islamabad, Karachi, Rawalpindi, Hyderabad, Peshawar, and Mardan. Supermeal partnered with more than 100 of restaurants and has served thousands of deliveries. It has since developed a mature platform and unique business model. With our customers always coming for new deals, discounts and special offers, this is definitely a journey you won't want to be left out of. Interestingly, Supermeal also provides customised mobile application to restaurants to survive in this digital era as Supermeal decided to help restaurants by giving them brand recognition at the same time. From tradition to continental, Supermeal covers all the food and restaurants for its customers as it is quick and easy so just hit the app and make a go!