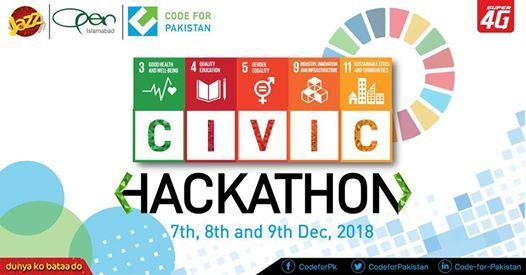 JAZZ SDG HACKATHON CONCLUDES
The Jazz SDG Hackathon, in partnership with Code for Pakistan and OPEN Islamabad, concluded here on Sunday, 9 December 2018, at the National Incubation Center, Islamabad.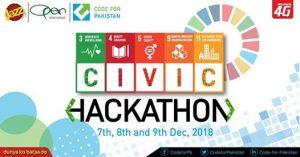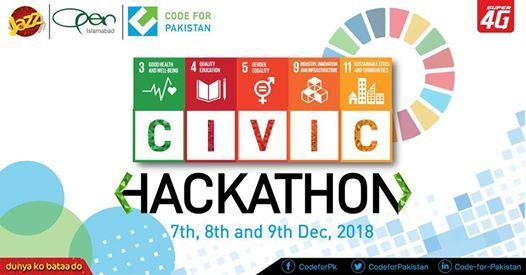 At the Jazz SDG Hackathon — a two-and-a-half day event encouraging young entrepreneurs, coders and innovators to use technology for civic solutions and social impact — participants learned design thinking, and open-source hacking for social good. They received mentoring from domain experts in government and local organizations, and had many opportunities to network throughout the event.
Jazz is at the forefront of private sector initiatives to foster the digital eco-system of Pakistan, by providing an enabling environment and platforms to young entrepreneurs who are creating innovative solutions to civic and social problems. As per the 2018 SDG Index and Dashboards report, Pakistan currently ranks at 126 out of the 156 countries surveyed for their distance to achieving the SDGs by 2030. By focusing on 'Access to Information and Communications Technology' (part of SDG 9), there is a huge opportunity in Pakistan to leverage increasing adoption of mobile phones and growth in mobile network coverage, to positively impact people and the communities they live in by using technology in innovative ways.
Code for Pakistan is a non-profit focused on leveraging tech for civic and social good. Code for Pakistan has conducted numerous civic hackathons in major cities in Pakistan, including Pakistan's first ever hackathon focused on SDGs in 2017. OPEN Islamabad provides a platform for entrepreneurs and professionals to connect, network, collaborate, mentor and support each other.
Over 100 participants formed teams to create prototypes that addressed civic and social problems in line with the Sustainable Development Goals (SDGs) initiative of the United Nations, with the 29 participating teams focusing on five SDGs at the his event: Good Health and Well Being; Quality Education; Gender Equality; Sustainable Cities and Communities; and Industry, Innovation and Infrastructure.
Participants worked on their projects over the course of two-and-a-half days, and then pitched to the judges' panel on Sunday afternoon. Judges for the Jazz SDG Hackathon included Aban Haq (Head of Innovation Challenge Fund, Karandaaz), Ahmed Masud (CEO, Channel 7 Communications), Beenisch Tahir (Innovation Officer UNDP), Haroon Kanth (Head, Teradata Global Consulting Center), Iqbal Mustafa Khan (Founder, Sabaq Foundation), Nabeel Zubair (CEO, Infinium), Saad Sohail (Head of Digital Products and Solutions, Jazz), Salman Naveed (Pakistan Alliance for Math and Science), Salman Tariq (Head of Safety and Security, Jazz), and Saram Bokhari (Project Director, Center for Social Entrepreneurship). The Guest of Honour for the closing ceremony was Hamza Shafqaat, Deputy Commissioner Islamabad, while Mr Mudassar Hussain, Member Telecom, MoITT, attended as Special Guest.
First prize went to Team Vixen's Smart Bra, an undergarment equipped with sensors to detect symptoms of breast cancer at early stages; second prize went to FideTech and their water impurity testing solution; and third prize went to Dost, a data-driven community awareness and support platform geared towards improved mental health.
"Pakistan ranks behind most countries in South Asia when it comes to Human Development Indicators and attaining SDGs. The idea of such initiatives is to support the government in solving these challenges," said Ali Naseer, Chief Corporate and Regulatory Affairs Officer at Jazz. "We are looking towards young, innovative minds to come together through the Jazz SDG Hackathon and showcase how technology can be used for the greater good."
"The idea behind CfP's various activities is to promote a culture of innovation to solve problems that are faced by us –  the citizens. We have played around with various themes for our events, to bring various communities together. For the past couple of years we have settled on SDGs as the common thread between diverse communities such civic hackers, CSOs, private sector and governments. I am pleased to see that our civic hackathons are getting more and more traction every year. Every year, we have more partners, we have more supporters and, above all we have more civic hackers," said Asim Ghaffar, President, Code for Pakistan.
Other partner organizations and supporters for the Jazz SDG Hackathon included Ignite, NIC Islamabad, UNDP, Center of Social Entrepreneurship, World Bank, NITB, TIE Islamabad, NIC Peshawar, IGDA, Startup Guide, Internet Society, The Dayspring, P@SHA, IDG, GEN Pakistan, Pakistan Alliance for Maths and Science, Sybrid, Teradata, and Ilm Association.