Major Geoffrey Douglas Langlands MBE (October 21, 1917 – January 02 2019) was laid to rest in Lahore on 07 January 2019.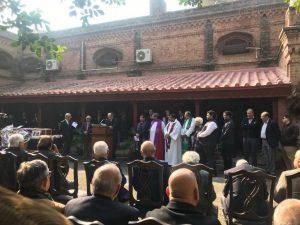 His funeral cortège passed through the historic grounds of Aitchison College with thousands present to pay their final respects to 'The Major', who lived the life of a soldier, teacher, gentleman, story-teller, mountaineer and humanitarian. Major Geoffrey Douglas Langlands devoted his life in service to others and especially his adopted country Pakistan. Langlands taught English and mathematics for more than six decades in Pakistan, In 1954, he began teaching at Aitchison College, one of the most reputed colleges in the country. 
 In the late 1970s, he took up the head teacher's job at the Razmak Cadet College in Waziristan, located near the Afghan border. Langlands thereafter took over the role of head teacher at the Sayurj Public School in the city of Chitral in northwestern Pakistan. He raised funds to buy land for the school and expand it.