Cheetay partners with Telenor as its official service provider
Lahore – 5th July 2019: Cheetay is well on its way to becoming the leading go-to E-commerce & logistics brand in the country. Having launched their services in Islamabad & Karachi, a city wise rollout is their plan of action with multiple cities to follow. Their aim is to not only go big but to be the ubiquitous one stop shop that offers everything under one roof. Being an E-commerce platform equipped with last mile logistics, they offer a slew of services such as delivering food, medicines, books, baby care products, makeup and groceries.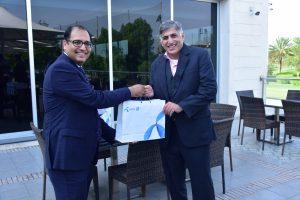 Their plan is to partner with the leading players in the industry and to leverage not only the best tech services but to explore all avenues that increase efficiency, marketing, business operations, etc. Collaborating with Telenor is one such step.
"For me it is essential to increase synergy in all areas of the business so that everything aligns and falls into place. When you're on a trajectory of growth, you need support and partnering with key industry players like Telenor makes a difference. Being a tech company, I make it a point to stay abreast of what's new in the world of technology, startups and entrepreneurship just so that we know where we stand and where we want to bet at. Brining Telenor onboard as the official service provider is a step to increase efficiency in terms of getting the best telecommunication service and fast internet access for our rider and vendor apps since the entire last mile process depends on internet availability, from restaurant orders to the riders collecting them, etc. The idea is to collaborate with the best and that is what we intend to do." said Ahmed Khan, CEO, Cheetay.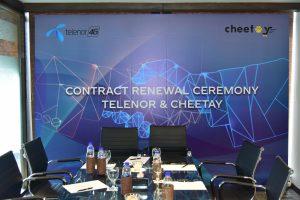 Telenor is one of the leading mobile data and digital service providing telecommunication companies in Pakistan with a customer base of 44 million which has a cellular market share of 28% in Pakistan. They aim to penetrate the market by not only partnering with local and established businesses but by expanding their spread and reach nationwide with the litany of services that they offer. Their signing ceremony with Cheetay recently took place where Mr. Ahmed Khan, CEO of Cheetay and Mr. Haroon Bhatti, Chief Business Officer, Telenor signed the MoU of their partnership.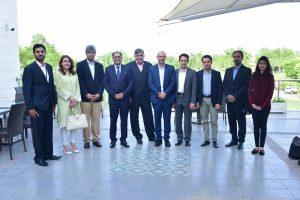 "Given that we will soon have a nationwide presence, our plan is to go city by city and for that it is mandatory to have the best telecommunication and internet facilities that equip the business which is dependent primarily on the availability of the internet. We're very excited with this partnership because it is in compliance with our effort to expand and go big" said Osman Chaudry, Chief Operating Officer, Cheetay.