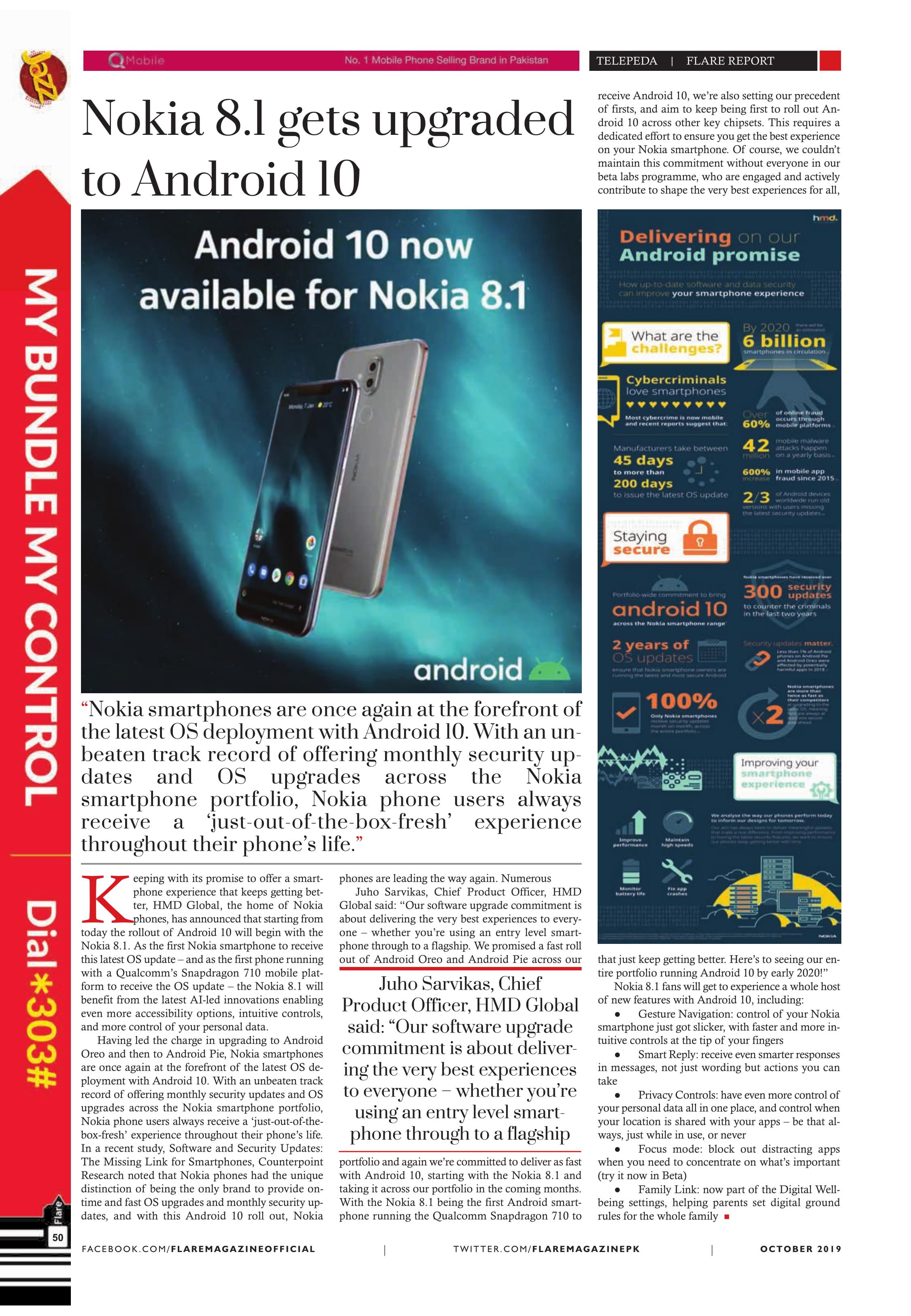 Nokia 8.1 gets upgraded to Android 10
Nokia smartphones are once again at the forefront of the latest OS deployment with Android 10. With an unbeaten track record of offering monthly security updates and OS upgrades across the Nokia smartphone portfolio, Nokia phone users always receive a 'just-out-of-the-box-fresh' experience throughout their phone's life.
Juho Sarvikas, Chief Product Officer, HMD Global said: "Our software upgrade commitment is about delivering the very best experiences to everyone – whether you're using an entry level smartphone through to a flagship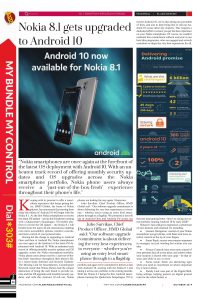 Keeping with its promise to offer a smartphone experience that keeps getting better, HMD Global, the home of Nokia phones, has announced that starting from today the rollout of Android 10 will begin with the Nokia 8.1. As the first Nokia smartphone to receive this latest OS update – and as the first phone running with a Qualcomm's Snapdragon 710 mobile platform to receive the OS update – the Nokia 8.1 will benefit from the latest AI-led innovations enabling even more accessibility options, intuitive controls, and more control of your personal data.
Having led the charge in upgrading to Android Oreo and then to Android Pie, Nokia smartphones are once again at the forefront of the latest OS deployment with Android 10. With an unbeaten track record of offering monthly security updates and OS upgrades across the Nokia smartphone portfolio, Nokia phone users always receive a 'just-out-of-the-box-fresh' experience throughout their phone's life.  In a recent study, Software and Security Updates: The Missing Link for Smartphones, Counterpoint Research noted that Nokia phones had the unique distinction of being the only brand to provide on-time and fast OS upgrades and monthly security updates, and with this Android 10 roll out, Nokia phones are leading the way again. Numerous
Juho Sarvikas, Chief Product Officer, HMD Global said: "Our software upgrade commitment is about delivering the very best experiences to everyone – whether you're using an entry level smartphone through to a flagship. We promised a fast roll out of Android Oreo and Android Pie across our portfolio and again we're committed to deliver as fast with Android 10, starting with the Nokia 8.1 and taking it across our portfolio in the coming months. With the Nokia 8.1 being the first Android smartphone running the Qualcomm Snapdragon 710 to receive Android 10, we're also setting our precedent of firsts, and aim to keep being first to roll out Android 10 across other key chipsets. This requires a dedicated effort to ensure you get the best experience on your Nokia smartphone. Of course, we couldn't maintain this commitment without everyone in our beta labs programme, who are engaged and actively contribute to shape the very best experiences for all, that just keep getting better. Here's to seeing our entire portfolio running Android 10 by early 2020!"
Nokia 8.1 fans will get to experience a whole host of new features with Android 10, including:
Gesture Navigation: control of your Nokia smartphone just got slicker, with faster and more intuitive controls at the tip of your fingers
Smart Reply: receive even smarter responses in messages, not just wording but actions you can take
Privacy Controls: have even more control of your personal data all in one place, and control when your location is shared with your apps – be that always, just while in use, or never
Focus mode: block out distracting apps when you need to concentrate on what's important (try it now in Beta)
Family Link: now part of the Digital Wellbeing settings, helping parents set digital ground rules for the whole family