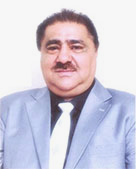 APBF National Board elects Amjad Chaudhary as President Lahore Board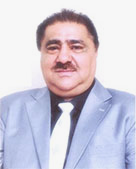 The National Board of 'All Pakistan Business Forum' (APBF) recently held its meeting, headed by the Chairman APBF – Mr. Khalid Rafiq, while President APBF Ibrahim Quraishi was the Co-chairman of this meeting. The session was intended to evaluate overall performance of APBF Lahore Board and its officials. During the meeting the Board elected Mohammad Amjad Chaudhary as the new President of the Lahore Board of APBF.
Mr. Amjad is the Chairman of the 'Allah Malik Group of Companies. He is also the Chief Executive and Managing Director of prestigious enterprises, like; Haji Muhammad Aslam & Sons, Haji Muhammad Aslam & Sons Cranage (Pvt.) Ltd, Allah Malik Cranage & Transport Services, Trade Channels, Selecto Associates (Pvt) Ltd, Macafat International, Allah Malik Auto Industries (Pvt.) Ltd, Punjab Lubricant Industry (Pvt) Ltd, Tobacco Processing Industries (Pvt) Ltd.
President APBF Ibrahim Quraishi welcomed Mr. Amjad Chaudhary as the new President for lahore and said that; "Mr. Amjad Chaudhary is a valuable addition to the association. The Board has expressed its trust in the leadership qualities of Mr. Chaudhary, and we are confident that he will expand the vision and lead the Lahore Board towards new milestones of robust performance, to achieve the ambitious objectives of the APBF.
Chaudhary Amjad expressed his pleasure and thanked the National Board members for placing their trust in his capabilities, to manage the responsibilities of leading the Board. He also reiterated his commitment and determination to put in his best efforts, to take this Forum to new heights of success. He urged the members to participate with enthusiasm for ensuring the success of APBF's initiatives, stating that; "The business community must play a vital role in paving the way to a promising future for Pakistan".
The All Pakistan Business Forum (APBF) is a vibrant business association which promotes and protects the interests of the business community and industry. It also suggests and advises the Government sector, regarding policy formulation, regulatory realignments and implementation in the commercial and industrial sectors of the economy. APBF has been consistently playing a positive role in elevation of standards and facilitation of business activity in Pakistan.