Easy Monthly Instalments allow Daraz customers to convert their purchases into bite-sized payments
Easy Monthly Instalments allow Daraz customers to convert their purchases into bite-sized payments
Lahore : October 19, 2017:- Variously rebranded as Step-by-Step Instalments, Aasan Instalments and Extended Payment Plan, 2017 has seen Daraz on-board three banks, Standard Chartered Bank, Bank Alfalah and Silk Bank, under its EMI (Easy Monthly Instalment) program thus far, EMI being a catch-all phrase that incorporates everything from flexi-pay to staggered payment plans.
The premise is simple enough: buy now, pay later. EMI is applicable on all Daraz products at a minimum cart value of Rs. 10,000.
With 0% markup, no down payment or hidden costs and nil processing fees, Daraz.pk's EMI facilitation has hit the ground running. But what kind of value does EMI bring customers beyond the usual marketing speak?
EMI: The price is right when customers are afforded the luxury of time
EMI does not bother masking or hiding the cost of a desired, high-cost product from the consumer (high-cost being a relative term here). In the words of Daraz Managing Director, Zain Suharwardy: "Easy Monthly Instalments resonate with shoppers on Daraz because they reassure customers that we get it. Certain desirables (high-end electronics and appliances in particular) are high-cost and not within everyone's budget at a given point in time. EMI acknowledges customers' monetary limitations without compromising their consumer aspirations."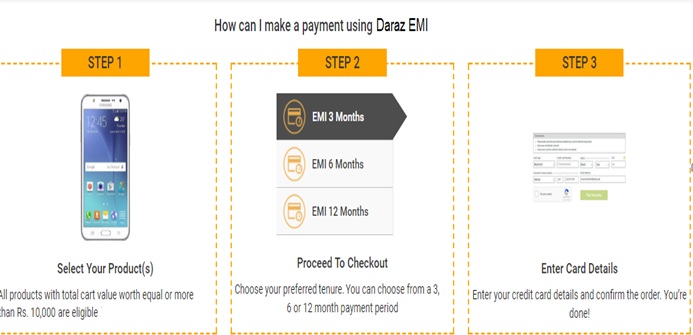 "Don't delay the purchase; defer the payment. That price-tag might be intimidating at first glance, but with Daraz Easy Monthly Instalments, it can be partitioned into manageable increments," he adds.
EMI is a value-added service precisely because it satisfies the customer's need for instant gratification while finding a happy middle ground between impulse (buy now) and prudence (pay later via a tenured instalment program).
___________________________________________
EMI acknowledges customers' monetary limitations without compromising their consumer aspirations. It lets the Daraz customer take that seemingly out of reach price tag and bring it down to size!
  -Zain Suharwardy, Managing Director, Daraz.pk
___________________________________________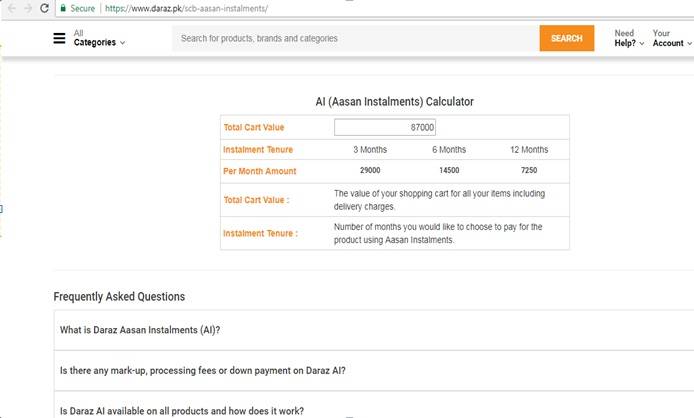 The EMI services Daraz provides are well-adapted to an age of instantaneity and connectivity. PR Associate at Daraz.pk Salahuddin Mahmood agrees: If customers want something and they want it now, there's no reason they shouldn't be able to have it. The now in 'Buy Now' has currency. There's a good reason it says 'Buy Now' on Daraz; and that the typeface for buy now is bigger and more commanding than 'Save for Later.'
For customers unwilling or unable to part with a significant lump sum of money in one go, EMI facilitates intervalled (or staggered) payments in 3, 6 or 12 month billing cycles. An EMI tenured plan is of particular facility to students and young people with limited disposable income who can't resist the allure of a Samsung Galaxy S8 or, say, a deal like this.
Daraz's EMI calculator lets users calculate their monthly payment. Consider the Samsung Galaxy S8 priced at RS. 87,000:
In EMI-terms, the Standard Chartered Bank Aasan Instalments plan would spread the total price over instalment tenures of 3, 6 and 12 months respectively.  On a 3 month instalment tenure, customers would pay Rs. 29,000/month. A year-long tenure would mean paying RS.7,250/month.
Writing for the Harvard Business Review, John T. Gourville, Professor of Business Administration at the Harvard Business School and Doctor in Marketing and Behavioural research, contends that the pricing psychology underpinning EMI promotes long-term customer retention by periodically reinforcing the 'sunk cost' effect for the end-user.
And what is sunk cost? It is money that the customer has already put 'out of pocket', made all the more vivid when the consumer sees a certain amount of money leave their account. It is the financial commitment undertaken by the consumer. To quote Associate Professor at the School of Business and Management at Hong Kong University of Science and Technology, Dilip Suman opines: Through the use of installment plans, the sunk cost effect can be delivered in intervals to bolster a customer's experience and add value.
The shopper who has committed to a monthly billing cycle, seeing the 'sunk cost' of the purchase on a monthly basis will be spurred to exact maximum value out of his or her purchase. If this hypothetical purchase involves, say, a playstation with a bundle of games, those games are likely to be enjoyed for longer. John T.Gourville, Harvard Business Professor, argues that 'consumers are more likely to consume when a price is vivid and fresh than when it is obscured or distant.'
Instalment plans keep the price (and the product experience) fresh. Not only does the customer end up committing to the instalment plan, the extent to which said customer uses the product or service bought on EMI is greater, because the price remains vivid.
EMI not only brings convenience, it also simultaneously creates commitment to the consumer experience.
Four ways EMI brings Added Value to Daraz customers
EMI allows customers to spend smart
Even if a customer has funds available, not everyone has the luxury (or the desire) to deplete their cash on hand. EMI grants customers the flexibility to make purchases without having to feed into their cash reserves and also ensures readiness in the event of an emergency or other unforeseen circumstance.
EMI accommodates the unexpected!
Spontaneous purchases made on impulse are made possible without putting a dent in one's budget. Installment terms make it easier to squeeze in unplanned (but irresistible!) purchases into one's budget—especially important for those running a household on a tight budget. By taking advantage of deferred payment plans, customers have more latitude to spend without fear of financial setback.
EMI can impose structure and direction over one's cash flow
When a purchase is converted into EMI, the customer opts in to a tenured payment plan of their choice. Forecasting of finances is made easier in this way. One is at liberty to plan around their expenses. With the payment term option, one can spread out their payments and manage their monthly expenses better.
Enables the shopper to stretch the cost of their purchase(s) over a manageable period of time
Customers can enjoy the solace of knowing that their purchase equal to or above Rs. 10,000 will not burn a hole in their pocket. It serves as a palliative, so to speak, to any anticipated 'damage.'
EMI: What's next
Combined with its practical benefits and its appeal to consumer-psyche, Daraz EMI can be expected to grow further and recruit more bank partners in the near future.
In the words of Mr.Shezad Arif, Head of Retail Banking at Standard Chartered, the first bank to introduce EMI on Daraz:
"Standard Chartered Pakistan, consistent with our brand promise of being Here For Good, is keen on building long-term alliances with reputable partners, leading to synergies and value addition for our card members. The added benefit to our credit card offering is a tremendous achievement that reflects well on the commitment and success of both Standard Chartered and Daraz."
With Daraz EMI facilitation, customers can now reap added value on a monthly basis.