Gold by Reama Malik and timeless couture line by Wasim Khan presented 'DEJA VU' at the 7th Edition of PFDC L'Oréal Paris Bridal Week 17
[Lahore – Sunday 15th October 2017]: A showcase first of its kind, renowned jeweller Gold by Reama Malik and timeless couture line by Wasim Khan presented 'DEJA VU'; a collection that was inspired by Nauratan at the 7th edition of PFDC L'Oréal Paris Bridal Week 17 on Saturday 14th October 2017. For the show case film, television and theater actress Resham walked as a showstopper.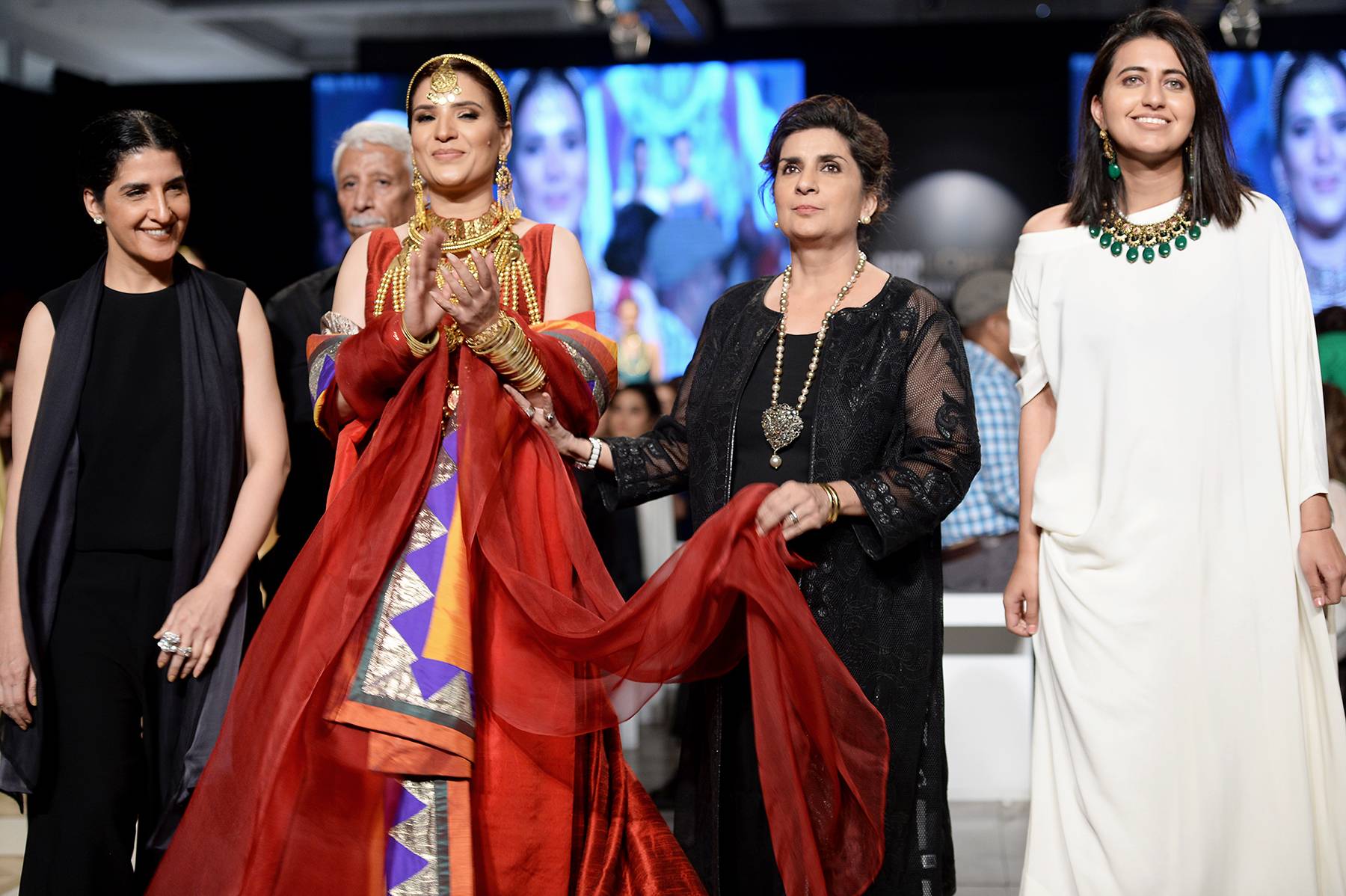 Specialising in bespoke and custom design and create one of a kind pieces for the discerning bride who wishes to stand out and not merge with the rest, DEJA VU featured pure 18, 21 and 22 Karat gold with couture pieces in a spectrum of jewel colors, ruby red, emerald green, sapphire blue, golden topaz, pearl white, amethyst purple, garnet burgundy, coral, turquoise blue and transitioning to classic red.
Indeed, having participated in all previous bridal weeks with partnerships with most celebrated names in bridal including The House of Kamiar Rokni, HSY, Ali Xeeshan, Honey Waqar, Maheen Taseer, Nickie Nina and Fahad Hussain amongst many others, this is the first time Gold by Reama Malik has taken the opening spot of this exclusive event.
On this occasion Reama Malik said "At this time the wedding industry has grown into a huge fraternity. Be it jewellery, clothes, make up, photography, events or food; this industry has grown phenomenally since the last ten years. Credit goes to Sehyr Saigol for nurturing and encouraging talent and being there to groom upcoming designers! I see this industry doing very well in the future."
Established in 1987, Gold by Reama Malik design philosophy stems from 'Nasal Dar Nasal' the beauty that surrounds us every day. The brand offers a wide range of exquisite handmade jewellery for women of all tastes with each piece designed by Reama herself. GOLD by Reama Malik prides itself on drawing inspiration from Pakistan's deep cultural heritage. Reama Malik is one of the few jewellery designers in Pakistan able to recreate antique pieces from the Mughal era, indistinguishable from the original piece.
GOLD is a brand which brings love, style and rare elegance to the women who wear it. It's all about timelessness for generations to come. Believing in Gold as an asset and jewellery as a treasure to cherish as heirlooms; Gold by Reama Malik takes great pride in saying 'Made in Pakistan as its workshops and hugely talented workmen spend endless hours to create prices of great beauty thus taking pride in each and every creation.