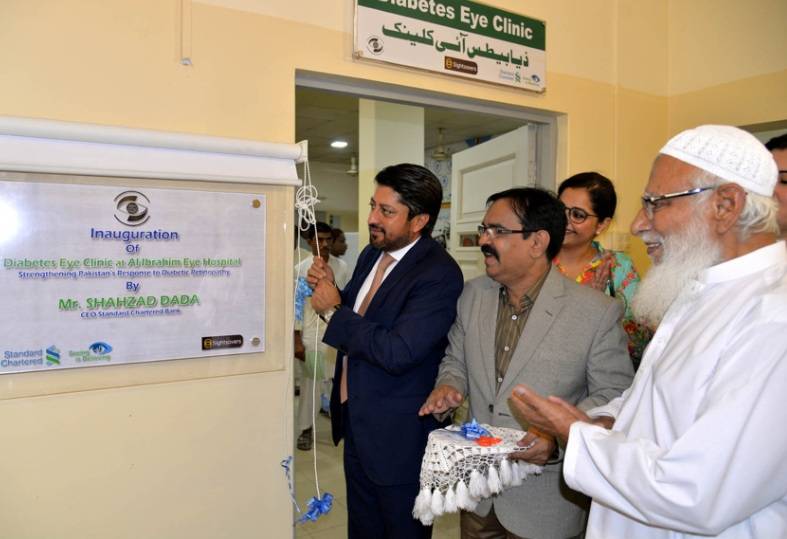 Standard Chartered inaugurates Diabetic Retinopathy Ward at Al-Ibrahim Eye Hospital, Karachi
Standard Chartered inaugurates Diabetic Retinopathy
Ward at Al-Ibrahim Eye Hospital, Karachi
Karachi (Oct 31, 2017) : As part of the Seeing is Believing programme, Standard Chartered Bank recently inaugurated a Diabetic Retinopathy ward at Al-Ibrahim Eye Hospital Karachi.
The ward was inaugurated by Shazad Dada, Chief Executive Officer, Standard Chartered Pakistan.
Dr. Saleh Memon, who is a respected authority on eye health made a brief presentation on the progress of the project for the team. Munazza Gillani, the Country Director Sight Savers International acknowledged the Standard Chartered partnership and lauded their contribution to eye health in Pakistan.
This ward is part of Seeing is Believing Phase 5 project. Under this project, the Bank will be investing USD1million across 3 districts (Karachi, Lahore, and Rawalpindi) within five years, to treat men and women who are known diabetics, for Sight Threatening Diabetic Retinopathy (STDR). It is estimated that the new programme will reach out to approximately 1million direct and indirect beneficiaries.
Commenting on the occasion Mr. Shazad Dada, Chief Executive Officer, Standard Chartered Pakistan, said: "Standard Chartered is making a difference in Pakistan through its avoidable blindness programme Seeing is Believing. I am proud that approximately 20percent of reduction in blindness is attributed through programmes which are supported by our Bank. This Seeing is Believing Phase 5 project will ensure that men and women who are diabetic are treated through early detection to prevent visual impairment."
Standard Chartered Pakistan has led various Seeing is Believing initiatives in Pakistan for over 11 years, touching close to 11million lives. As a result of the commitment and focus in this area, the Bank in Pakistan is the only corporate to be part of a policy making government committee for Eye Health in Pakistan.