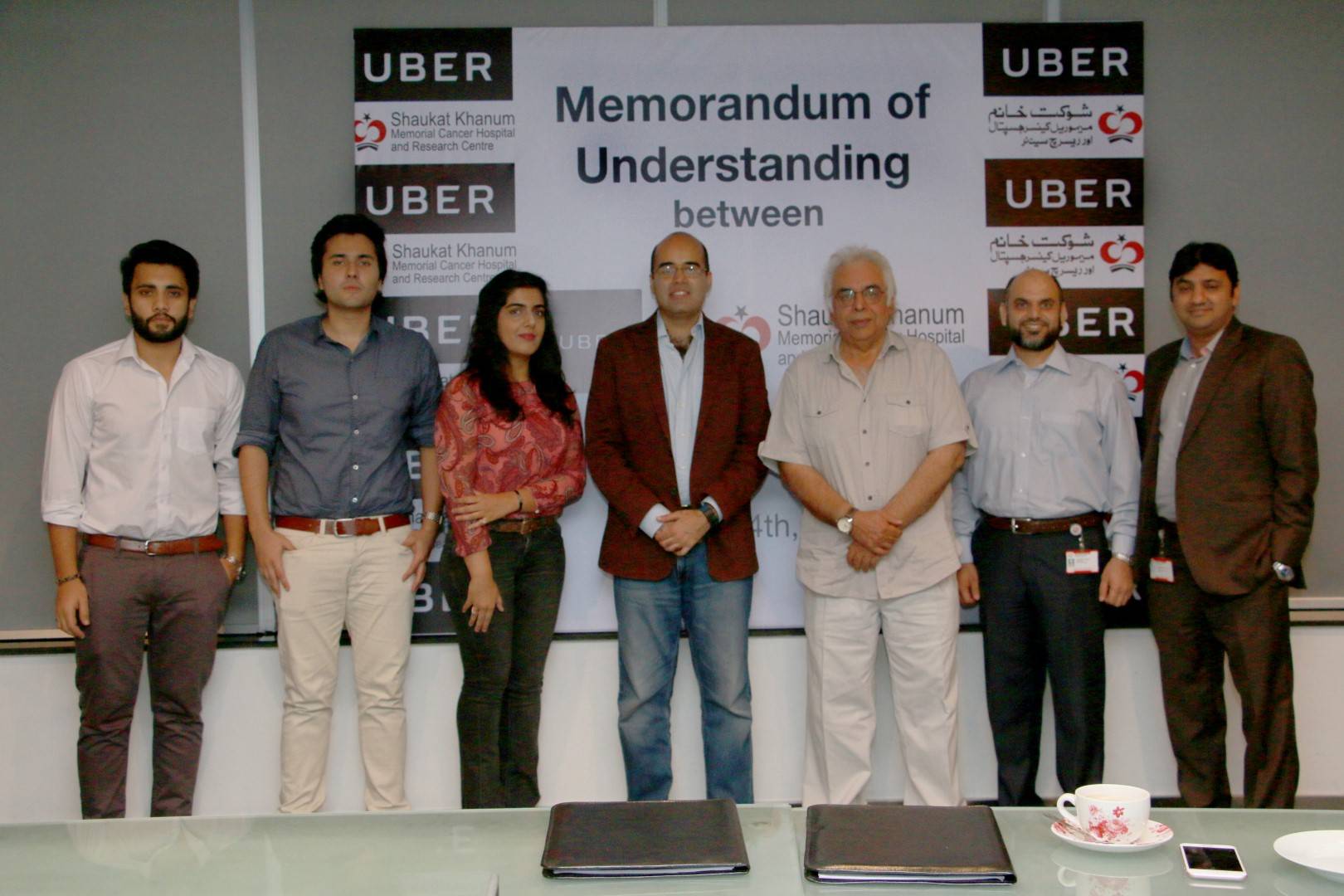 Uber Pakistan partners with Shaukat Khanum Cancer Hospital and Research Centre
 Uber Pakistan partners with Shaukat Khanum Cancer Hospital and Research Centre
Uber riders can donate for SKMCH & RC's breast cancer patients this October
Lahore, 18th October 2017: Uber, the international smartphone app that seamlessly connects riders to drivers, has signed an MoU with Shaukat Khanum Memorial Cancer Hospital and Research Centre (SKMCH&RC) as a part of its long-term commitment to partner on sustainable initiatives that will digitally empower Pakistan.
Lahore, 13th October 2017: GM Uber Pakistan Safee Shah and Tariq Azam Director Marketing Shaukat Khanum Memorial Cancer Hospital & Research Centre signed an MOU as part of Uber's CSR initiative – Uber Give.  Present on the occasion were the Uber Pakistan Team and the Shaukat Khanum Team.
Uber plans to actively participate in SKMCH&RC's initiatives to raise breast cancer awareness across Pakistan. To extend its support, Uber will be celebrating the Pink Month this October. Riders will be able to donate to the cause by using the promo code "HOPEUBERSKMCH". Uber will donate the fare from rides taken with this promo code to SKMCH&RC's Breast Cancer Awareness Campaign.
As part of the initiative, Uber will also initiate a blood donation drive in various cities of Pakistan. Furthermore, Uber will provide free rides – to and from SKMCH&RC's to encourage riders to participate in the one-day drive, details will be available on facebook https://www.facebook.com/uberpakistan/.
Uber has also raised funds for SKMCH&RC in the past. The Uber team has been spending quality time with children undergoing treatment at these hospitals.
Apart from helping millions of Pakistanis move around the cities by offering access to affordable, reliable and most importantly safe rides, Uber is utilizing its platform to support the community on a greater level. As a responsible corporate organization, Uber works on the fundamental of giving the community back with every opportunity that comes its way. Currently, over 25 thousand drivers are using the app to be connected to part time work, and the number keeps growing every month.