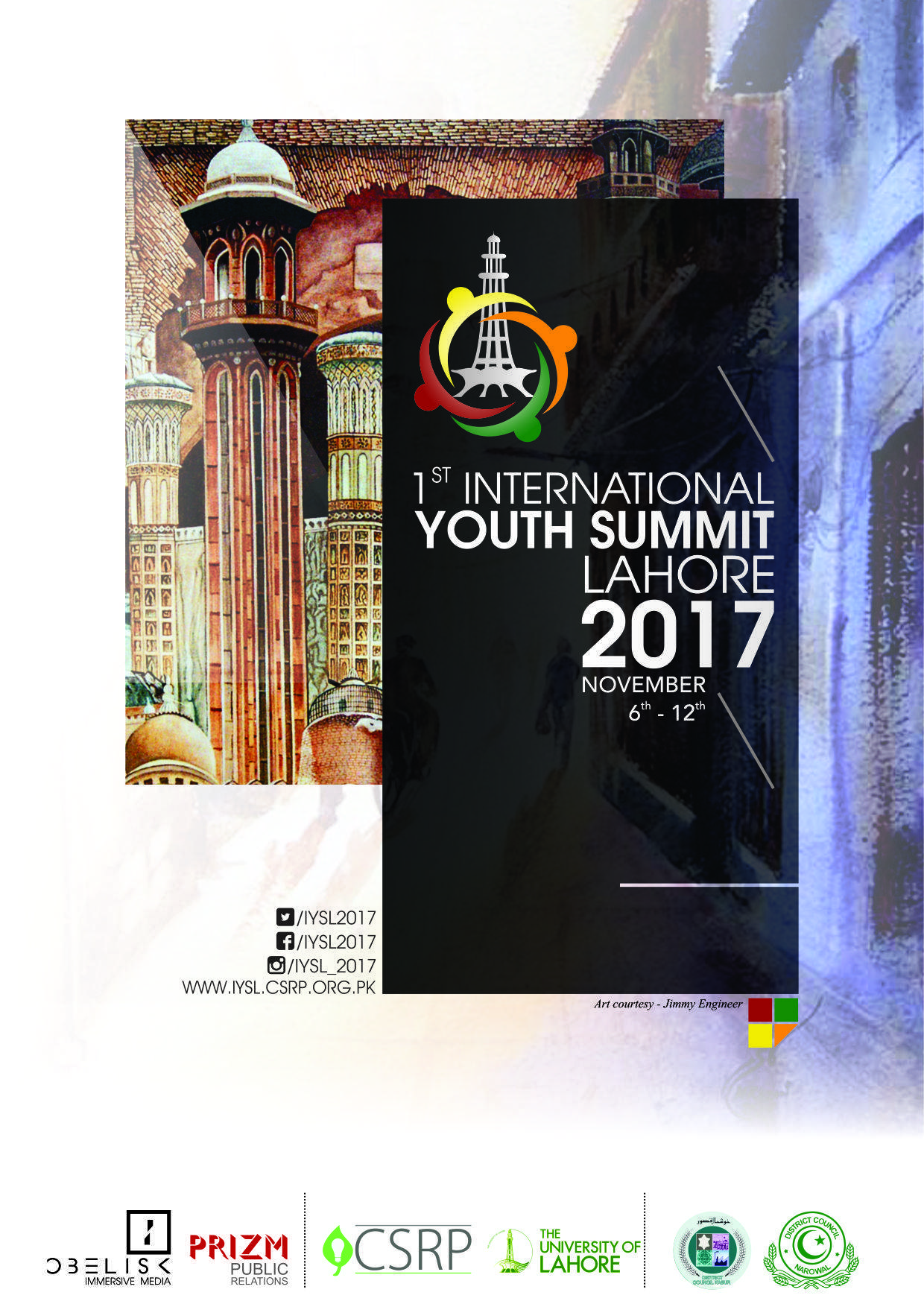 The 1st International Youth Summit 2017 to be held in Lahore by the Center of Sustainability, Research & Practice with University of Lahore
The 1st International Youth Summit 2017 to be held in Lahore by the Center of Sustainability, Research & Practice with University of Lahore
(Lahore – 30th October 2017) The first International Youth Summit (IYSL 2017) will be held in Lahore, the cultural hub of Pakistan, by the Center of Sustainability, Research and Practice (CSRP)with University of Lahore as the host institution from the 6th – 12th of November 2017. IYSL 2017 will extend over six days focusing on three thematic areas – Peace, Education and Sustainability.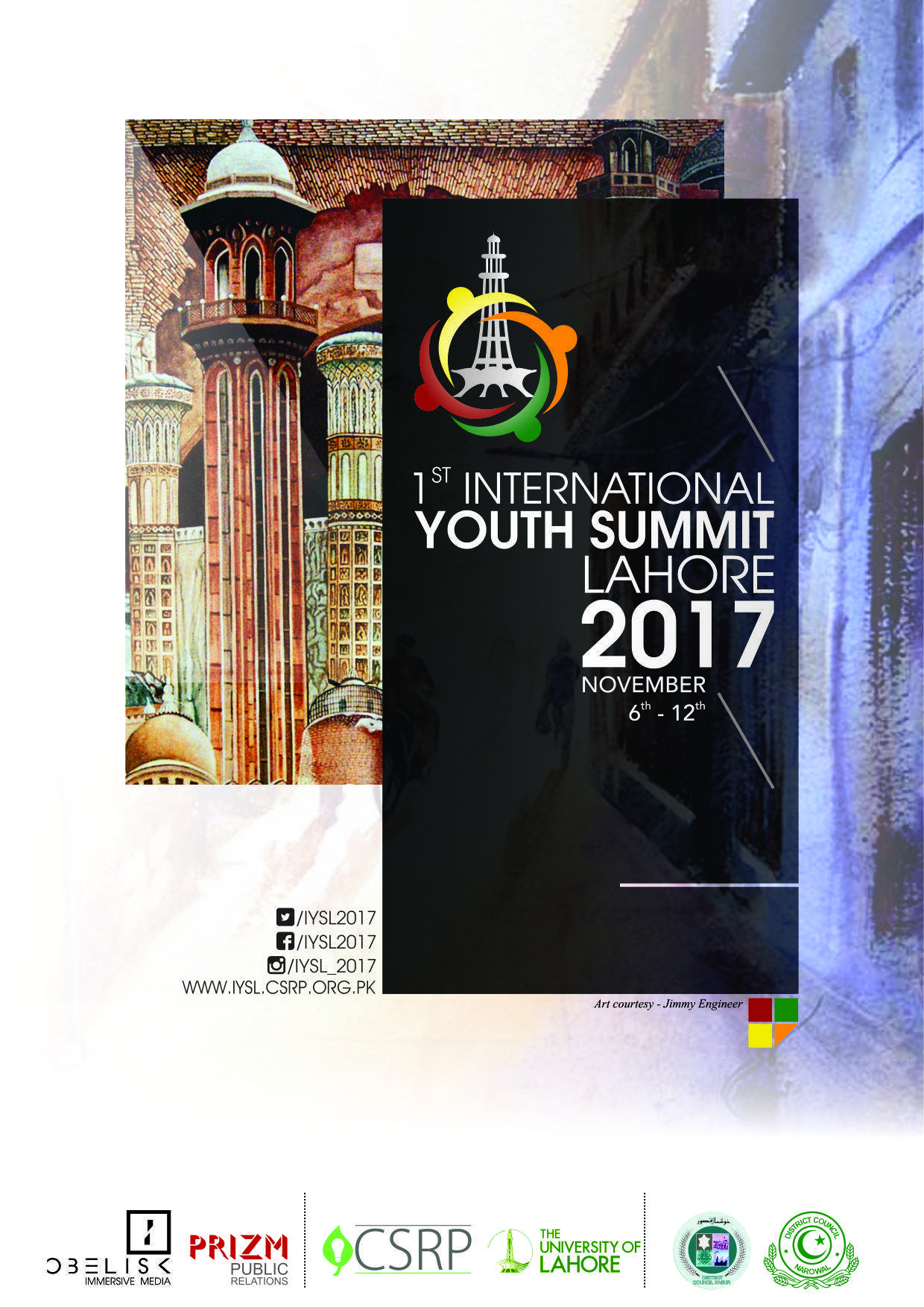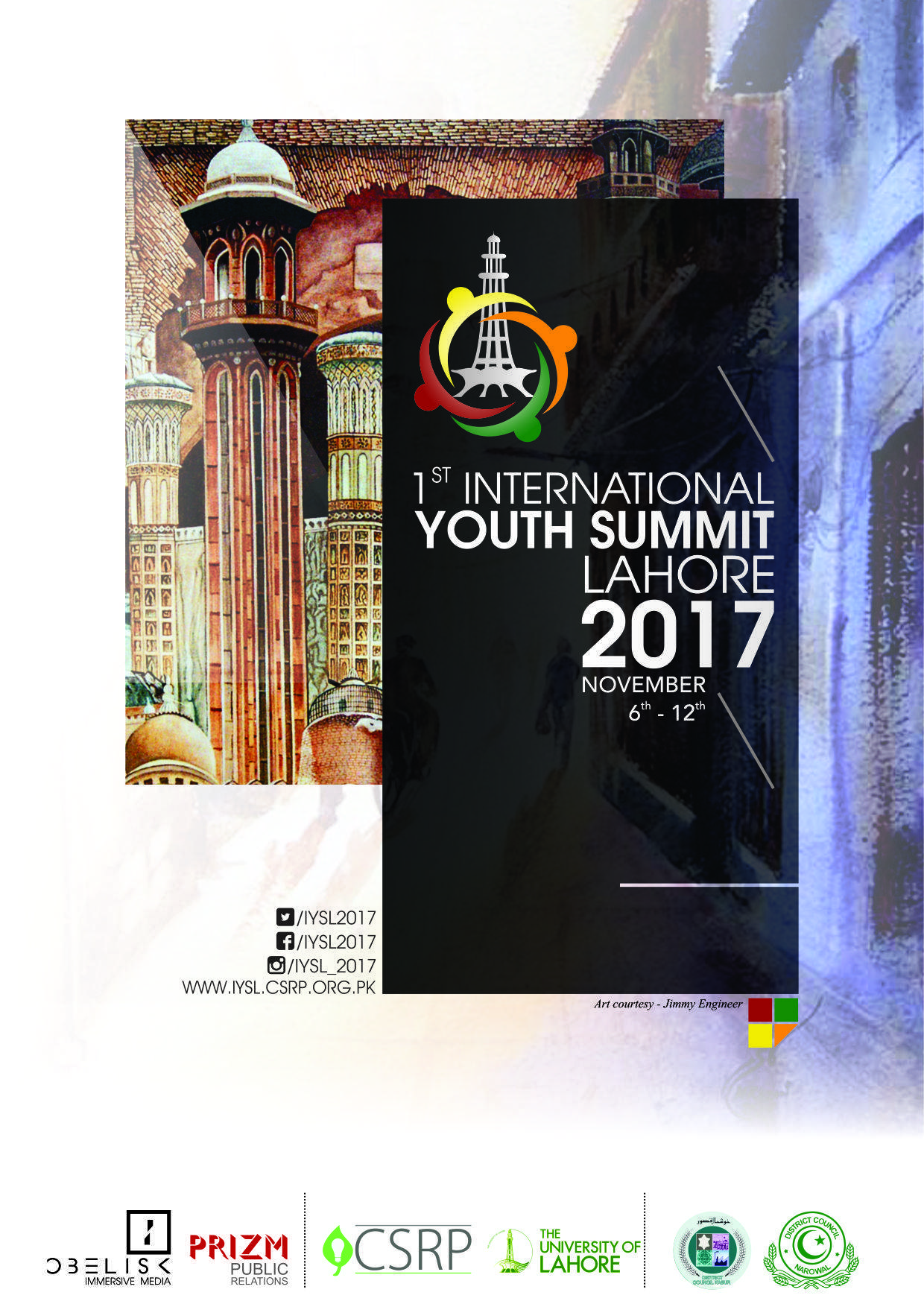 The Center for Sustainability Research and Practice (CSRP) was formed by a group of like-minded young visionaries in early 2012 under the able leadership of Naseem Achakzai. The youth centric not for profit organization is an Independent think tank working towards the Sustainable Development Goals (SDGs) with a vision to contribute towards a sustainable and peaceful future for humanity.IYSL 2017 is the culmination of that ethos. IYSL 2017 promises to be a one of a kind event and hopes to become a catalyst of change for the youth of our nation.
To be attended by almost 120 delegates from over 40 countries who will come together. IYSL 2017 will play host to world renowned speakers, expert panelists and will be attended by students, opinion makers, politicians, development professionals and the academia.
Some of the key speakers and panelists are Professor Ahsan Iqbal –  Federal Minister for Interior, Mian Raza Rabbani – Chairman Senate of Pakistan, David Wollcombe – President Peace Child International UK, Shahid Malik – Ex-Minister for Justice, UK, Mr. Awaiz Rauf – Chairman, Board of Governors, University of Lahore, Muhammad Khan Achakzai, – Governor Balochistan, and Laraib Atta – Visual Effects Artist.
Patrons of the 1st International Youth Summit include Rana Sikandar Hayat – Chairman District Council Kasur, Mr. Ahmad Iqbal – Chairman District Council Narowal, Dr. AbidSuleri – Executive Director SDPI,  Dr.ShezraKharal – Minister of the National Assembly, Syed Ali Raza – Rule of Law Expert,  Bushra Anjum Butt – Minister of the Provincial Assembly, Rana Khizar Hayat – Barrister and Salman Javed – Research Expert.
Naseem Achakzai, Director of IYSL 2017 and Founder of CSRP said "With this summit we will bring together the youth of the world to promote peace and harmony. It gives me great pleasure and honour to host the 1st International Youth Summit in Pakistan. We aim to send out a message of peace to not only the youth of our nation but to every young adult across the globe We want the world to know Pakistan is not what the world sees through the lens of international media."
The six day event will consist of an opening & closing ceremony, speaker sessions and panel discussions. IYSL 2017 will also feature performances and sightseeing of the old city of Lahore and the scenic & historical locales of Kasur.
The objectives of IYSL 2017 are Awake, Activate, Integrate, Collaborate & Update. During the Summit avenues will be looked in to strengthen cooperation and make joint efforts to create sustainable solutions in the areas of education and peace.
IYSL 2017 is being organized by the Center of Sustainability, Research & Practice with University of Lahore as host institution.  IYSL 2017 is supported by the District Council of Narowal& Kasur and production by Obelisk Immersive Media with PR by Prizm Public Relations.