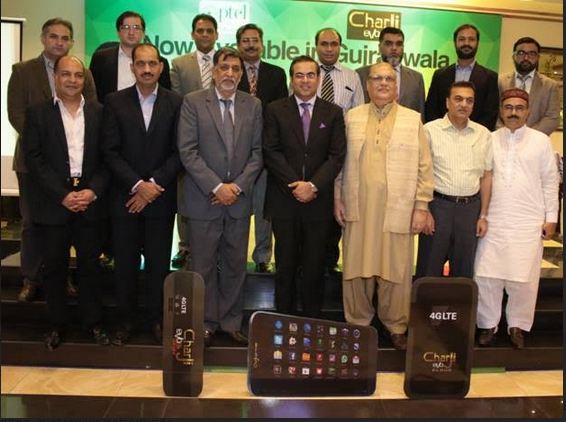 PTCL introduces next-generation CharJi EVO services in Gujranwala
Pakistan Telecommunication Company Limited (PTCL) has launched its next-generation CharJi EVO wireless broadband services in Gujranwala.
PTCL pioneered next-generation LTE wireless broadband services in the country by launching 'CharJi EVO' in 2014, which is an addition to the 3G EVO range of services already serving  customers nationwide.
Gujranwala is an important industrial hub and the launch of CharJi EVO will enable residents of the city to access Pakistan's fastest and most reliable 4G LTE wireless broadband service at speed upto 36Mbps.
The launch ceremony of CharJi EVO services in Gujranwala was attended by a large number of business community, senior government officials, media personalities and prominent citizens of the city. Khawaja Khalid Hassan, President Gujranwala Chamber of Commerce & Industries was the Chief Guest at the occasion.
Adnan Shahid, Chief Commercial Officer PTCL, while speaking at the launch ceremony said, "We are striving to build a digital future for the people of Pakistan and we remain fully committed to contribute as an industry leader towards the development of the country."
"Our broadband infrastructure is geared towards improving the socio-economic conditions nationwide and enabling people to lead better lives. Gujranwala is one of the key industrial hubs of Punjab and CharJi wireless broadband services will open new doors of opportunities for local businesses and residents as well," he added further.
Naeem Shahbaz Ul Haq, Executive Vice President, Business Zone Central, PTCL said, "PTCL has always been at the forefront of offering cutting edge services and launch of CharJi EVO in Gujranwala is an extension of this vision. We are working hard to provide state-of-the-art products and services to our customers and provide CharJi coverage in more cities."
Tariq Siddiqui, Regional General Manager PTCL, Gujranwala said "PTCL is proud to extend Pakistan's fastest wireless broadband service in Gujranwala. Availability of CharJi EVO will not only enable fast internet access for citizens here in Gujranwala, but also provide new opportunities for businesses and students alike".
CharJi EVO service is available in convenient dongles, Mi-Fi clouds and tablet, providing a powerful internet experience, faster web browsing, HD video streaming, downloads, uploads and low latency (ping) rates for online gaming.  The ease and comfort of CharJi EVO cloud devices with its state of the art Wi-Fi capability and fast internet browsing brings an unparalleled experience, connecting up to 10 Wi-Fi enabled devices simultaneously.
PTCL has launched Pakistan's first 4G LTE tablet 'CHARJI EVO TAB' which provides built-in CharJi connectivity and voice calling feature.