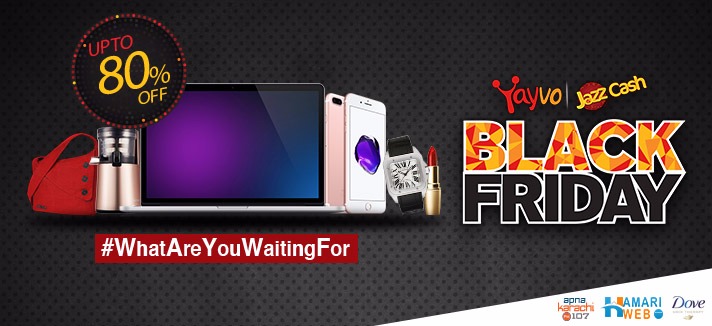 Yayvo & JazzCash are Launching Their Black Friday Sales Early
Yayvo & JazzCash are Launching Their Black Friday Sales Early
Islamabad – 19th November, 2016: Yayvo& JazzCash are launching their Black Friday Sales early. On the 18th of November they will be going live with deals on their website – with the biggest and most exclusive discounts saved for Thursday the 24th and Friday the 25th.All deals will be one time only releases – so once the products are sold they are sold.With over a 10,000+ products on sale they are putting up the majority of items up for sale on the 18th of November with deals launching on a daily basis as well. To top this up, there will be certain premium products like PS4, iPhone 7 & 7 plus that will also be going on sale.Yayvo& JazzCash together will be offering amazing discounts of upto 80% on products from all categories. Consumers will be able to avail additional 10% discount when they pay via JazzCash Mobile Accounts.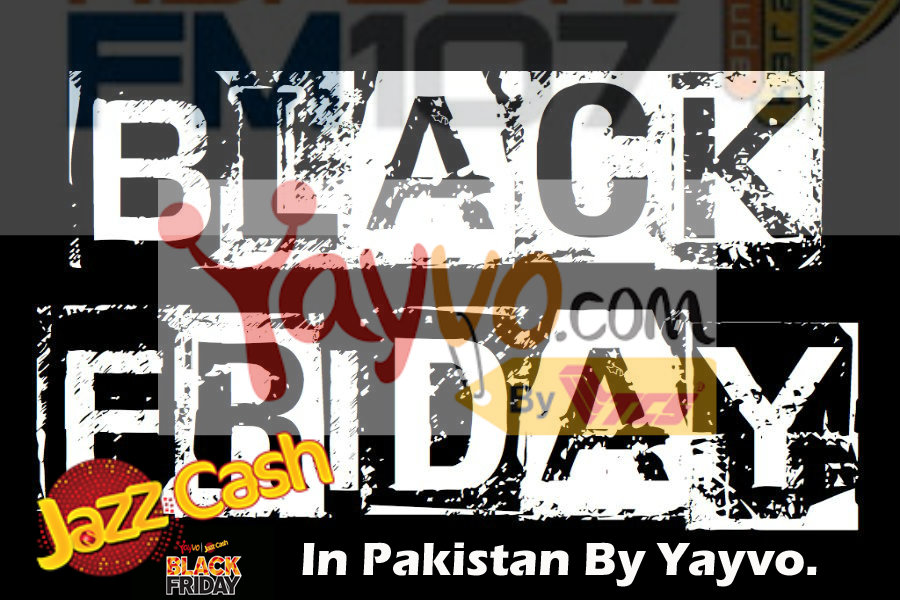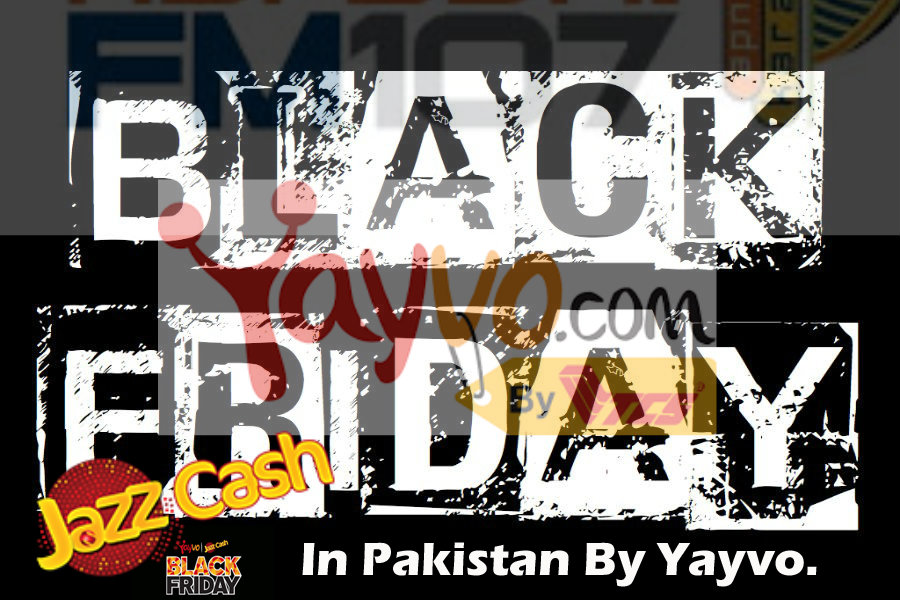 18th November – Launch of Men's Fashion & Overall Sale
The Black Friday sale goes live at 6 pm. Sales will start with the launch of their Men's fashion section. They will have exclusive launches and discounts on products from Hugo Boss, Starlet Shoes, Tommy Hilfiger, FCUK, &Romanson.
Starlet Shoes (Upto 50% off)
Tommy Hilfiger Watches    (Upto 30% off)
Hugo Boss Watches             (Upto 30% off)
Romanson Watches             (Upto 50% off)
FCUK Watches                      (Upto 40% off)
Timex Watches        (Upto 40% off)
They will also have hoodies on sale starting from Rs 330 and a Pack of 2 Polo Shirts from Rs 499 delivered within same day in Karachi, Lahore, Islamabad and Rawalpindi.Yayvo and JazzCash will also be offering exclusive discounts on other brands such as Stoneage, Castillo, Shahzeb Saeed, Red Tree, Bata, and Sputnik which will be available with up to 70% off on their collection. Apart from clothes and shoes, watches from the likes of Timex will also be on a 40% flat discount and they will be running a special offer on top, of the range leather jacket for only Rs 999.
Crazy Clearance Sale:
Also look out for the Clearance Sale where Sana Safinaz, AsimJofa and Lala will be on discounts up to 75% off! Leather jackets for the winter season will also be available at 95% off the original price.
19th November – Launch of Women's Fashion
One of the most highly awaited launches will be in the Women's Fashion Category with exclusive launches and discounts of brands like Sapphire, Lala, Sanaullah, Origins, Regal Shoes, amongst many others. These brands will be upto 60% off for all the audience out there!Winter Shawls will be on sale for as little as Rs 600 and fashionable kurti's will be starting from Rs 599. There will be a huge variety of jewelry starting from Rs 150, with crazy discounts on accessories, bags, nightwear, and innerwear upto 40% off. Hoodies for females, starting from Rs 479 will also be available! There will also be a wide range of beauty and grooming products ranging from exclusive brands like Jordana, House of Scents and AXE to international brands like NYX going on sale!
20th November – Launch of Consumer and Lifestyle Goods
Sunday will mark the launch of their exclusive consumer bundles sales. Having teamed up with FMCGs such as Unilever, Reckitt & Benckiser and Black Betty, they will be launching bundles of products such as Dove, Pampers, Unilever bundles, a household bundle of Dettol &Harpic products at over 50% off the original price. Household bundles of Black Betty will be available at 38% off.This will also the mark the launch of their Soghaat items such as Mithaai and MultaniSohanHalwa from the world famous Rehmat-e-Shereen and others.
21st – Launch of Health & Sports & Kids Fashion
Get Sporty with Yayvo giving 10% off on all Morgan bicycles. This day will have exclusive deals on all health gear and equipment – your physical fitness will all be taken care of. Be it your intake for vitamins & supplements or your physical exercise! Another exciting thing happening for all the children – All your kids will love you when you buy them amazing products from Bacha Party with 30% on all products.
22nd – Launch of Home & Living
Get your home to look amazing with Interwood products getting upto 40% off! IKEA products be exclusively launched on Yayvo with upto 15% off on this sale. To top it all, Fill More bedsets will be available at flat 70% off.
23rd November – Launch of Home Appliances
For all those people looking out to re-furnish their houses, this is the day when home appliances go on a crazy sale too! Kitchen appliances will be available at discounts up to 55% off. Customers will find microwaves at discounts up to 50% off with big brands like Dawlance and many more. ACs, TVs and Geysers will also be on sale, with free installation service to be provided to customers by Sukoon. Many more appliances for winters and entertainment will be going on sale!
24th November – Launch of Mobile Phones
The big launch everyone will be waiting for marking exclusives products from Samsung, Infinix, QMobile and others. The much awaited iPhone 7 and iPhone 7 Plus will also be going on sale at amazing discounts.This is also the day when all Black Friday deals will be live!
Millat Gold
Yayvo has also taken a bold step to sell Millat Gold this year. All those who have a JazzCash Mobile Wallet will be able to buy gold at discounted prices. These gold coins will go on Sale every day at midday – and the amazing discounts will only be applicable to JazzCash Mobile Wallet Holders. So to take advantage of this offer – open up a JazzCash Mobile Wallet account today!
Honda Motorcycle
Honda CD70 is the most popular motorcycle in Pakistan. Selling close to a million motorcycles each year, Honda motorcycles will now be sold online for the very first time. Customers from across the country can purchase the motorcycle for a discount with JazzCash.
Jazz X Handsets
Jazz X 3G handsets are being offered at 10% flat discount with an additional 10% for customers who pay through JazzCash Mobile Accounts. All customers who buy Jazz X handsets will get Rs.300 Free Balance, 300 MBs of Free 3G Data along with Free Facebook and WhatsApp for 3 Months!
Hazir deliveries powered by TCS
Yayvo will be using the power of TCS to deliver products in the fastest way possible to customers, with customers getting delivery options of 120 minutes in Karachi, Lahore, Islamabad, Rawalpindi. Just look out for the Hazir icon on the selected product and select it at Checkout. This is a free service they are providing for Black Friday but looks like they will start charging extra for this premium service afterwards.
Shopping with JazzCash
Having partnered with JazzCash for GOSF, the duo has gotten back together for Black Friday and together is looking to make this the biggest sale event of the year.
To top up the Black Friday discounts, make your account with JazzCash now! Here are 3 ways to do it:
Voucher/JazzCash Shop: Click here to find out how
Credit/Debit Card: Click here to find out how
Mobile Accounts: Click here to find out how
Additional Discounts on JazzCash Mobile Accounts
With additional discounts being offered for JazzCash mobile wallet users, this is the best time to sign up for a mobile wallet. Anyone is Pakistan can open a JazzCash mobile wallet —> Find out more by clicking here