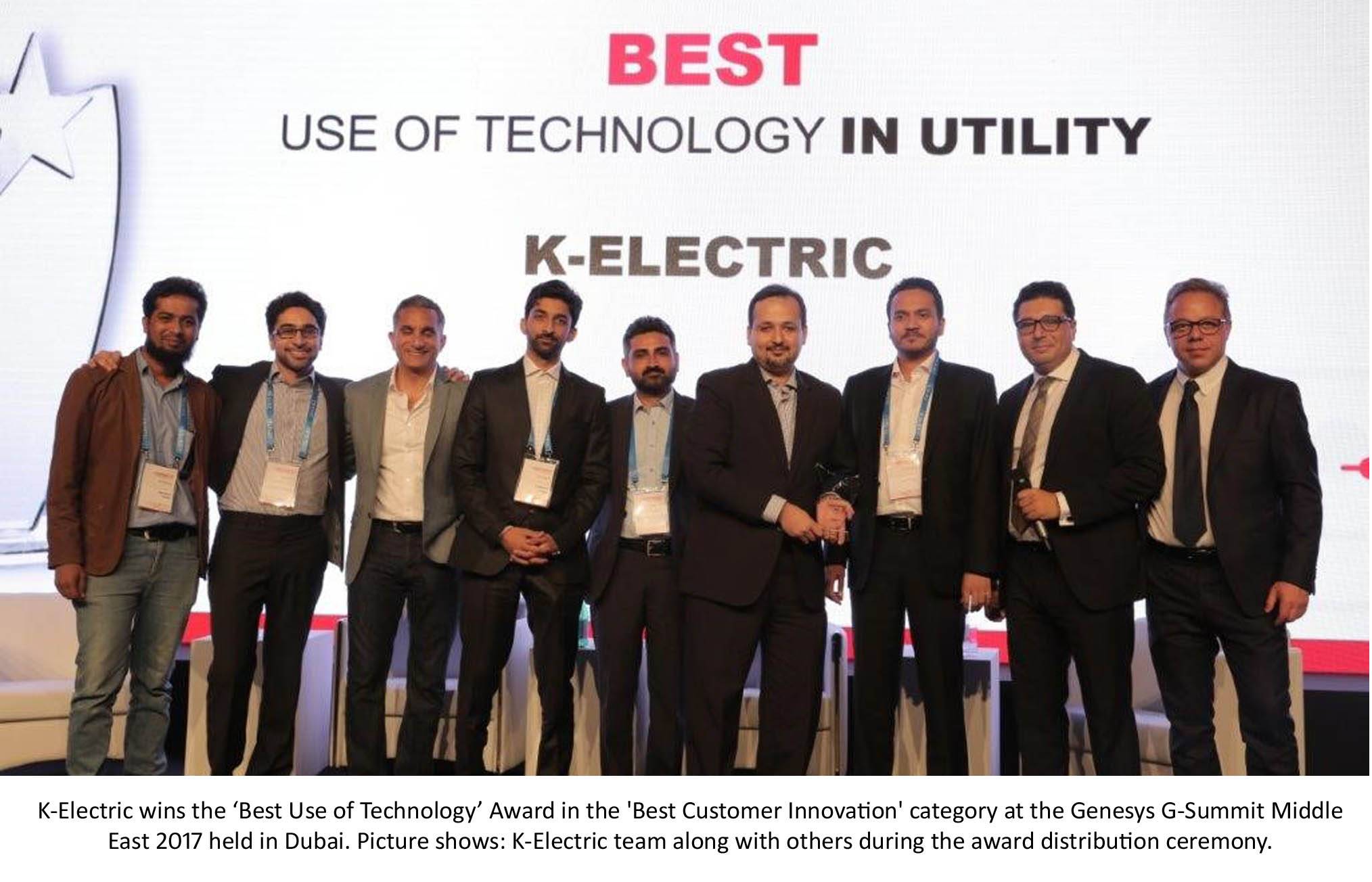 K-Electric Customer Care Excellence Wins Regional Award for Best Use of Technology
K-Electric Customer Care Excellence Wins Regional Award for Best Use of Technology
Karachi – May 20, 2017: Pakistan's only vertically integrated power utility, K-Electric has won the 'Best Use of Technology' Award in the 'Best Customer Innovation' category at the Genesys G-Summit Middle East 2017 held in Dubai. This is the first time a Pakistani company has won an award at this regional platform.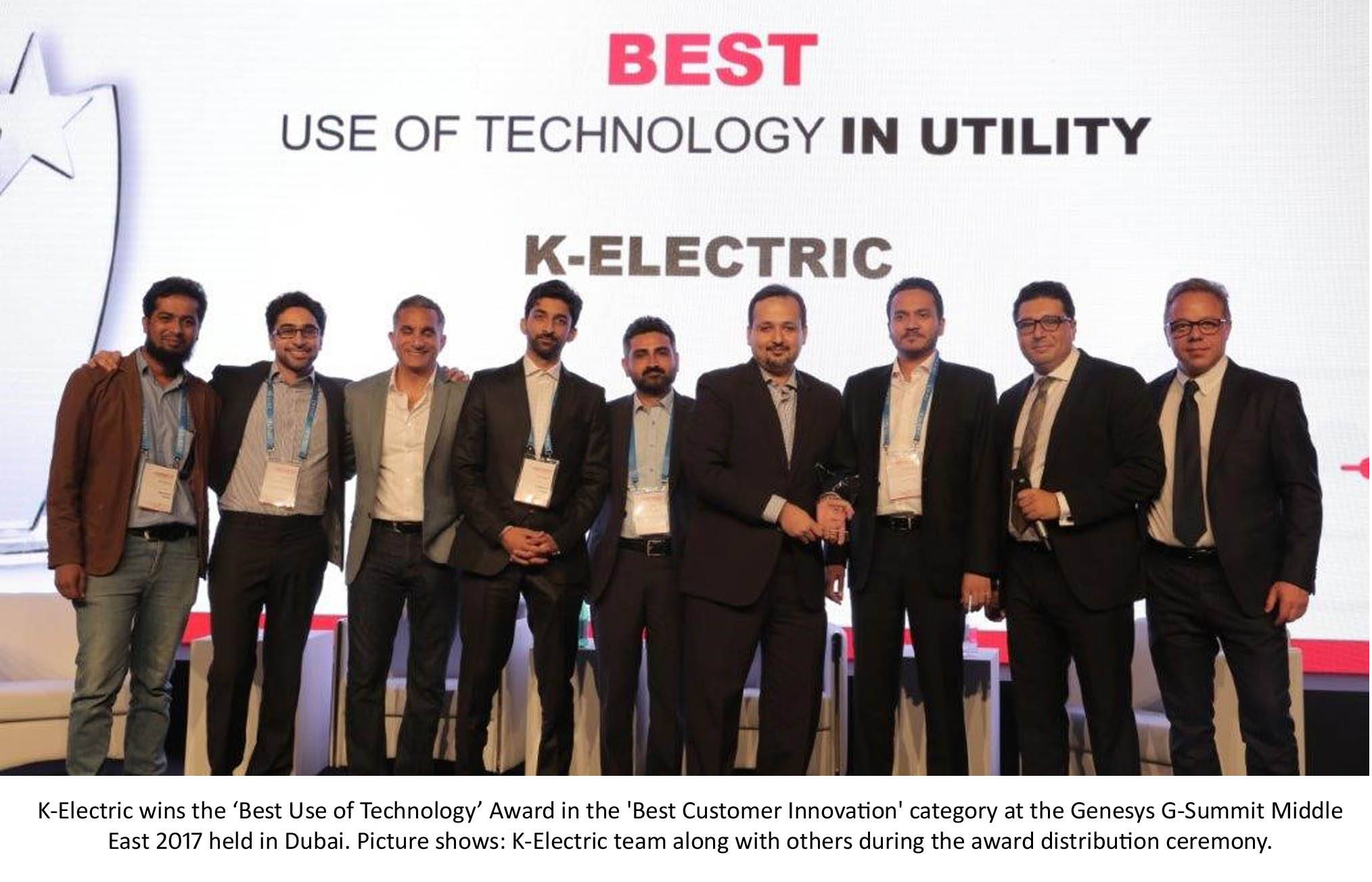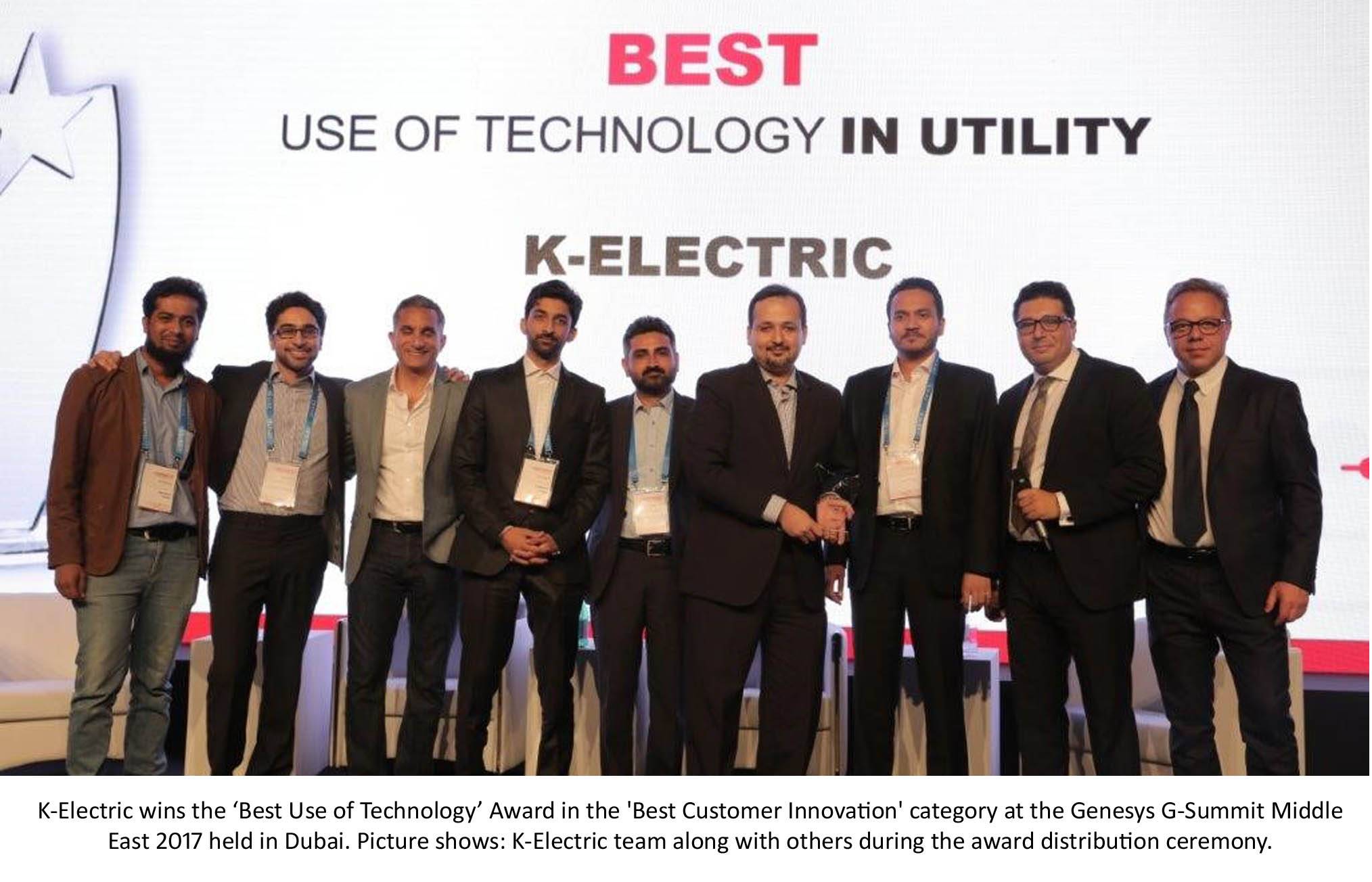 Genesys is the world's leading Customer Experience Platform serving more than 10,000 customers in over 100 countries. The award was given in recognition of K-Electric's efforts to optimize overall customer experience including deployment of cutting edge technology, enhancing call handling capacity at contact center, building customer profiles, data analytics, decreasing the turnaround time for customer service representatives in logging and responding to complaints and enabling customers to share their feedback at the end of the call creating greater accountability.
The use of technology by K-Electric is not only one of its kind initiative in Pakistan's utility sector but also the only end-to-end integration in the region making this a best in class customer care case study. During the Genesys G-Summit Middle East 2017, K-Electric was also showcased as a success story which was well appreciated by the attendees.
Congratulating K-Electric, Mohamed Afifi, Regional Director, Genesys Middle East said, "Impact of great customer experience serves as a key business differentiator, closely linked with the success of any organization today. K-Electric has taken a major lead to optimize its customer care operations by upgrading its infrastructure as well as investing in training and development of its customer care team as per global best practices of the industry. The award is testimony to K-Electric's transformation into a forward-looking organization that is empowering the lives of millions every day in one of the largest cities of the world."
According to KE Spokesperson, "KE's innovative and research-driven approach coupled with deployment of latest technology in various facets of its business makes it a world-class power utility. We constantly challenge ourselves to provide services as per the ever-evolving customer expectations and preferences. Deployment of world class solutions at KE call center operations brought real time consumer engagement analytics to help us understand effective engagement patterns to keep on optimizing customer experience. This award is yet another testament to our customer centric approach and we will continue to build positive and long-lasting customer relationships."
The award recognizes the best and brightest in different award categories. Nominees from around the region were evaluated by an executive panel of judges for achieving exceptional customer experience across their industries and remarkable customer service innovation and transformation. Other winners of awards in different categories include Emirates, Saudi Telecom and Careem.
K-Electric (Formerly KESC) is Pakistan's only vertically integrated power utility which manages the generation, transmission, and distribution of electricity serving over 25 million citizens of Karachi and its adjoining areas spanning 6,500 square kilometers. K-Electric offers a wide range of customer care touch points from call center, centralized handling of complaints via web to dedicated customer care offices in 29 IBCs. In addition, it offers live chat service via SMS and complaint resolution 24/7 via email and social media forums. Moreover, mobile vans across the city are also mobilized to facilitate customers at their doorstep.