Pakistan's First Ever Online Shopping Day On 19th May, 2017
Pakistan's First Ever Online Shopping Day On 19th May, 2017
Yayvo.com along with other e-commerce partners, have taken the initiative to celebrate Pakistan's Own Shopping Day on 19th May, 2017. It's going to be the first sales festive of its own kind in Pakistan, which will continue to happen every year, just before the Ramzan.
Now you can easily get rid of Eid & Ramzan Shopping hassle by doing online Shopping on this Shopping Day. Eid is an occasion of spreading joy and happiness. You buy a lot of apparels and accessories not only for yourself, but also for presenting them to your loved ones. For you guys, the e-commerce peers, are going to celebrate online Shopping Day on 19th May, 2017 where you can get all products that you wish for in super amazing discount prices!
Major Banks and Telecom Companies Offering Discounts!
Have you thought of getting extra discounts on online shopping excluding the ones that e-commerce websites offer you? If you haven't, so now is the time to experience it. Different banks and telecommunication brands are offering amazing discounts on online Shopping Day!

To develop e-commerce industry, the big brands of banking industry and telecommunication industry are taking part in the online Shopping Day. The e-commerce industry has evolved with time and initiatives like this will contribute to its success in Pakistan. This is the first time ever that different banks are participating in the Pakistan Shopping Day by offering users great discounts. Payment with MCB card-30% discount, Payment with Meezan Bank Card-20% discount, Payment with UBL card-30% discount and Payment with Silk Bank Card-20% discount. Not only this, the virtual online payment systems are also there to support the first ever e-commerce Shopping Day, offering 15% discount on Easypaisa, and 10% JazzCash discount.. The sole aim of the Online Shopping day is to provide the customers great opportunity to prepare for Ramzan and Eid, and get the necessary products in amazing discounted prices.
7 things you should know about this Mega Shopping Day!
Pakistan Shopping Day comes with super exciting discount offer up to 75%. The exciting deals are totally irresistible, you simply can't let go these outstanding discount offers. #RahaNaJae Let's see the offerings of this Mega Shopping Day.
1. 80% OFF on Fashion Wardrobe
Eid is an occasion where everyone wants to look classy and different from others. For this look, you wish to get adorable outfit, footwear and accessories. That's exactly what you need for Eid shopping! You will be pleased to hear that you will get incredible discount of 80% on Men's apparel, Women's apparel, Kids apparel, footwear and accessories. Some of the brands in this category include EdenRobe, Yellow, Xarasoft, Bata foot wear, Sana Safinaz apparels, Motifz, Lala and Regal Shoes… Amazing isn't it??
2. Exciting Deals in Flash Deal
On 19th May, you can avail Flash deals, which will consist of different exciting deals offered in different time slots. You can buy all Ramzan products, including Iftar and Sehri items on this Shopping Day. Apart from this, you can find exciting deals on Eid products including men's and women's apparel, footwear, accessories and many more. Flash deal will be for limited time, so make sure you avail these outstanding deals!
3. Xiaomi Redmi 4X Launch on 19th May!
Xiaomi Redmi 4X is going to be launched on 19th May, 2017 and you guys can buy it from Yayvo.com on Shopping Day. Isn't it exciting? Xiaomi manages to amaze people with its outstanding phones. Recently, In China on 11th November (Single's Day), around 1 million Xiaomi Redmi 4A were sold in just 24 hours! This gives a good prediction that Xiaomi 4X is going to follow the footsteps of Xiaomi Redmi 4A.
4. iPhone 7 Red, Samsung S8 and Samsung S7 Edge on our Online Shelves at Best Price!
iPhone 7 Red has recently launched in Pakistan, and on Online Shopping day, you can buy it at the best lowest price online. iPhone has always managed to make itself as the biggest smartphone brand, the customers love it whole heartedly for its user-inter face, and performance.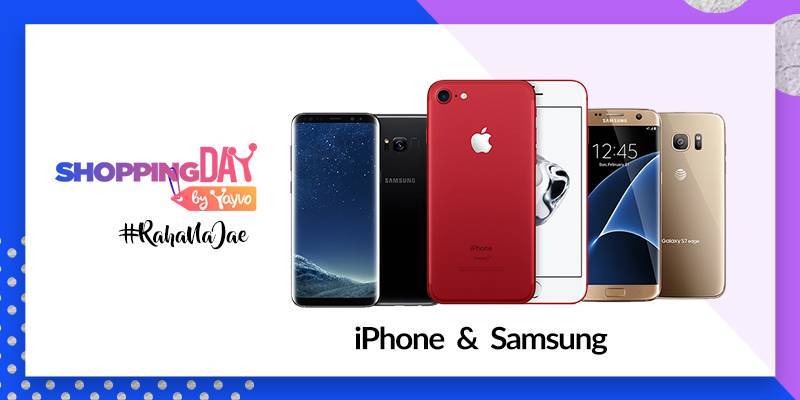 Samsung Galaxy S8 outclasses others with its high memory storage of 4GB and 12 MP camera which captures excellent shots. Samsung Galaxy S7 Edge with its 5.5" quad HD display and long battery life of 3600 mAh has marked itself as a powerful phone with great display. The Shopping Day gives you the chance to buy all these incredible phones at discounted prices! Believe it or not but it's actually happening!!
5. Free Vouch365 App Registration
Vouch 365 app normally requires high cost for registration, but on this day, you can get free registration with every order placed above Rupees 1000. This is limited for only residents of Karachi and Lahore.
6. Lenovo/Motorola Smartphones in Discounted Price!
That's not definitely the end. There is lot more to come on this super exciting shopping day. You will be able to buy Lenovo/Motorola smartphones, highly known for innovation and latest technology on this Shopping Day. There is a wide range of Lenovo/Motorola smart phones available on our online shelves. The amazing discounts offers are on these phones including Lenovo A7020 with 37% off, Lenovo A6020 with 18% off, Lenovo A6010 with 10% off, Lenovo Vibe P1 with 50% off and Lenovo Vibe S1 with 45% off.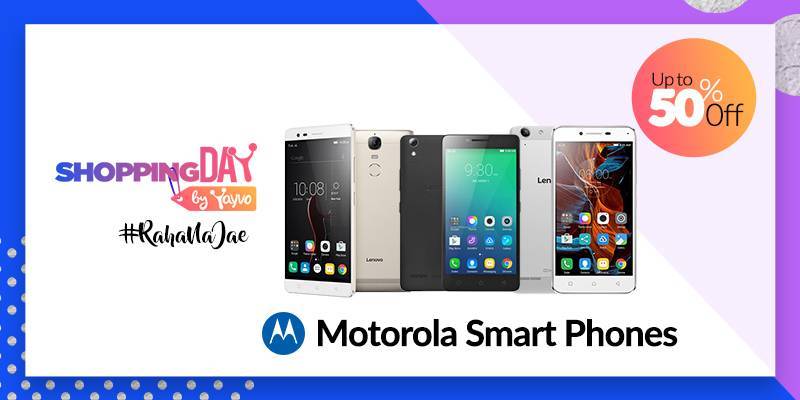 7. 60% OFF on FILLHOME Furniture and Furniture Accessories!
Do you want to decorate your home before Eid? This is the best time to get the home furniture & accessories. FILLHOME furniture including bed room sets, Furniture, children beds, living room divider, center table, dining table, iron stand, tea trolley and wooden floor, is available on online Shopping Day at 60% discount! Give the best look to your house and make it shine before Eid.
This is the best opportunity for you guys to shop unlimited on 19th May for Ramzan and Eid conveniently by sitting at your home. You just think of a product and you will have it in the best lowest prices. Without any hassle, at the comfort of your home, you can buy all Ramzan and Eid products, be it grocery, Sehri and Iftar items, men and women apparel, footwear, accessories, smartphones, furniture and many more