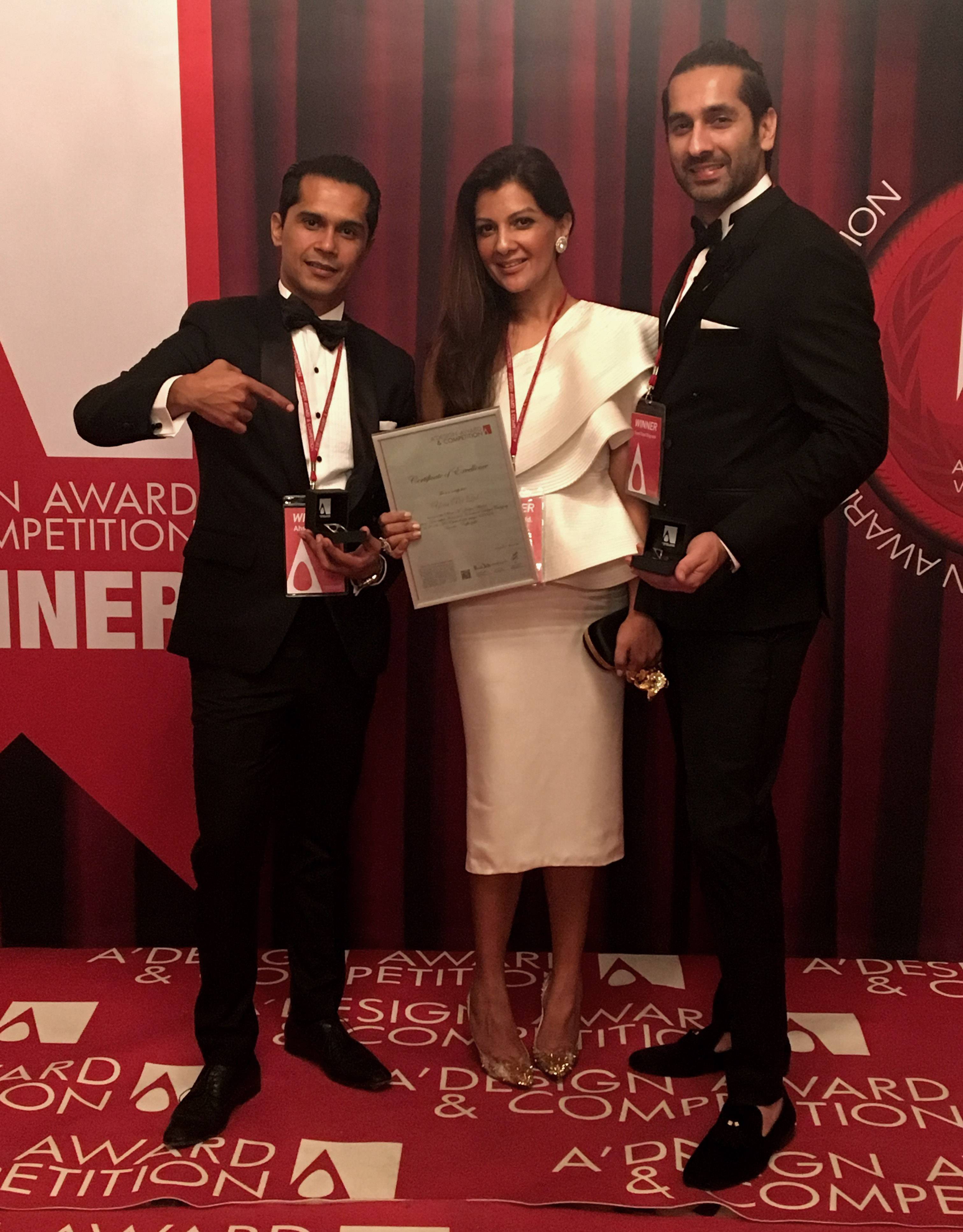 PAKISTAN'S YOCA WINS AT WORLD'S MOST INFLUENTIAL INTERNATIONAL DESIGN AWARDS
PAKISTAN'S YOCA WINS AT WORLD'S MOST INFLUENTIAL INTERNATIONAL DESIGN AWARDS
[Karachi, 12 June 2017]: Pakistan's premier home couture brand, YOCA – led by architects Sarah Najmi Bilgrami, Zayd Bilgrami and Ahsan Najmi, has won the prestigious "Silver A' Design Award" at the A' International Design Award and Competition 2017. YOCA is the only Pakistani brand to win the prestigious "Silver A' Design Award" which is indeed deemed the most influential design award in the world.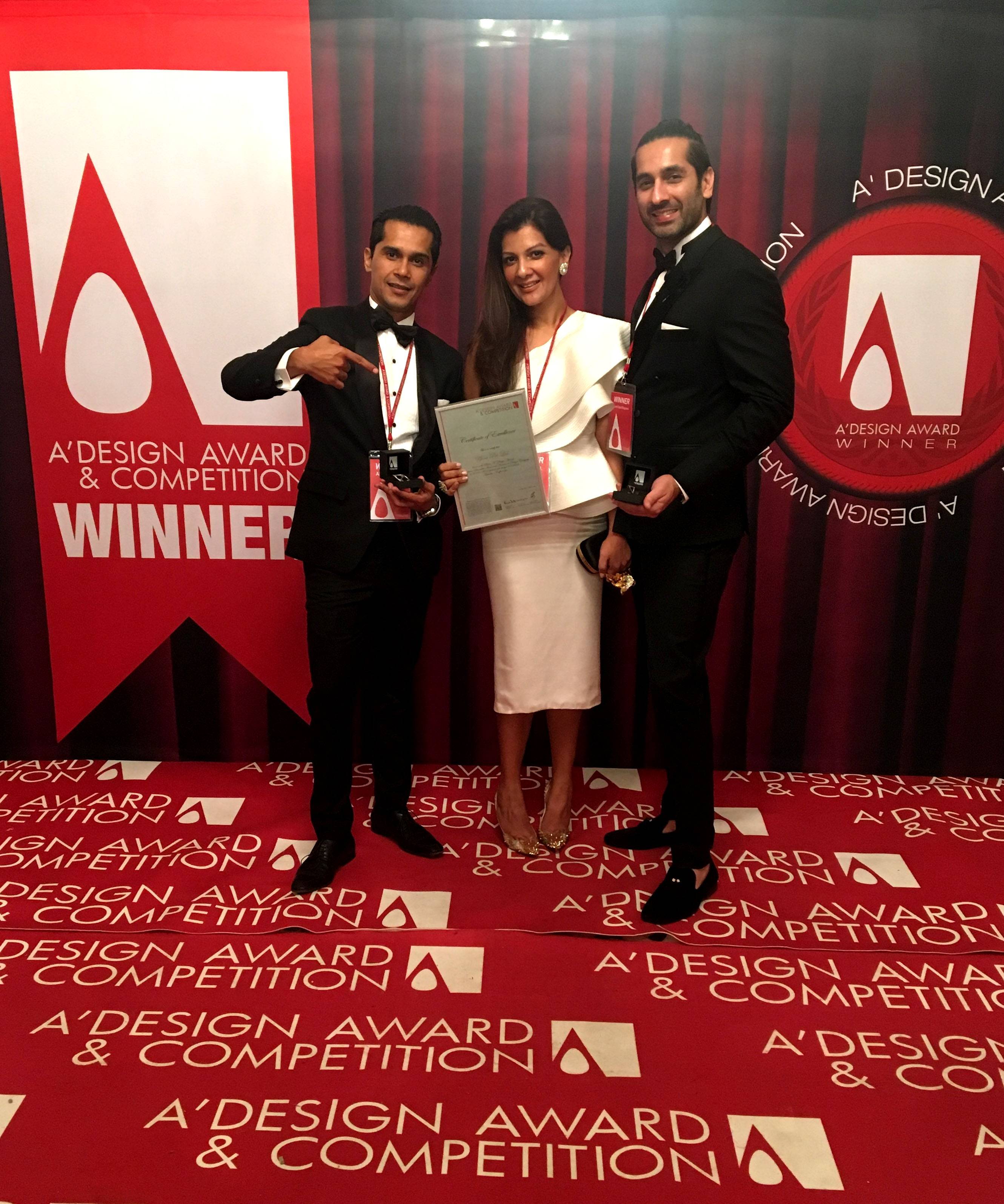 YOCA specifically, has been awarded for its design project "Amoeba – The Coffee Table" in the Furniture, Decorative Items and Homeware Design Category. Award recipients are selected from thousands of nominated projects from around the world by an international jury panel comprising of prominent scholars, members of the press, creative design professionals and experienced entrepreneurs. This award is indeed a manifestation of YOCA's quality and perfection in design which has enabled for 'a made in Pakistan' project to be acknowledged as among some of the most acclaimed brands in the world.
"It is an incredible honour to receive recognition from such an innovative and internationally acclaimed awards competition; one that sets the benchmark for design authority in Italy. We are so humbled to represent Pakistan at a platform that essentially sets the tone for design excellence worldwide. As for award winning table which examines the synergies between shapes and structures, it's a great challenge to find suitable pieces of the rosewood tree roots and bark formations that complement each other well enough to have formed "Amoeba – The Coffee Table". However, the end result is worth the effort when we know we have created a distinctive, stand-out furniture piece." said Creative Director YOCA, Sarah Najmi-Bilgrami on winning the "Silver A' Design Award".
A' International Design Award aims to highlight the excellent qualifications of the best furniture designs and the greatest furniture design concepts worldwide offering a variety of qualities in their products, such as; increased utility, new functionality, superior aesthetics, improved sustainability and remarkable performance to name a few. The "Silver A' Design Award" is given only to the top designs that have accomplished an exemplary level of sublimity in design. The YOCA team received their unique 3D printed award at the annual A' Design Award & Gala-Night at the iconic and historic Villa Olmo on the 9th of June 2017 at Via Cantoni in Como Italy.
"Amoeba – The Coffee Table", as imagined, conceptualized and crafted by Sarah Najmi Bilgrami, Syed Zayd Bilgrami and Ahsan Najmi in Pakistan, is a reflection of YOCA's belief that all natural elements can be used to create something aesthetically pleasing. Inspired by its literal meaning, a cell organism that can change its shape by expanding and contracting, the main focus in designing "Amoeba" was the exploration of materials, their restraints and characteristics and how even discarded pieces can be harnessed with proper care and attention. Skillfully utilizing the trunk of a rosewood tree, which is normally discarded, the team used primarily hand sketches with graphite pencils and paper to design this project with the beauty of the bark itself as the most unique aspect of the design and the fact that no two barks are the same yet they connect so effortlessly. The design elements of the Amoeba Coffee Table involved extensive research to ensure the strength, stability, balance and symmetry of each unique piece. The team worked also worked with brass artisans, who meticulously handcrafted the brass legs inspired by vernacular forms such as minarets and spinning tops and local wood craftsmen to create this distinctive piece. The team at YOCA will be taking this award-winning Pakistani design to various exhibitions and fairs across the globe including the A' Winners' Exhibition at "MOOD" Ex Chiesa di San Francesco in Como, Italy this June 2017.
Established in 2006, YOCA, or Young Collective Artists, is a premium Home Couture brand that surfaced from the synergies between three artists; Zayd Bilgrami, Ahsan Najmi and Sarah Najmi Bilgrami who together, bring with them a combination of inspirational creativity, seasoned industry exposure and academic design credentials from the coveted Rhode Island School of Design. The three artists represent a second generation of experts, whose predecessors have to their credit the 35 year architectural practice, Najmi Bilgrami Collaborative Ltd (NBCL), where all three team members are also partners. YOCA's products are inspired by high-end design where each piece is uniquely conceived from universal inspirations be it with whom YOCA's artisans interact, the places they visit, the evolving art world, fashion, music; or indeed something as simple as a conversation with a loved one. YOCA is committed to producing superior luxury products, paying close attention to detail and craftsmanship. The team travels worldwide to select only the finest materials, mostly working with solid woods such as rosewood, beech and teak. YOCA is also known to produce their own fabrics and leathers for upholstery on some of their pieces. The team goes to great lengths to ensure an impeccable finished product and a satisfied client.  In 2013, YOCA also introduced Pakistan's first one of a kind collaborative designer series with acclaimed couturier Hassan Sheheryar Yasin. This was followed by launch of "Bambini" in 2015 – a selection of one of a kind furniture pieces complemented by a limited edition line of childrenswear. In the same year, the team was honored by the Architectural Digest, India as one of the "50 Most Influential Names in Architecture & Design" in 2015.
YOCA are also re introducing their bespoke Karachi Showroom on 14th June, featuring brand new designs while also introducing new lines comprising of a product mix of wall papers, lights and home accessories. The YOCA Showroom is located in Karachi at 14-C Lane 7, Main Khayaban-e-Bukhari Commercial – Phase 6, D.H.A.