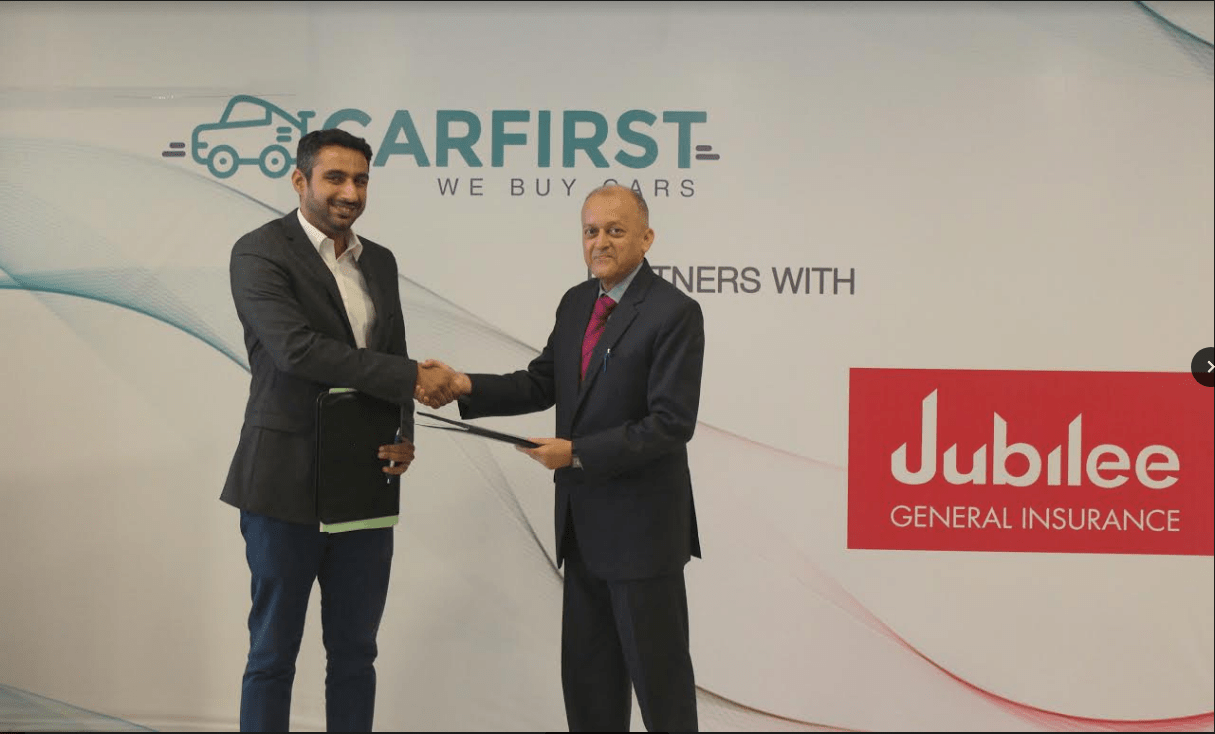 CARFIRST JOINS HANDS WITH JUBILEE GENERAL INSURANCE
 CarFirst -Pakistan's leading used-car trading platform has entered into a cross-selling partnership with Jubilee General Insurance for sale of auto-insurance to its customers and its strategic partners. The agreement signing ceremony was held at CarFirst's Head Office on 12th September 2017. Auto-insurance will be available at all CarFirst purchase centers from 1st October, 2017.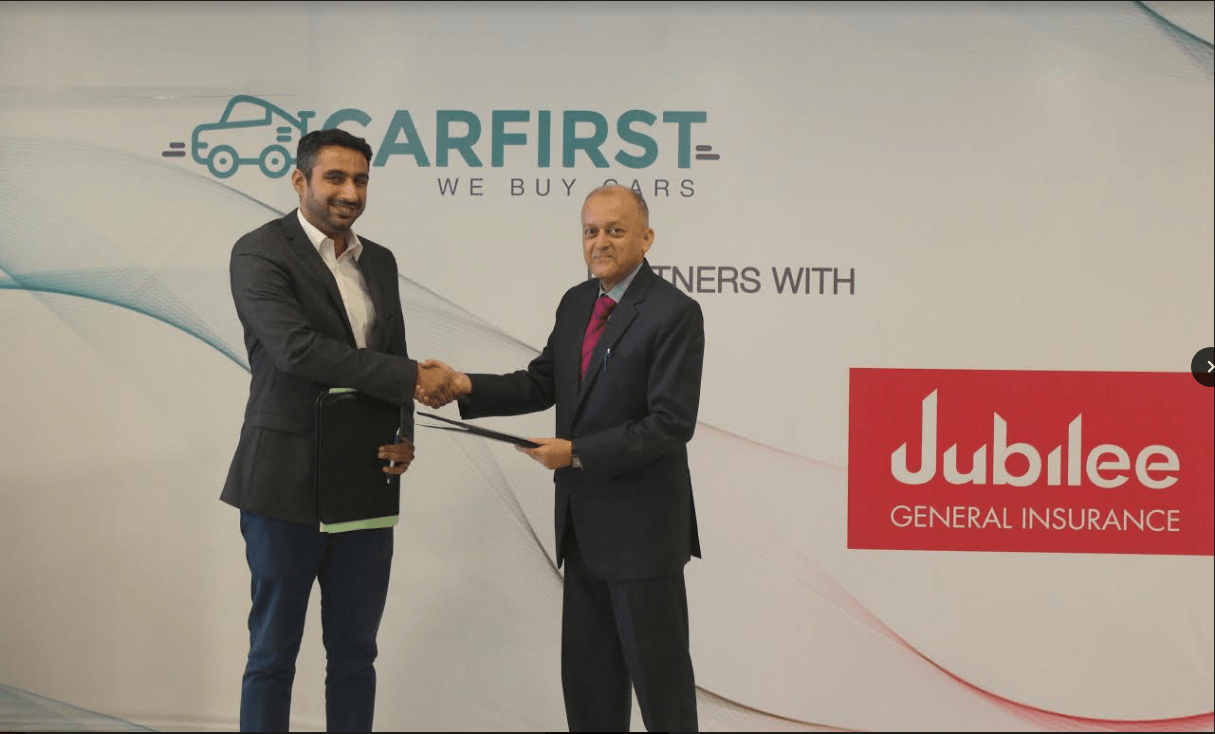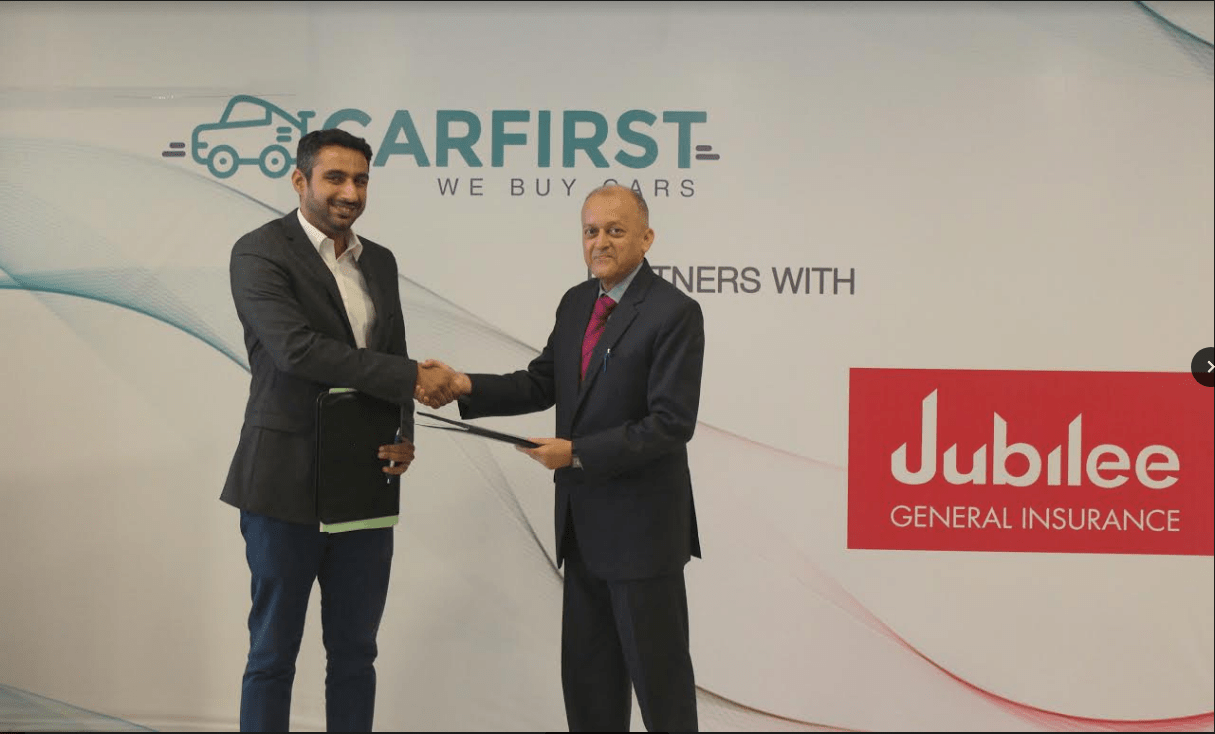 The aim of this partnership is to provide customers relief from exorbitant repair costs for accidental damage, vandalism, or theft by facilitating them with Jubilee auto-insurance. Keeping in view the number of cars and car parts stolen past year, collaboration with Jubilee general insurance will benefit CarFirst's customers by providing them with safe insurance. This collaboration is the first of its kind in the second-hand car market, and will pave the way for many exciting new auto-sector products and services to be made available at CarFirst.
Jubilee General Insurance's partnership with CarFirst would enable potential car buyers to obtain hassle free insurance along with the purchase of their car. Auto insurance is often perceived as an extra expense and a tedious task to acquire but this collaboration, in the longer run, will add value and safety for its customers by meeting their required needs.
Commenting on this occasion, Raja Murad Khan, Co-Founder and CEO of CarFirst said, "We are proud to have Jubilee General Insurance on board. Our aim is to provide our sellers with a one-stop solution for all their auto needs, including complete auto-insurance. We hope that this partnership will be mutually beneficial for both JGI and CarFirst customers."
While sharing his views regarding the collaboration, Tahir Ahmed, Managing Director and Chief Executive of Jubilee General Insurance stated that, "We are extremely delighted to join hands with CarFirst. Through this technology driven platform, our mutual potential customers will be able to secure their vehicle, which is a vital asset. Through Jubilee General's Motor Insurance Android Application, one can avail insurance within a matter of minutes at extremely affordable rates."
CarFirst provides car sellers a safe and hassle free process to get their cars inspected and sold at a fair price. CarFirst also provides a first of its kind online auction platform for used-cars in Pakistan. CarFirst's App provides their private network of strategic partners the fastest way to find the perfect car that fits their buyers' needs.