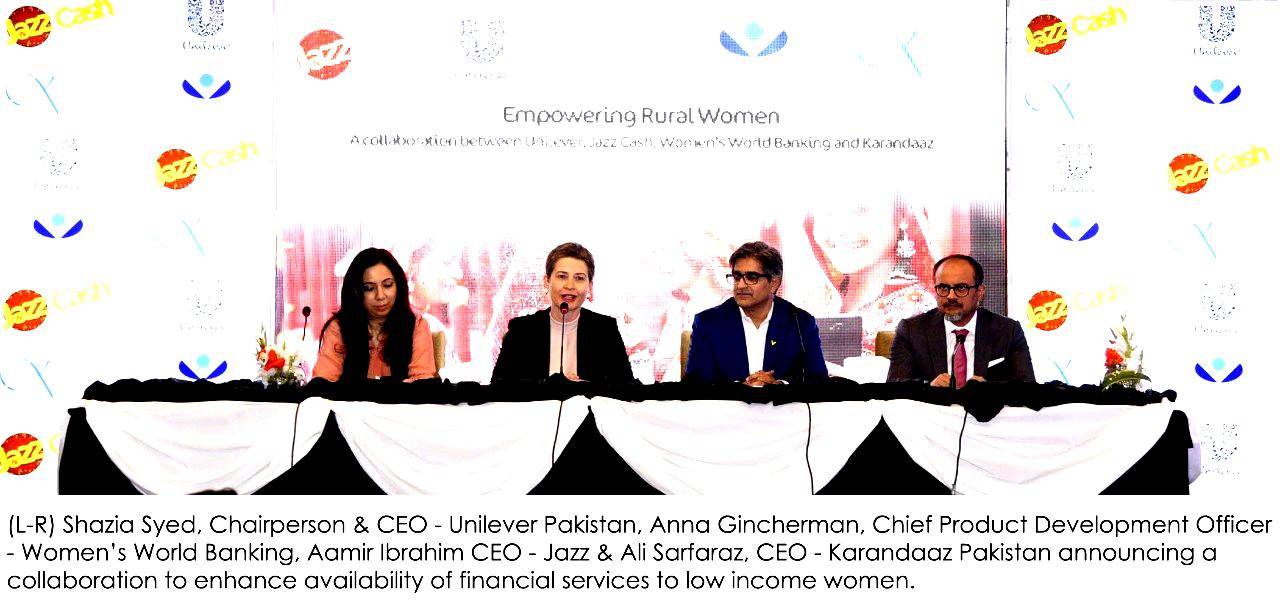 Industry collaboration to promote financial inclusion for women
Industry collaboration to promote financial inclusion for women
Islamabad, 15 December 2017: A collaboration amongst four Pakistan and multi-national organizations aims to enhance the availability of financial services to low-income women across Pakistan. The partnership, announced today, brings together the technical expertise of Pakistan's premiere mobile financial services provider JazzCash and consumer products giant Unilever Pakistan Limited. The project will be executed in Pakistan with the support of the Pakistani non-profit development finance company, Karandaaz Pakistan and global nonprofit, Women's World Banking. The partnership aims to research, design and develop an agent banking model that will serve low-income women who often face barriers to accessing formal financial services.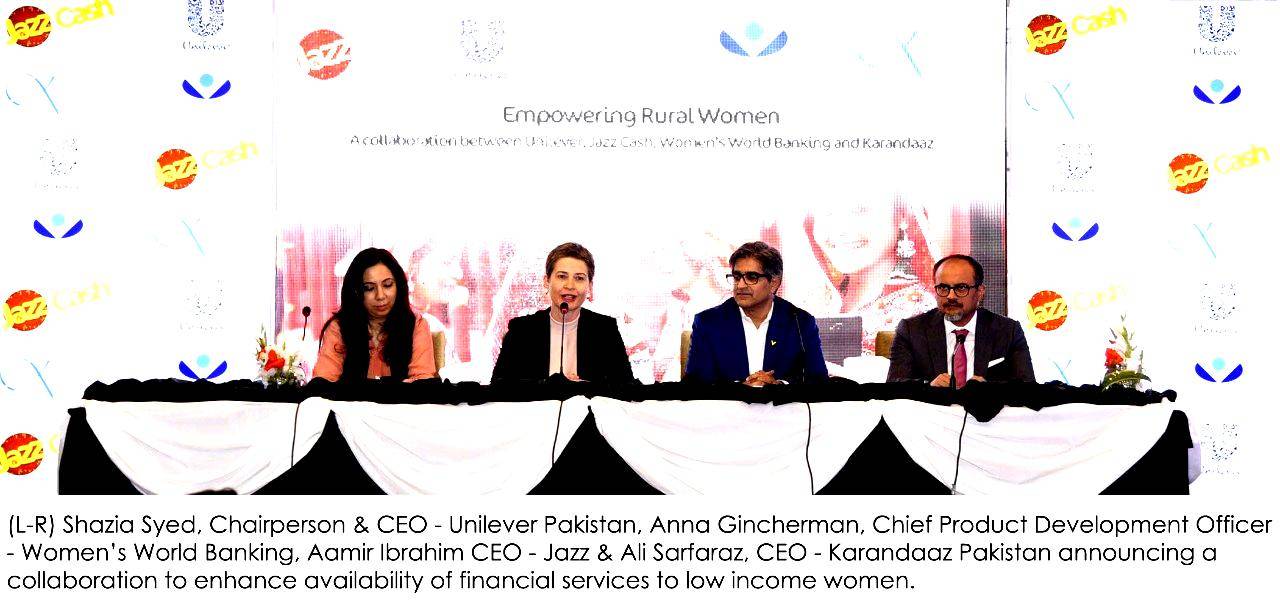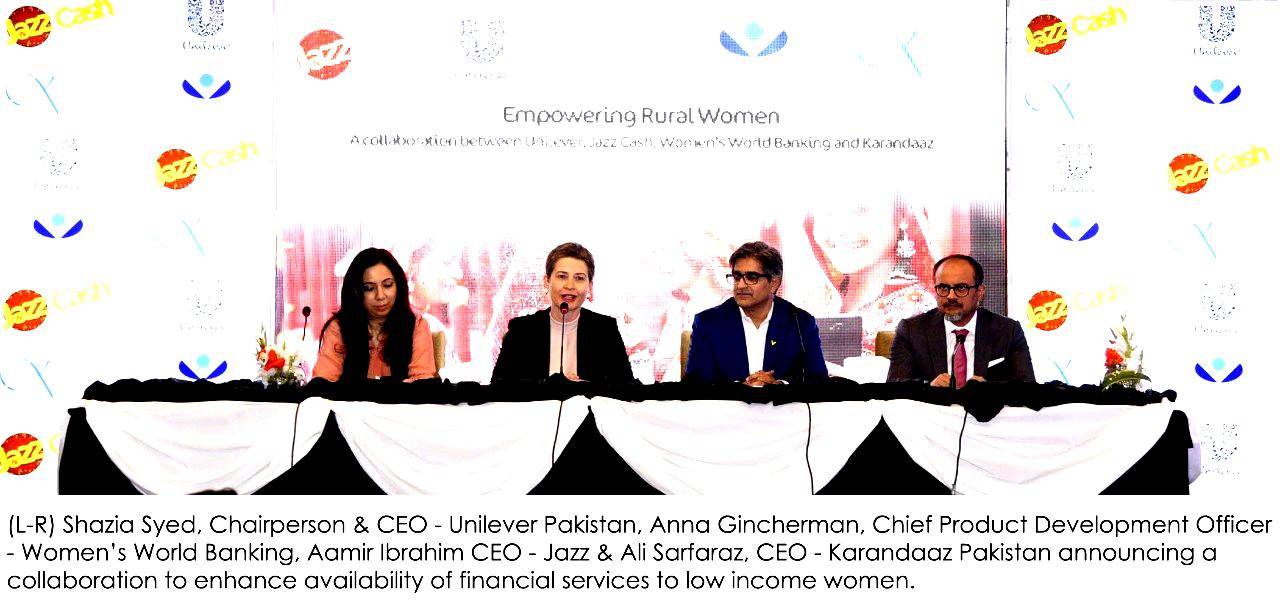 The project builds on Unilever's vast network of Guddi Baajis, female retail agents, who sell Unilever products in rural and low-income communities across Pakistan. Women's World Banking will draw on nearly 40 years of researching women's lives to develop and test solutions to enable these Guddi Baajis to serve as mobile banking agents. These female entrepreneurs will be an extension of Jazz's retail network, making the JazzCash mobile account available to women in rural neighborhoods using mobile and digital technology. This type of agent banking allows women to bank near their homes, cutting the cost of transport and time away from home and work, which can make saving at a bank branch impossible.
"JazzCash endeavors to provide basic financial services to the unbanked segment in Pakistan. We want more women to use financial services and by adding women to the agent network, we hope we can cater to their financial needs at our outlets by providing them with a comfortable environment to conduct their business" said Aamir Ibrahim CEO Jazz.
Shazia Syed, Chairperson & CEO, Unilever Pakistan, added, "The Guddi Baaji initiative empowers rural women by enhancing livelihoods and increasing influence within their communities. We are breaking gender stereotypes and creating role models. I am confident that our partnership with Jazz will increase opportunities for women in rural Pakistan through the power of mobile."
Women's World Banking will work closely with Karandaaz Pakistan, which promotes financial inclusion for individuals by employing technology-enabled digital solutions. The two organizations will leverage global best practices from their experiences in developing successful agent banking models to serve women to help guide this project.
Anna Gincherman, Chief Product Development Officer at Women's World Banking, highlighted the value of agent banking to women's financial inclusion, saying "Women already know and trust these shops and can now make deposits and withdrawals there rather than storing cash at home where it can slip through their fingers. The agents hold tremendous promise for bringing a woman into the formal financial system where she can open a bank account in her own name, plan for her future, build a safety net for times of crisis, and even grow her business."
Ali Sarfraz, CEO Karandaaz Pakistan, emphasized the role of digitization in bringing financial inclusion to women, "Fostering financial inclusion for women is a core theme for Karandaaz Pakistan. If we have to make any tangible progress on the UN's Sustainable Development Goals, Pakistan needs to act immediately to ensure women's participation in the process of development. One way to do that is to improve women's access to financial services and digital financial services can play a decisive role in bringing the financial services to women."