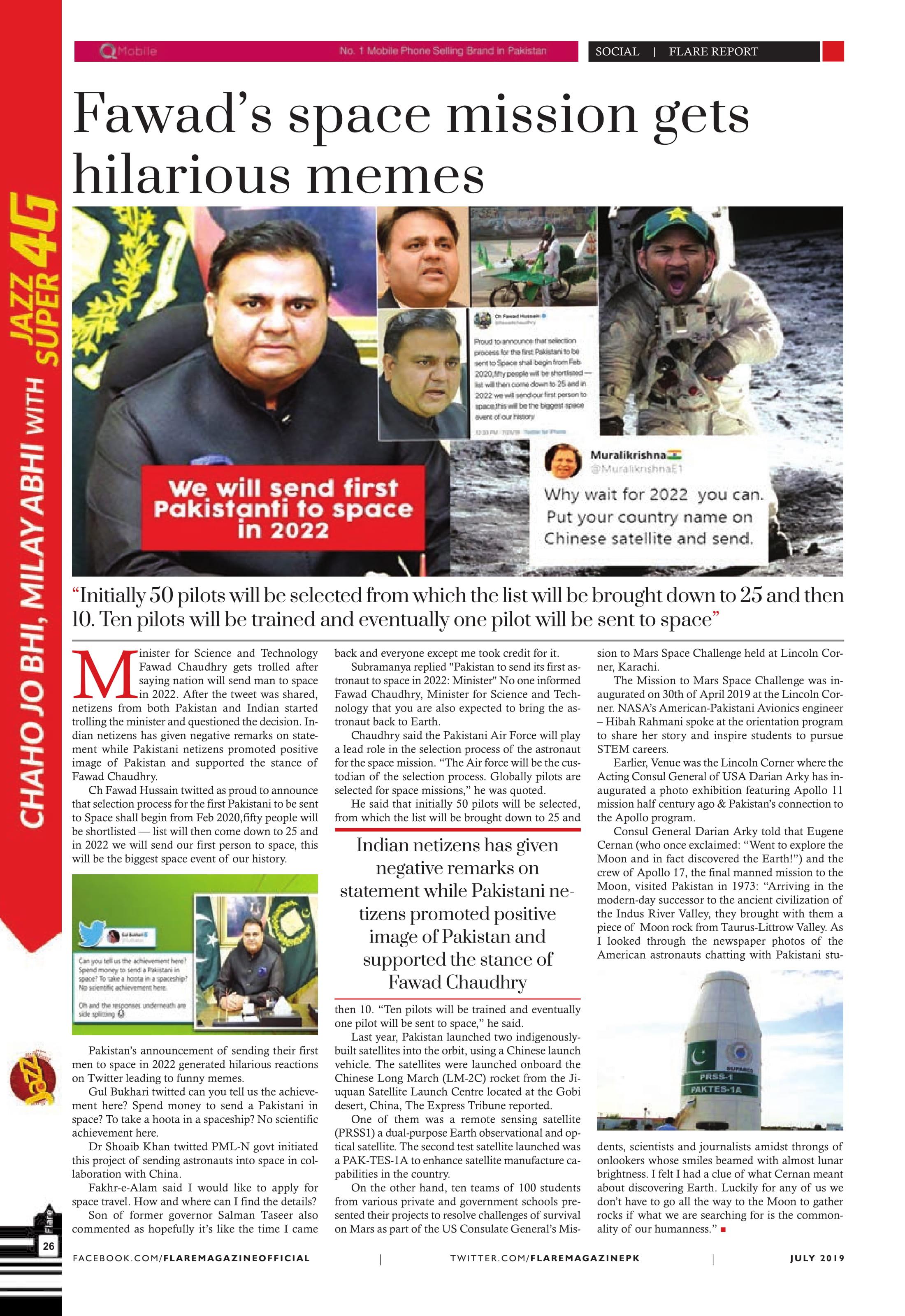 Fawad's space mission gets hilarious memes
"Initially 50 pilots will be selected from which the list will be brought down to 25 and then 10. Ten pilots will be trained and eventually one pilot will be sent to space"
Indian netizens has given negative remarks on statement while Pakistani netizens promoted positive image of Pakistan and supported the stance of Fawad Chaudhry
Minister for Science and Technology Fawad Chaudhry gets trolled after saying nation will send man to space in 2022. After the tweet was shared, netizens from both Pakistan and Indian started trolling the minister and questioned the decision. Indian netizens has given negative remarks on statement while Pakistani netizens promoted positive image of Pakistan and supported the stance of Fawad Chaudhry.
Ch Fawad Hussain twitted as proud to announce that selection process for the first Pakistani to be sent to Space shall begin from Feb 2020,fifty people will be shortlisted — list will then come down to 25 and in 2022 we will send our first person to space, this will be the biggest space event of our history.
Pakistan's announcement of sending their first men to space in 2022 generated hilarious reactions on Twitter leading to funny memes.
Gul Bukhari twitted can you tell us the achievement here? Spend money to send a Pakistani in space? To take a hoota in a spaceship? No scientific achievement here.
Dr Shoaib Khan twitted PML-N govt initiated this project of sending astronauts into space in collaboration with China.
Fakhr-e-Alam said I would like to apply for space travel. How and where can I find the details?
Son of former governor Salman Taseer also commented as hopefully it's like the time I came back and everyone except me took credit for it.
Subramanya replied "Pakistan to send its first astronaut to space in 2022: Minister" No one informed Fawad Chaudhry, Minister for Science and Technology that you are also expected to bring the astronaut back to Earth.
Chaudhry said the Pakistani Air Force will play a lead role in the selection process of the astronaut for the space mission. "The Air force will be the custodian of the selection process. Globally pilots are selected for space missions," he was quoted.
He said that initially 50 pilots will be selected, from which the list will be brought down to 25 and then 10. "Ten pilots will be trained and eventually one pilot will be sent to space," he said.
Last year, Pakistan launched two indigenously-built satellites into the orbit, using a Chinese launch vehicle. The satellites were launched onboard the Chinese Long March (LM-2C) rocket from the Jiuquan Satellite Launch Centre located at the Gobi desert, China, The Express Tribune reported.
One of them was a remote sensing satellite (PRSS1) a dual-purpose Earth observational and optical satellite. The second test satellite launched was a PAK-TES-1A to enhance satellite manufacture capabilities in the country.
On the other hand, ten teams of 100 students from various private and government schools presented their projects to resolve challenges of survival on Mars as part of the US Consulate General's Mission to Mars Space Challenge held at Lincoln Corner, Karachi.
The Mission to Mars Space Challenge was inaugurated on 30th of April 2019 at the Lincoln Corner. NASA's American-Pakistani Avionics engineer – Hibah Rahmani spoke at the orientation program to share her story and inspire students to pursue STEM careers.
Earlier, Venue was the Lincoln Corner where the Acting Consul General of USA Darian Arky has inaugurated a photo exhibition featuring Apollo 11 mission half century ago & Pakistan's connection to the Apollo program.
Consul General Darian Arky told that Eugene Cernan (who once exclaimed: "Went to explore the Moon and in fact discovered the Earth!") and the crew of Apollo 17, the final manned mission to the Moon, visited Pakistan in 1973: "Arriving in the modern-day successor to the ancient civilization of the Indus River Valley, they brought with them a piece of  Moon rock from Taurus-Littrow Valley. As I looked through the newspaper photos of the American astronauts chatting with Pakistani students, scientists and journalists amidst throngs of onlookers whose smiles beamed with almost lunar brightness. I felt I had a clue of what Cernan meant about discovering Earth. Luckily for any of us we don't have to go all the way to the Moon to gather rocks if what we are searching for is the commonality of our humanness."