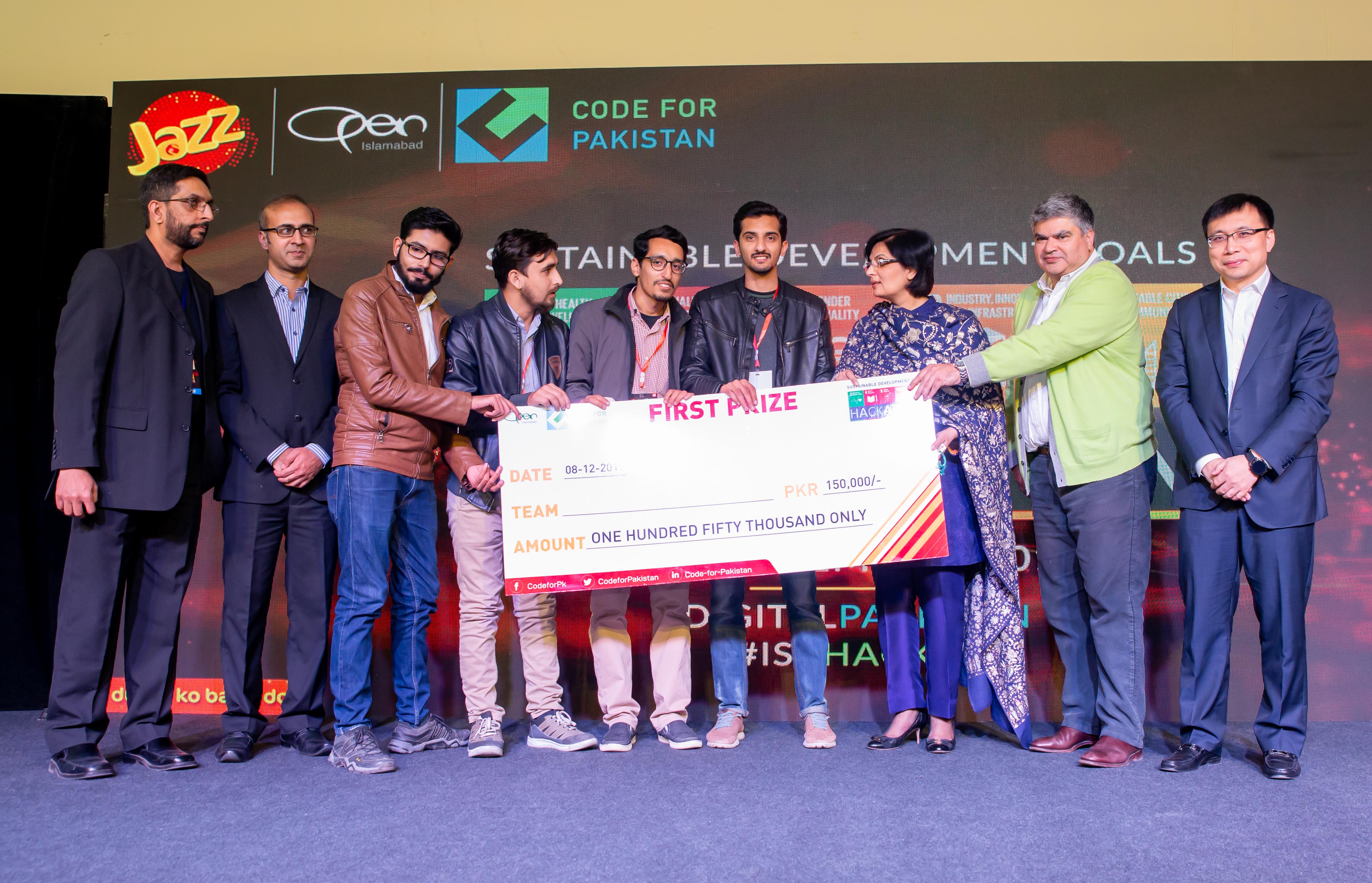 SDG Hackathon 2019 concludes
Dr Sania Nishtar, Special Assistant of Pakistan's Prime Minister and Federal Minister, Poverty Alleviation and Social Safety Division (PASSD), was the Chief Guest at the concluding Award Ceremony for the SDG Hackathon 2019 and the Women SDG Challenge Cup 2019, a premier tech initiative by Jazz in partnership with Code for Pakistan and OPEN Islamabad, held at the National Incubation Center Islamabad on December 6th, 7th and 8th 2019.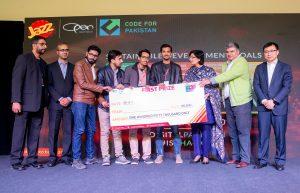 Dr Nishtar, on behalf of the government of Pakistan extended a hand of partnership, friendship, and collaboration, to the private sector and other stakeholders, to explore the unanswered set of questions in the framework of Ehsaas, which is the government's new welfare program aimed at embracing innovation and helping the marginalized segments of the country.
Saif Chi, CEO Huawei Pakistan was also present as a Guest of Honour, and generously provided giveaways for the winning teams. "We truly believe that Pakistan has great talent, a glimpse of which we witnessed today through the amazing ideas that came forth in the hackathon. We have strong confidence that with continued support of Jazz, we can explore more opportunities to support the activities around SDGs and work towards achieving these goals together," said Saif Chi.
"Such Hackathons are a great way of generating amazing ideas to support the government in attaining SDGs. By ensuring participants utilize Jazz's digital services, we are providing an enabling environment to young entrepreneurs to create innovative solutions to civic and social problems," said Syed Ali Naseer, Chief Corporate and Enterprise Officer at Jazz. All winning teams will now be provided an opportunity to be a part of the Jazz xlr8 program at the NIC in the upcoming cohort.
The two-and-a-half day event brought together over 150 participants; a mix of technologists, designers, urban planners, social scientists, NGOs and CSOs, and government representatives to develop innovative solutions aimed to address five particular UN Sustainable Development Goals using technology, data and digital tools. These included but were not limited to: Goal #3 Good Health and Well-Being; Goal #4 Quality Education; Goal #5 Gender Equality; Goal #9 Industry, Innovation and Infrastructure; and Goal #11 Sustainable Cities and Communities. This was the third civic hackathon organized by Code for Pakistan focusing on the SDGs.  The Women SDG Challenge Cup 2019 was held alongside the hackathon, where women entrepreneurs pitched their startups with a mission to create civic and social impact.
The teams worked on their ideas and solutions through Friday and Saturday under the mentorship of several subject matter experts in their respective fields. On the third day of the hackathon, teams presented their working solutions to a panel of judges that included Sayyed Ahmad Masud, CEO Change Mechanics (Pvt) Ltd, Owais Anjum, CEO Emumba Private Limited, Shan Rehman, Social Development Specialist at The World Bank, and Salman Tariq, Head of HSE & Security, Jazz.
The top three winning teams and their ideas at the SDG Hackathon were Educarists, an online platform with information about universities and admission details, living expenses and student jobs in a particular city. Second prize went to InnoGeeks for their crowdfunding web portal to connect donors with teachers in underfunded schools and classrooms. The third prize was awarded to Mumta, and parental guidance system.
Judges for the Women SDG Challenge Cup included Sophia Salim, CEO The Data Leap, Sadia Khuram, Chief Customer Experience Officer, Jazz, Javeria Rizvi Kabani, Counsellor of Political Affairs, EU Delegation to Pakistan, European Union External Action Service, Saram Bokhari, Project Director, Centre for Social Entrepreneurship, Poverty Alleviation & Social Safety Division and Mian Talha Nasruddin, Head of Product, Growth & Startup Ecosystem, Jazz. Winning teams for the Challenge Cup were Orendo and their digital learning app Taleemabad for pre-school age children; Kaho Kahaani, a children's content development platform; and The Feeel, a company providing emotional quotient trainings and workshops to promote better mental health.