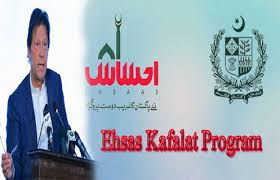 Prime Minister Imran Khan will formaly launch "Ehsaas Kafaalat" Programme tomorrow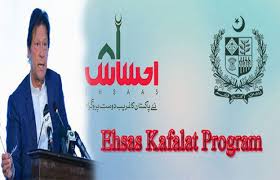 EHSAAS' KAFAALAT PROGRAMME
·         What is being given under Kafaalat?
o   Ehsaas' Kafaalat is the Government's programme through which it will give cash stipends of Rs. 2000 monthly and bank accounts to the most deserving and poorest women across the country
·         Total number of expected Kafaalat beneficiary women: around 7 million
o   New enrollment  In 70 districts: 
·         We have begun by enrolling 1million families in 70 districts. These families will start receiving Kafaalat stipends from February to March 2020.
·         More beneficiary families will be added through desk registration over the course of the year
§  Other districts will be covered by end of the year
o   All existing eligible beneficiaries of BISP will continue to be part of Kafaalat
·         How are beneficiaries identified?
o   Beneficiaries will be identified through ahousehold survey and through Ehsaas NADRA Desk Registration Centers assisted by sms and Kafaalat web-service.
o   At least one desk registration center has been established in each Tehsil.
·         Who is eligible?
o   Only the destitute are eligible under Kafaalat
o   Government servants and their spouses, taxpayers, car owners, people with history of multiple foreign travels are not eligible under Kafaalat. Data analytics will be used to exclude individuals on these parameters
·         How will the payment be made?
o   Payment will be made through the new biometric Ehsaas Digital Payment System which will ensure transparency in payments.
o   Under this, women will draw money from Point of Sales (PoS) agents, dedicated branches and Biometric enabled ATMs of Habib Bank and Alfalah Bank.
o   Biometrically enabled ATMs have been opened for the first time, which means that women will not be hostage to Point of Sales agents and touts who used to deduct money from them, fraudulently
o   Designated bank branches have been opened for these poor women for the first time so that they can draw money with dignity
o   Each woman will have a bank account linked to her mobile phone to enable her to access economic opportunities
·         Opportunities for economic empowerment
o   Kafaalat is also a financial inclusion initiative as each woman will get a bank account, under the Prime Minister's "One Woman One Bank Account" initiative, which will pave the way for their formal interaction with the economy
o   Through a parallel Ehsaas policy initiative women will get better access to smartphones, as a step towards digital inclusion
o   Kafaalat is part of the wider Ehsaas programme, hence women will have better access to opportunities to graduate themselves out of poverty
·         Timelines for launch of Kafaalat
o   Phase 1: 70 districts (February to March 2020)
§  1 million new deserving beneficiaries will start receiving stipends
§  Desk/web registration of missing households will commence
o   Phase 2: rest of the districts
§  Timetable to follow
·         Future directions of Kafaalat
o   Kafaalat identification card has a QR code, which can be read by any smartphone or off-the shelf scanner. QR codes on Kafaalat cards/QR codes and bar codes on ID cards coupled with biometric verification can enable Kafaalat to expand its horizon of support for these poor families, e.g, at Utility Stores and other service points in the future.
WHY WAS THERE A NEED FOR A NEW PROGRAMME IN RELATION TO BISP PAYMENTS?
•      The database based on which payments were being made was 10 years old
•      There was no mechanism of desk/web registration, in case, a house was missed in the survey, or if the socio-economic situation of a household changed 
•      There was no use of data analytics in beneficiary identification 
•      The contract with banks which formed the basis of payments was 10 years old and there were a lot of issues with the payment system
•      Payments were not predictable in timing
•      The size of the cash transfer was not inflation adjusted
•      Financial and digital inclusion opportunity was missed 
HOW DOES KAFAALATDIFFER FROM BISP'S CASH TRANSFER PROGRAMME?
 

Kafaalat

Earlier BISP Cash Transfer Programme

Frequency of cash transfers

Monthly

Quarterly

Predictability of timing

First week of every month

A specific time was not defined

Amount (PKR)

PKR 2,000 per month

PKR 5,000

Payment system

Fully Biometric

-Card/Post office/Biometric

Point of withdrawal of money

-Point of Sales Agents (POS) with secure gadgets to prevent theft

-Biometric ATMs

-Designated bank Branches

-Point of Sales Agents often used sub-standard gadgets which couldn't prevent theft

-Pakistan Post

-Card enabled ATMs

Identification of beneficiaries

-Door to door digital survey +

-Data analytics + Desk survey +

-Web survey

Ongoing identification beneficiaries

Ongoing Desk and Web Registration

None

Implementing partners payment

2 banks hired through an open competitive process

6 banks sole source contracted

Bank Account

Saving account will be opened for every beneficiary

None

Economic opportunities

All Ehsaas graduation opportunities will be made available to beneficiaries

BISP cash transfers were a standalone programme