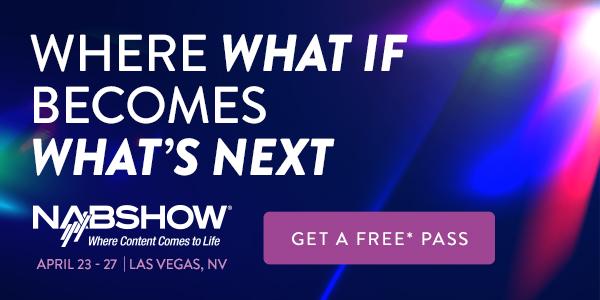 NAB Show is the most highly anticipated annual event for the entire content ecosystem
April 23-27, 2022
Las Vegas, Nevada
National Association of Broadcasters
NAB Show is the most highly anticipated annual event for the entire content ecosystem,
spanning the full continuum — from creation to distribution, management to monetization. This
trusted global forum provides anyone in creative, business or technical roles access to
unparalleled innovation, programming and networking not offered by siloed industry events.
NAB Show enables discovery of a wide spectrum of cross-functional tools, technology and
strategic partnerships with the power to create new pathways to clarity and confidence amid
disruption. A rich, curated onsite experience leads attendees directly to the solutions that will
help them enhance their storytelling and drive listeners and viewers in larger numbers —
anytime, anywhere, any device.

And — it's an entirely reimagined experience. Now more intuitive than ever, you can pick your
path among three carefully curated collections of exhibits and education illustrating the entire
content lifecycle. We've got everything you could possibly imagine and what's well beyond the
periphery of possible waiting.
https://nabshow.com