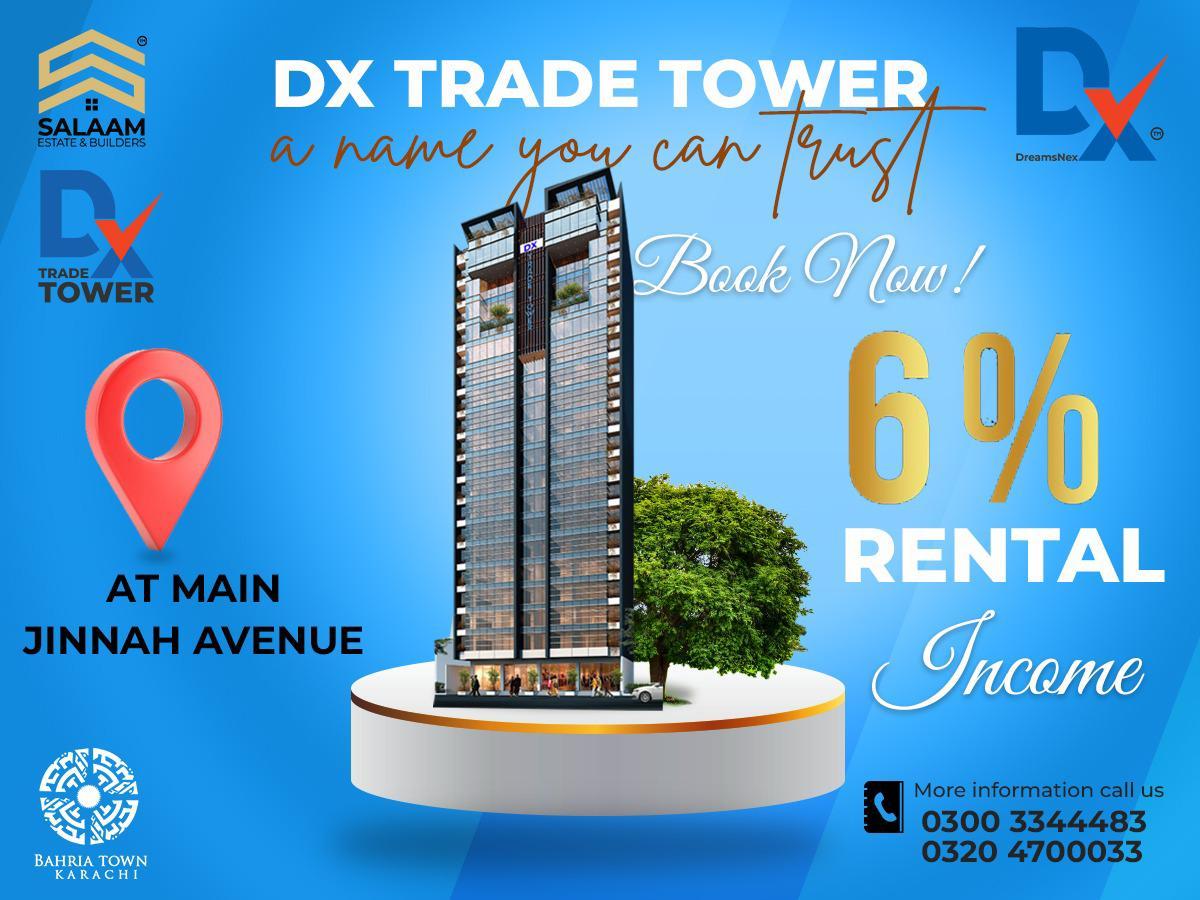 Reward yourself by running your business in DX Trade Tower Bahria Town Karachi
It is now a well-known element that Bahria Town Karachi keeps expanding and showing marvellous structures. All of this is the hard work of construction companies that are giving their best to ensure that people are living their best lives. This is not just for the people staying in Pakistan but, it is mainly targeted to those living overseas as well. The most exciting news now is the launching of DX Trade Tower in Bahria Town Karachi. The location of this tower is set in prime location. It is being constructed in the Main Jinnah Avenue. It is a ground plus 18 floor building where one entire floor is dedicated to offices.
Therefore, now there are improvements being made on the commercial sector as well in Bahria Town Karachi which fulfils all the wishes of the citizens. Not only has that but, the tower has the best outer structure which adds to the overall beauty. The best thing is that this tower has different sizes for offices and commercial shops as well.
The Tower is specially designed to offer column-free office space with a ceiling-to floor height. DX Trade Towers' stunning exterior and sensational design will combine the best elements of style, splendour and technology with the beauty of nature to create the ultimate experience for all who enter the building.
Payment plan
There are different instalment processes as well. We offer the best 25 monthly instalments for all of the floors. Each floor has 6 different areas that you can choose from. Hence, we have given customers numerous options to see which one fits them best. The down payment for all of them will be 25% as well. Here are the area options from the 4th floor to the 18th floor as well as their total payment.
We are always working to ensure that customers can go through the easy process of payment. We know that there are numerous villas and towers that shower expensive prices but we make everything affordable for our customers. Therefore, the payment plan of our DX Trade Tower is simple and easy for customers to avail of. All the different floors have different areas and this will also vary their down payment as well as their total payment price.
Ground floor PKR 10,0000 per SQ/FT
1st floor PKR 16,000 per SQ/FT
2nd floor PKR 14,000 per SQ/FT
3rd floor PKR 13,000 per SQ/FT
4th to 18th floor PKR 12,500 per SQ/FT
Down payment on booking 25% On digging 20% 25 monthly instalments 55%
All building will be centrally conditioned. The building will feature luxurious, spacious lifts that can be operated with 24/7 security. The architecturally stunning layout of the Building, infrastructure and facilities DX Trade Tower will redefine the office environment. It will introduce the most luxurious and beautiful workplace setups. 500 square feet of space is available for DX Trade Tower. Each floor will have space for six offices. It will be determined by the size of each office. Dx trade tower was designed with modern infrastructure. We have the skilled and professional team that will soon be working on this project.
Dx Trade Tower will feature luxury interior and most advanced building features. The most important update is that the rental payment will start the day after the payment.The building will provide a relaxing environment for work and relaxation with stunning views. It is located on Main Jinnah Road. This is a great location. It is easily accessible and visible from far away due to its central position. Plus, it is approximately 7-8 minutes' walk to the main gate of Bahria Town Karachi. The building will include a large parking area and all other facilities you could wish for. It will be surrounded by lush greenery that will enhance its beauty.