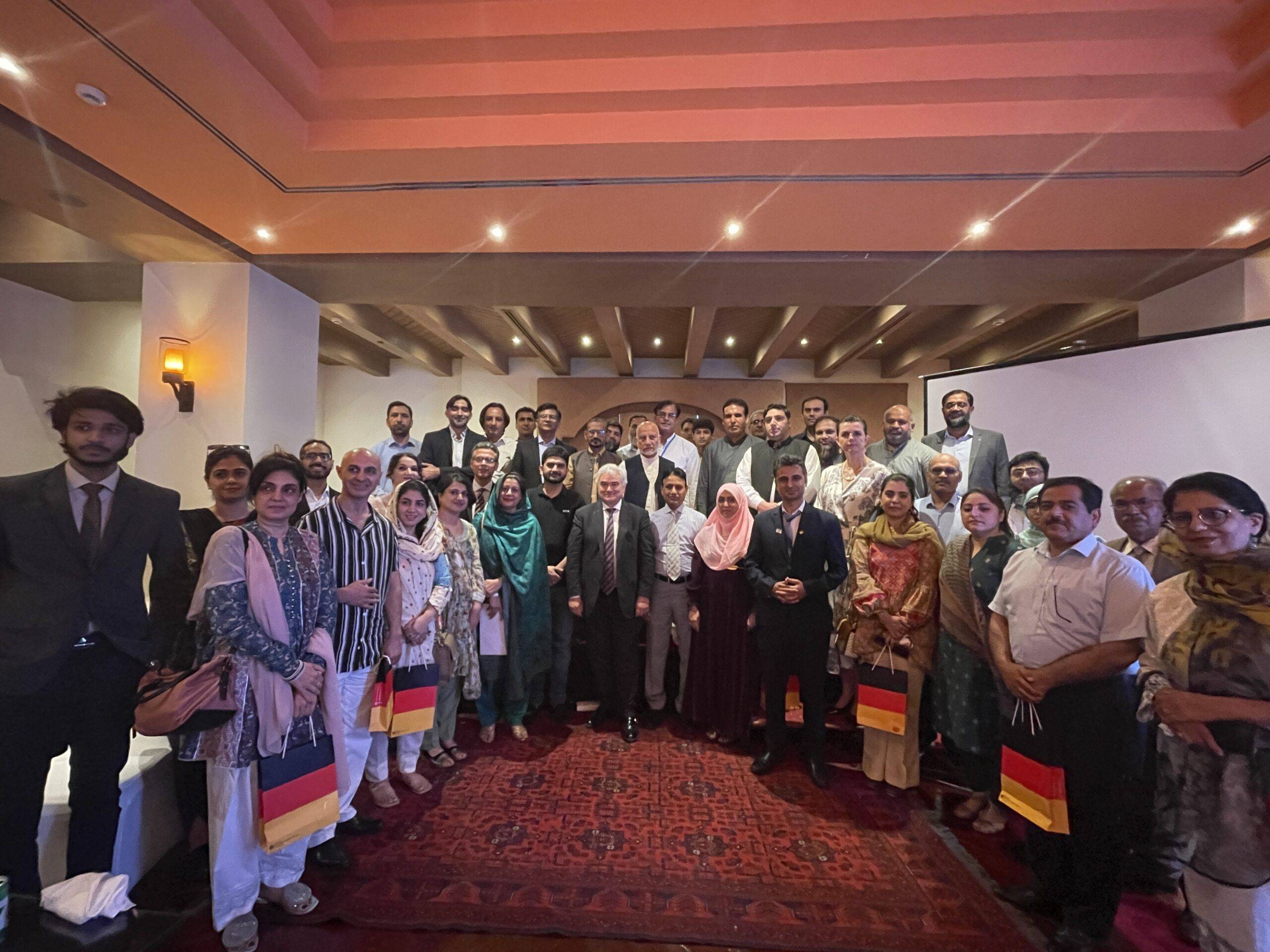 German Embassy Hosts Annual Alumni Gathering in Islamabad
The German Embassy in Islamabad hosted its annual Alumni gathering, bringing together a diverse group of scholars and fellows who have studied and conducted research in Germany. The event, attended by a large number of Alumni from prestigious programs such as the German Academic Exchange service DAAD, the Alexander von Humboldt Foundation AvH, and the CrossCulture Program CCP, provided a platform for them to reconnect and share their experiences.
Ms. Dorota Berezicki, Head of Communications and Cultural Affairs, set the stage with welcome remarks. His Excellency Alfred Grannas, the German Ambassador to Pakistan, took the opportunity to acknowledge the significant contributions of the alumni in their respective fields.
Ambassador Grannas emphasized, "I hold in high regard the friendships that our alumni have cultivated with Germany and its research landscape. It is truly gratifying to witness the mutual benefits that arise from these connections."
The highlight of the gathering was a thought-provoking panel discussion on Food Security in Pakistan, moderated by Dr. Abdul Wakeel. Esteemed panelists including Prof. Samina Mehnaz, Dr. Tahir Usman, Prof. M. Saqib, Dr. Nayer Iqbal, and Dr. Faisal Cheema engaged in an open and constructive dialogue, sharing insights and proposing strategies to address this pressing issue.
To honour the valuable contributions of the alumni, Ambassador Grannas presented certificates of recognition to each of them, acknowledging their achievements and dedication. Adding an enchanting cultural touch to the evening, "The Kabul Trio," an all-female musical band from Afghanistan, captivated the audience with their mesmerizing melodies. The band's performances were met with resounding applause and cheers, showcasing the power of music in fostering cross-cultural connections.
The event concluded with a meet-and-greet session, allowing the alumni to reconnect and network with one another, forging new connections and renewing old friendships. A delightful dinner brought the evening to a close, leaving the attendees with fond memories of a memorable gathering