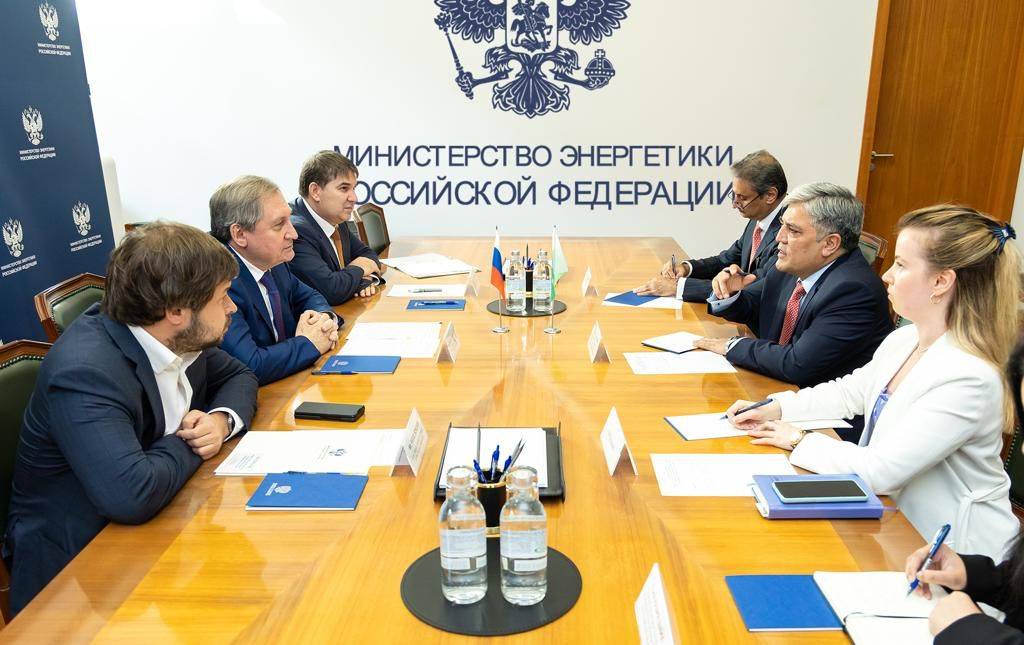 Farewell Meeting Between Nikolay Shulginov and Ambassador Shafqat Ali Khan
In connection with Ambassador Shafqat Ali Khan's departure from Russia and the conclusion of his tenure, Nikolay Shulginov, the Head of the Ministry of Energy, convened a working meeting to bid farewell and discuss key energy-related matters.
Gratitude for Collaborative Energy Efforts
During the meeting, Nikolay Shulginov expressed his gratitude to Ambassador Shafqat Ali Khan for their fruitful cooperation in the energy sector. He also commended the Ambassador for his contributions within the framework of the Russian-Pakistani Intergovernmental Commission, a body co-chaired by Shulginov himself. Shulginov acknowledged the significant progress achieved over the years, attributing much of the success to Ambassador Khan's deep understanding of the intricacies of Russian-Pakistani collaboration. He conveyed his anticipation for continued and productive energy discussions between Russia and Pakistan.
Positive Bilateral Relations
Ambassador Shafqat Ali Khan Reciprocated by highlighting the positive development of relations between the two countries, emphasizing their constructive trajectory in energy-related matters. He expressed optimism regarding the further enhancement of energy cooperation.
Addressing Current Energy Cooperation
The meeting also delved into critical facets of ongoing bilateral energy collaboration. Minister Shulginov underscored the need to expedite the establishment of a dedicated working group responsible for formulating and executing a Comprehensive Plan for the development of Pakistan's gas industry.
Russia's Interest in Multilateral Negotiations
Furthermore, Nikolay Shulginov conveyed Russia's keen interest in convening multilateral negotiations, with the participation of Pakistani counterparts, to address issues concerning the international transport corridor. This highlights Russia's commitment to fostering international cooperation and addressing crucial energy and infrastructure matters.
In summary, the farewell meeting between Nikolay Shulginov and Ambassador Shafqat Ali Khan not only celebrated their collaborative efforts but also reinforced the importance of ongoing energy cooperation between Russia and Pakistan. The meeting serves as a testament to the commitment of both nations in advancing shared energy goals and international partnerships.