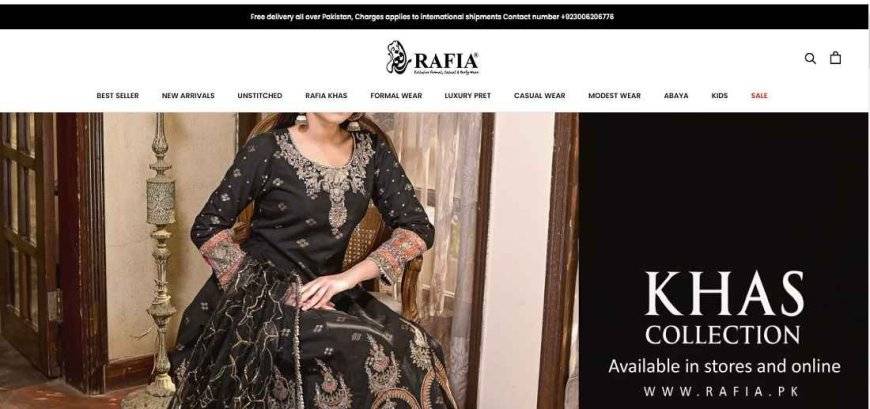 Elevate Your Style with Up to 40% Off on Rafia Designer Wear's Collection in Pakistan"
In the bustling world of fashion, every individual seeks the opportunity to enhance their style and make a statement. For the fashion-conscious in Pakistan, there's exciting news on the horizon. Rafia Designer Wear, a name synonymous with elegance, is offering an exclusive chance to avail up to 40% discount on their exquisite collection. It's a fashion affair you wouldn't want to miss!
Discover Rafia Designer Wear's Unique Collection
Rafia Designer Wear is renowned for its fusion of tradition and modernity, catering to diverse tastes and preferences. From traditional ethnic wear to contemporary chic outfits, their collection is a reflection of versatility and impeccable craftsmanship. Pakistani fashion enthusiasts are in for a treat as they can now explore this exceptional collection with incredible discounts.
Why Choose Rafia Designer Wear?
Unmatched Quality: Rafia Designer Wear prides itself on maintaining the highest quality standards. Each piece of clothing is crafted with precision, ensuring durability and comfort, so you can flaunt your style confidently.
Wide Variety: Whether you're looking for formal attire, casual wear, or traditional outfits, Rafia Designer Wear has you covered. Their extensive range of clothing options allows you to express your unique style effortlessly.
Trendsetting Designs: Stay ahead of the fashion curve with Rafia Designer Wear's trendsetting designs. Their dedicated team of designers keeps a keen eye on the latest fashion trends to offer you the most up-to-date styles.
Affordable Luxury: With discounts of up to 40%, you can indulge in luxury pret without breaking the bank. Rafia Designer Wear believes that everyone deserves to look and feel their best.
How to Avail the Discounts
Getting your hands on these fantastic discounts is as easy as it gets. Visit your nearest Rafia Designer Wear store or explore their online store. Select your favorite pieces, and at checkout, you'll automatically receive the discount. It's a hassle-free shopping experience tailored to your convenience.
Limited Time Offer
It's important to note that this offer is for a limited time only. So, don't wait too long to revamp your wardrobe with Rafia Designer Wear's stunning collection. Whether you have a special event coming up or simply want to upgrade your everyday style, this discount is your golden opportunity.
Final Thoughts
Rafia Designer Wear has been a trusted name in Pakistani fashion for years, and their dedication to providing high-quality clothing at affordable prices has made them a favorite among fashion enthusiasts. With discounts of up to 40%, now is the perfect time to elevate your style and embrace the elegance that Rafia Designer Wear offers.
Don't miss out on this exclusive opportunity to transform your wardrobe with the finest fashion pieces in Pakistan. Rush to your nearest Rafia Designer Wear store or shop online today. Elevate your style, stand out, and make a fashion statement that leaves a lasting impression.