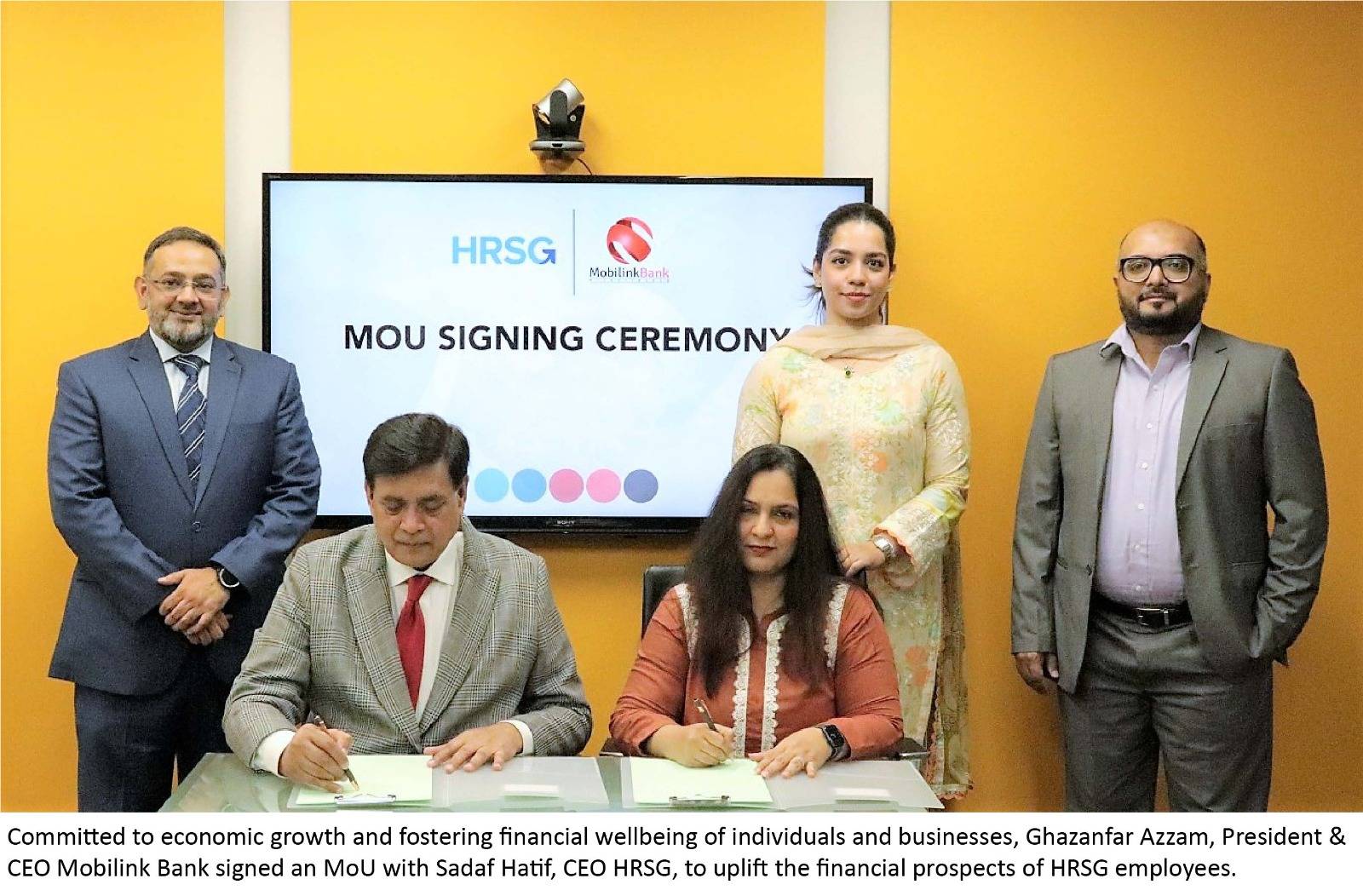 Mobilink Bank signs MoU with HRSG to provide premium financial services to their employees
Mobilink Bank signed a Memorandum of Understanding (MoU) with HRSG, a globally renowned service provider. This collaborative agreement strives to extend financial services to HRSG employees, showcasing the Bank's dedication to improving the economic well-being of these individuals and supporting their financial aspirations. This partnership also highlights Mobilink Bank's broader commitment to working with organizations across Pakistan to contribute to the nation's economic growth. By fostering strategic partnerships with like-minded entities, the Bank actively participates in the global initiative to strengthen Pakistan's economic standing.
Mobilink Bank is part of the VEON group, a global digital operator that provides converged connectivity and online services across seven countries. As part of its digital operator strategy, VEON is transforming people's lives by creating opportunities for increased digital inclusion and by driving economic growth across countries that are home to more than 8% of the world's population.
Under this collaborative endeavour, Mobilink Bank is offering a wide range of services designed to cater to the multifaceted financial requirements of HRSG employees, effectively turning them into borrowers and future clients. These offerings encompass Housing Finance, Commercial Vehicle Loan, Salary Pension Loan, Gold Loan, Corporate Enterprise Solutions, Payroll Solutions, Deposit Banking (Free Banking Services and Business Plus Account), along with Health Insurance facilities.
Sharing his thoughts at the signing ceremony, Ghazanfar Azzam, President & CEO Mobilink Bank said, "By extending the Bank's premium financial services to HRSG employees, we are not only solidifying their financial security but also contributing to their long-term prosperity. With HRSG's extensive presence in Pakistan and foreign countries, we foresee a path to mutual growth and shared success that will resonate throughout the industry. We are committed to unlocking new opportunities and setting standards for excellence towards financial sustenance."
Sadaf Hatif, CEO HRSG Outsourcing­­­­ said, "In Mobilink Bank, we see a partner who shares our dedication to excellence and employee well-being. Their reputation for reliability and customer-centric approach resonates with our core values. This collaboration will open up new avenues for our employees to access premium financial services and enjoy greater convenience in managing their finances. We are thrilled to partner with Mobilink Bank, as this partnership empowers both individuals and organizations, driving economic growth in Pakistan."
Mobilink Bank is dedicated to empowering individuals and businesses. Whether it's providing microenterprise loans or advanced corporate solutions, offering innovative banking services, or specialized business accounts, the Bank is more than just a financial institution; it's a dedicated partner on the journey toward financial success. In its relentless pursuit of excellence, Mobilink Bank is not only championing inclusivity but also actively shaping a more prosperous and accessible financial ecosystem for all.