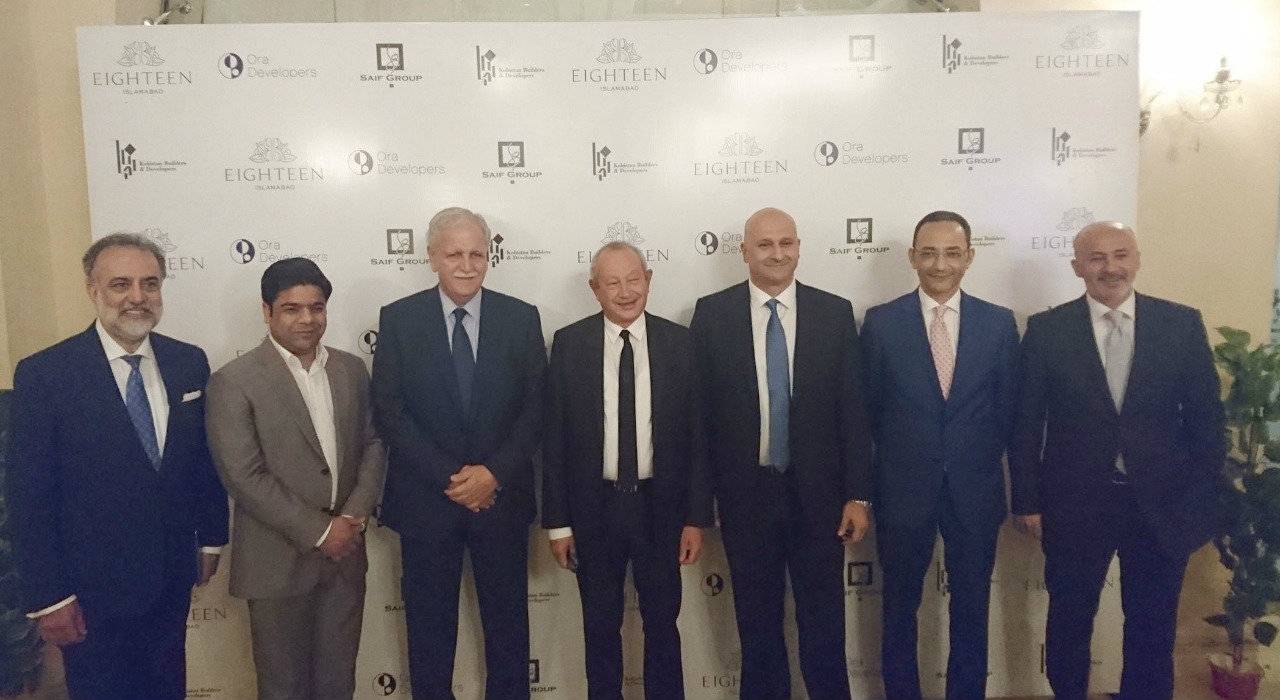 EIGHTEEN ISLAMABAD TO SET NEW STANDARDS FOR REAL ESTATE IN PAKISTAN
EIGHTEEN ISLAMABAD TO SET NEW STANDARDS FOR REAL ESTATE IN PAKISTAN
Islamabad, Pakistan 22nd December, 2017 – The world-class lifestyle destination development, Eighteen Islamabad, was announced today.  The US$2 billion real estate project is a partnership between Ora Developers and Saif Group, in conjunction with Kohistan Builders & Developers.  At an event held in Islamabad, on the 22nd December 2017, the management team introduced the partners, unveiled the branding and confirmed the date of the commercial launch as the 18th January 2018.
Eighteen is a 2.77 million sq yard (2.2 million sq m) gated community being developed in the 18th District, to the south-west of downtown Islamabad.  It offers the highest quality of design and construction, which will set new standards for Pakistani real estate.
At the announcement Mr Naguib Sawiris, Chairman of Ora Developers, commented: "Today we have shown a wonderful masterplan for a development which I believe will revolutionise real estate projects in Pakistan.  Ora, working with these highly respected partners, will be creating a new lifestyle destination in a world class capital City.  I am very pleased to be involved with the project and very excited by what we will achieve."
Eighteen Islamabad has been designed around a championship golf course and will consist of 1100 villas and 900 apartments as well as an iconic Golf Clubhouse, a shopping Mall, 5-Star boutique hotel, medical facilities and a business district.
The master plan was conceptualised by Calisson RTKL and developed by renowned architects and urban planners WATG.  The unique and challenging golf course has been designed by IDG in the UK.  The project is being led by CEO, Tarek Hamdy, who explained why the scheme is so unique: "All the villas and apartments have been carefully located with views over the golf course and are linked by wide parkways and open streets.  The feeling is of space and privacy which will give a select group of people the homes they have always dreamt of.  The amenities are second to none, delivered in a safe, secure and exclusive location."
At the event Mr Sawiris was joined by Mr Anwar Saifullah Co-Chairman of the Saif Group and by Mr Malik Adeel, Chairman of Kohistan Builders & Developers along with the management team from Eighteen Islamabad.
Eighteen, is ten minutes away from the new Islamabad International Airport and is the ideal development for local and overseas Pakistanis who enjoy luxury living and state of the art amenities.  Eighteen will be the benchmark for all future real estate projects in Pakistan.