FFC organizes session on better business practices to meet SDGs
FFC organizes session on better business practices to meet SDGs
Lahore:- November 24, 2017:Fauji Fertilizer Company Limited (FFC) in collaboration with partners Corporate Social Responsibility Centre Pakistan (CSRCP), Pakistan Stock Exchange (PSX) and United Nations Global Compact (UNGC), Pakistan Network organized a session on Sustainable Development Goals (SDGs) to discuss alignment of business strategies with SDGs and reporting business contribution in meeting the SDGs.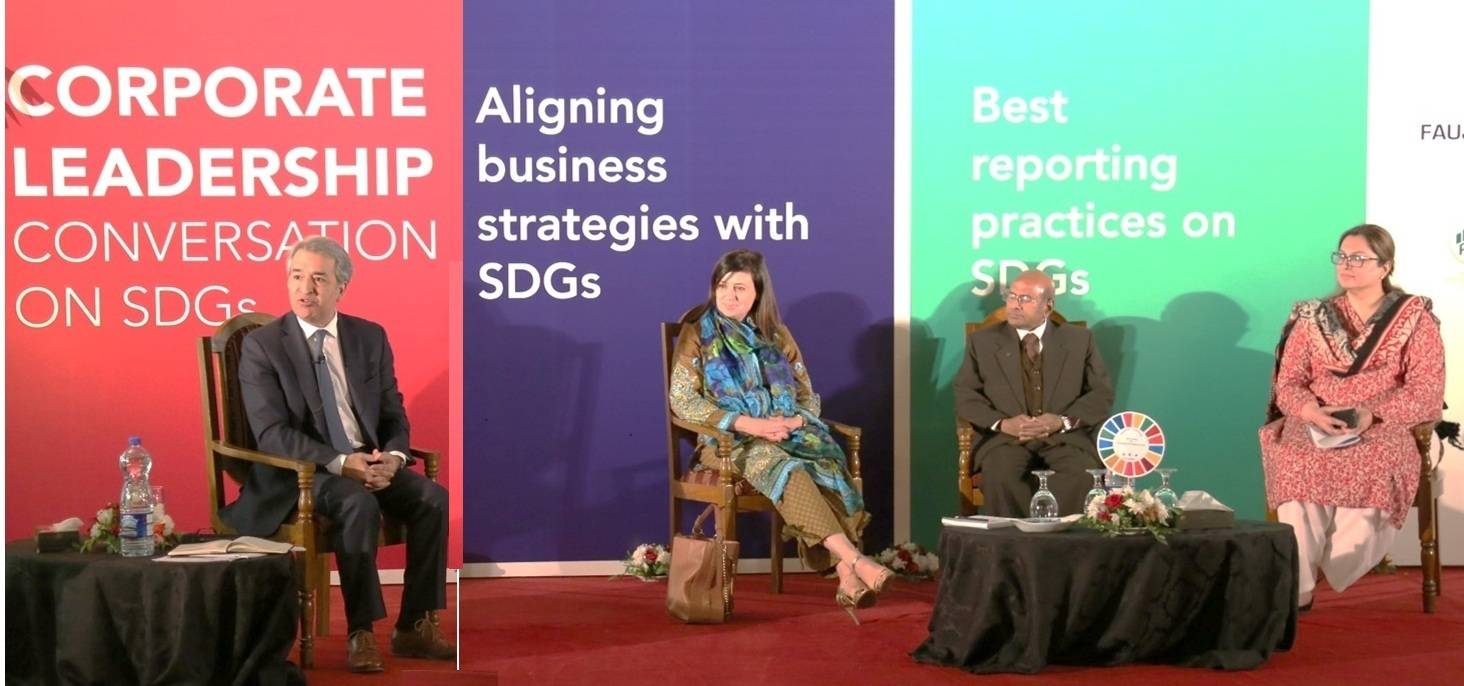 During the panel discussion on aligning business strategies with SDGs, CEO Institute of Leadership Development (UNGC-Pakistan Chapter) , Mr. Fasihul Karim Siddiqi discussed how businesses can align their actions in support of SDGs in order to tap the business opportunities provided by the global goals.
Ms. Genevieve Hussain from UN Food and Agriculture Office (FAO) shared her views on the benefits offered by the SDGs for the business. Eminent corporate leaders shared their views on the topic during panel discussion. Other panelists included Ms. Ayesha Khan, Country Director, Hashoo Foundation and Mr. Fasihul Karim Siddiqi.
In second session of the event, Mr. Muhammad Imran, Director Projects and Training, CSRCP discussed the prevailing trends in corporate responsibility reporting at global, regional and national level. He also discussed, how business can report on their contribution towards SDGs. Mr. Pietro Bertazzi, Deputy Director , Policy and Global Affairs – Global Reporting Initiative (GRI) shared the updates on GRI-UNGC Business Reporting on SDGs Action Platform.
The panelists agreed that there is a dire need to introduce the reporting regulations and take steps to create awareness among business on sustainability reporting to bring Pakistan at par with regional peers and at global level. The panelists for the session were Ms. Saima Kamila Khan – Company Secretary, ICI Pakistan, members from Best Corporate and Sustainability Reporting Committee of ICAP and ICMAP.
The event was attended by a large number of corporate leaders, representatives from Planning Commission, provincial SDGs cell, UNDP, UNGC, Pakistan Stock Exchange, Pakistan Centre for Philanthropy, Pakistan Poverty Alleviation Fund, PARCO, Indus Motors Company and other leading companies working on sustainability.