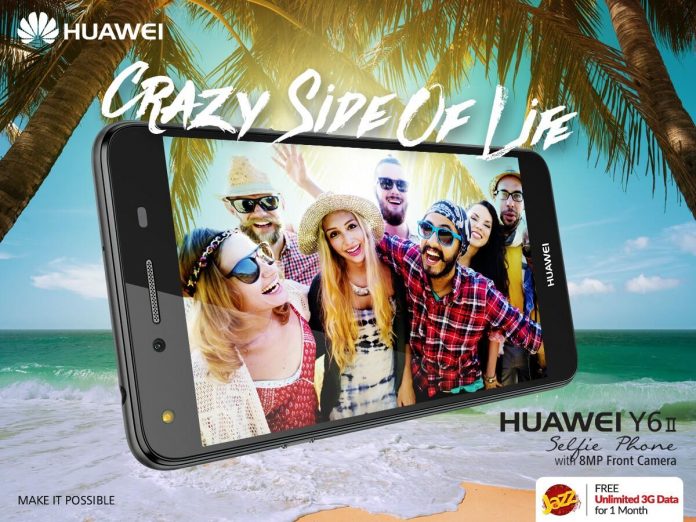 Huawei Launches the Spectacular Huawei Y6 II Smart Phone
Lahore: 5th September, 2016: – Huawei has recently launched the most awaited and spectacular smart phone next in the Huawei Y series, known as Huawei Y6 II.
The customer market in Pakistan has been keenly waiting for the smart device. Huawei Y6 II is among the mid range smart phones of Huawei and after the successful introduction of Huawei Y3 II and Y5 II (including the LTE version for the later) customers has anticipated the Y6 II an advanced technology smart phone. It's a tradition for the Huawei smart phones that every newly launched model of the smart phone exceeds the expectations of the customers and perfectly meets the requirements of the customers regardless of the range/ category of the smart phone.The new Huawei Y6 II caters superior aesthetic taste of the Huawei brand lovers as it offers the fashionable design, complementing the glamorous and stylish looks. The great chemistry of Huawei's craftiness left no corner and resulted in the most elegant smart phone of the market, the Y6 II. Huawei Y6 II has the finely curve edges for smooth experience of handling the new gem. The crisscross curved (CD) lines under the glass express the hierarchy of model's uniqueness.Photography goes to the next level with the new Huawei Y6 II as the smart phone is supported with 13MP BSI rear camera with F.2 aperture and 28mm wide angle. This crucial combination enables clearer pictures with detailed illustrations of the objects focused/ captured through the Huawei Y6 II camera. Similarly, Huawei has built the front camera more efficient in the new device for better selfies and snap chat experience. For selfies Huawei Y6 II brings the 8MP front camera that is further added with cosmetic mode, Beauty motion and panorama selfies mode.Huawei Y6 II is powered with kirin 620 chipset and 64-bit A 53 Octa-core processor. The combination enables smooth functioning of the smart phone. On the side of storage, Huawei Y6 II offers 2GB RAM and 16GB large ROM. Hence, for the users' videos and songs playlist will be fun with Huawei Y6II.This spectacular smart phone is available in market all across the Pakistan against the best price of Rs. 18,899 only. More fun will be there as Mobilink is also there to offer an unlimited internet package for one month with the new Huawei Y6 II.