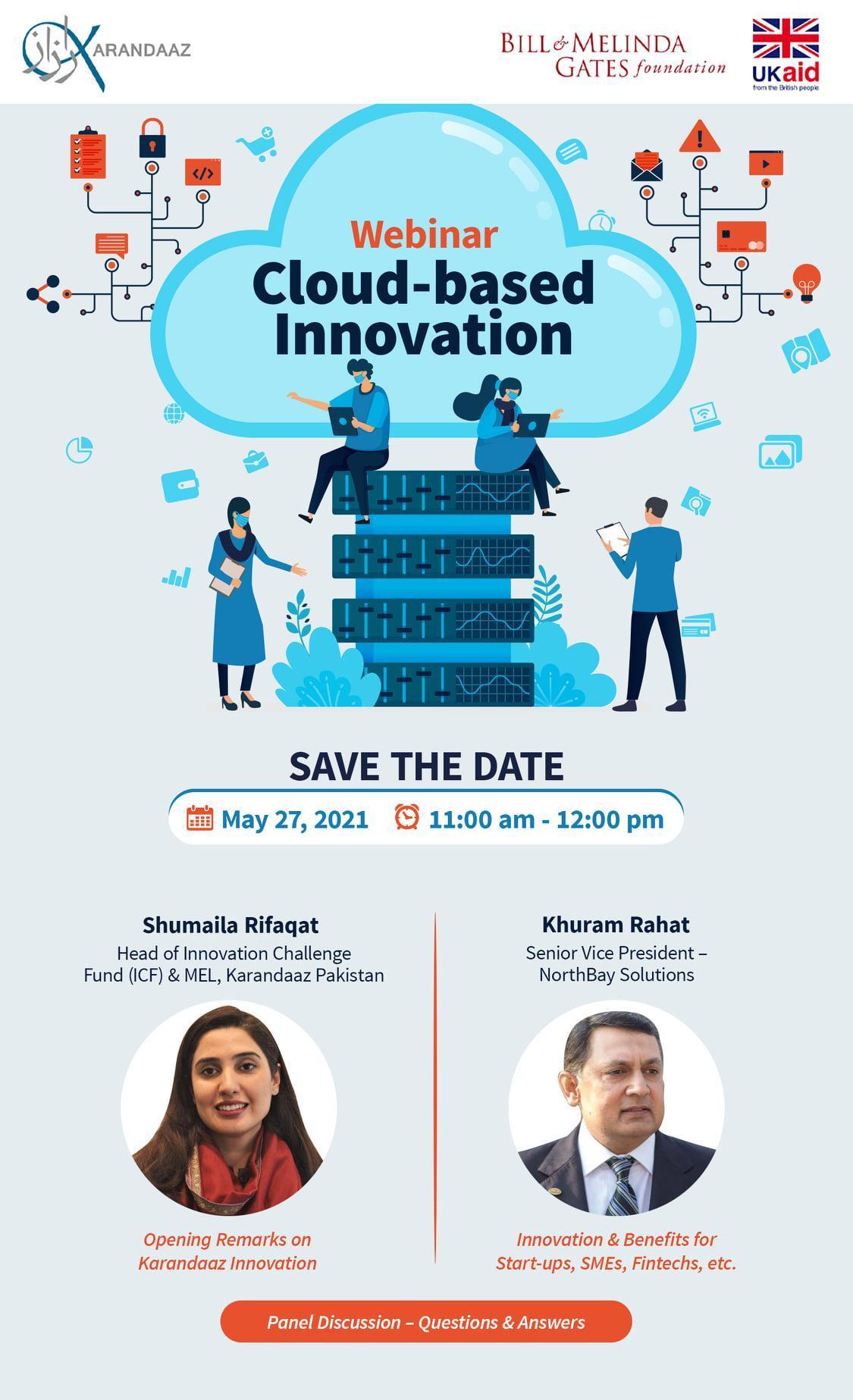 Innovation in Cloud computing can achieve Financial inclusion  
Recently in Pakistan, rapid penetration of 3G and 4G connections encouraged organizations to rethink their IT requirements and adopt more sophisticated ICT solutions in order to grow and support their business activities. Although Cloud based innovation is at its nascent stage in the country and few enterprises have adopted cloud based services, however the majority of owners and managers of SMEs are eagerly willing to adopt cloud services for their smooth business operations but requires technical knowledge and support.
Recently, Karandaaz organized a webinar to discuss cloud based innovations from various perspectives and its future in Pakistan and how the latest technologies can disrupt the financial inclusion landscape with focus on SMEs and other businesses at large. Karandaaz is a non-profit company funded by Bill and Melinda Gate Foundation, UK's foreign Commonwealth and Development Office. Karandaaz promotes financial inclusion for both individuals and businesses by employing technology enabled solutions.
Shumaila Rafaqat who heads the Innovation Challenge Fund at Karandaaz initiated the discussion on significance of innovation with Chief Digital Officer of Karandaaz, Rehan Akhter. Ms. Rafaqat explained how fastest growing economies are utilizing the cloud based innovation to tackle the challenges faced by industry. She went on describing how technology is shaping up the market. The current projects of Karandaaz on financial inclusion, policy regulations, support to SMEs and women led businesses were discussed. Mr. Rehan furthered the discussion by explaining the current environment which is right to adopt technology based solutions. He described how the relation of companies has been evolving with its customers due to these new data mining technologies and how youth of today is ready to integrate with this technology enabled environment. He thinks that there was a time when companies only used to have websites but times have changed. He claimed that the technology in hand if adopted appropriately holds potential to provide financial services to 80% of Pakistanis not being catered by the banking sector.
The next session was directed by Mr. Majid who also moderated the webinar. Following is the crux of his presentation, "All big tech companies (Amazon, Google etc.) are utilizing cloud computing. Usually there is a status quo that keeps large companies large and small companies small however almost every decade, there arise an opportunity for later to evolve and grow. New/growing organizations and economies can take this opportunity of cloud computing to make a leapfrog, a jump which can compensate for them through innovation and disruption. It's an inexpensive technology that lowers the entry level barriers for startups, new firms and economies. Another key benefit of Cloud is Agility, referred to as speed to market. The misconception related to data security and cloud were also addressed and it was explained how latest encryption innovations can secure the data. There are companies like Zoom, who used cloud computing and grew in no time and catered billions of users. There are different types of cloud like public, private and hybrid with services like machine learning, analytics, database, facial recognition and artificial Intelligence. Different models like Iaas, STaas, Paas, were discussed along how companies are utilizing them around us.
The next presenter was Khurram Rahat – SVP Northbay Solutions who explained the factors that can enable innovation in Pakistani SME landscape. He explained how everyone should focus on the disruption in customer's demands along with disruption in technology. Due to fast-track changes in the market, some of the established firms had to think like the startups. While sharing his experience of working with the startups, Mr. Rahat laid down the list of following challenges regarding innovation; finance, resilience, flexibility, agility, innovation and flexibility. Importance of trying out new ideas was also emphasized. Innovation is not about inventing new things but it's about seeing old things with new perspectives. The presenter also discussed the youth and its attitude towards technological disruption and ways to address the above-mentioned challenges. To realize the true potential of concepts like machine learning and connected homes, companies need to understand and adapt according to the demands of the customers. While concluding his discussion he listed down the advantages of Cloud computing; companies can start with the low capital and then can scale it up as their operations grow, startups while working with big cloud companies, can minimize the risks as they can utilize different layers of security, the cloud provides the organization the agility that helps accommodate the unexpected spikes in the business through providing customized processing capabilities and the cloud can also help businesses go global. He encouraged new startups to think of the cloud to integrate in their business operations.
In the last session, questions were taken from the participants of the webinar and speakers in addition to members of the Karandaaz team. Ms. Sana while answering a question emphasized the skills required to capitalize on the features of cloud computing. She said that we need resources that can adapt to the rapidly changing technological landscape. Mr. Rahat addressed the questions related to security concerns and other technical details about which people are usually worried in regard to adopting cloud computing. While explaining the nature of data-related breaches in the company, he emphasized the security of networks as they are being established by big-tech companies. Especially in the context of startups, they don't have extra expenses to pay for information security mechanisms, Rahat said. To conclude the webinar moderated encouraged the participants to read and research cloud computing.
Small and medium-sized enterprises (SMEs) invariably leverage a country's economy. In this context, information and communication technology (ICT) improvements render cloud computing (CC) both an effective and cost-efficient platform for SMEs and startups. Statistically, multiple factors influence SMEs in their adoption CC. In the subtext of a technology, environment and organization (TEO) framework, the purpose of this webinar was to identify the most prominent factors in the CC adoption, by SMEs and other organizations in general in Pakistan.