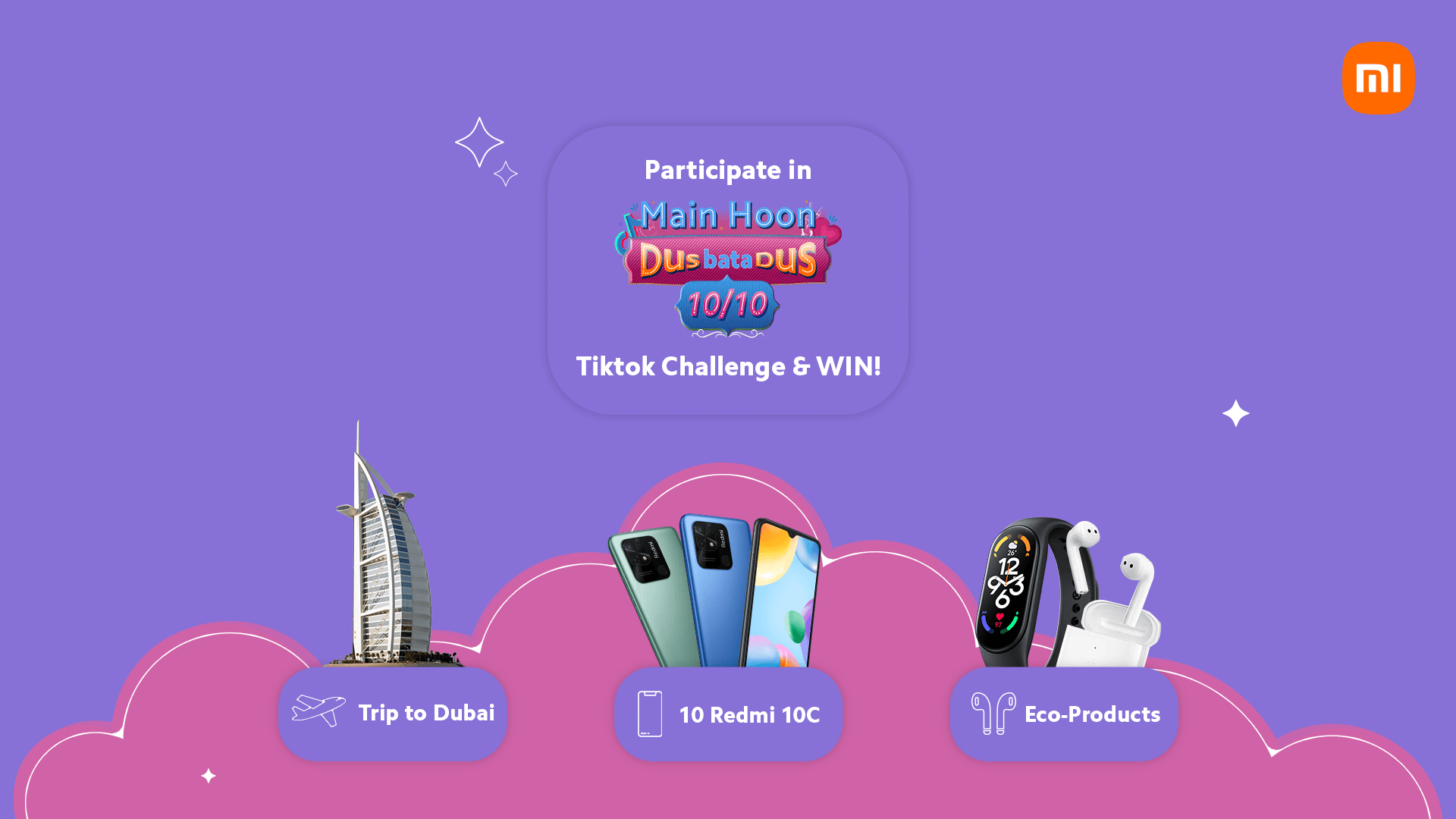 Main hoondusbatadus or Xiaomi brings forth the giveaway competition of the year
Xiaomi, with their latest Redmi 10C, has launched a new legacy of budget devices that comes packing flagship features. The device has an intelligent battery and the biggest (6.71'') screen in the industry, truly a dusbatadusdevice perfect for everyday use. 
Along with the drop of this brilliant dusbatadus device, Xiaomi Pakistan announced its 'Dus Bata Dustiktok challenge.' The details are simple and to the point, make a TikTok on the jingle shared by the brand and get a chance to win Redmi 10C, some fantastic eco products and a return ticket to Dubai. Sounds too good to be true, right? But it is true, for this challenge has spread like wildfire with everyone sharing their entries to bag some freebies for themselves. Famous tiktokers have taken part in this challenge, creating fun and quirky TikTok videos using the Dus Bata Dus jingle in hopes of winning some free devices or a trip to Dubai. The roster of participants includesKanwal Aftab, Chaudhary Zulqernain, HoorMahaveera, and Dr. Madihaetc, with growing entries and numbers.
You, too, can take part in this challenge with the hashtag. Go to Xiaomi Pakistan's TikTok handle (@xiaomipakistan), use the Dus Bata Dus sound, and share your video with the hashtag #MainHoonDusBataDus and get a chance to bag these fantastic gifts or a return ticket to Dubai free. So what are you waiting for?
About Xiaomi Corporation
Xiaomi Corporation was founded in April 2010 and listed on the Main Board of the Hong Kong Stock Exchange on July 9, 2018 (1810. HK). Xiaomi is a consumer electronics and intelligent manufacturing company with smartphones and innovative hardware connected by an IoT platform at its core.
Embracing our vision of "Make friends with users and be the coolest company in the users' hearts," Xiaomi continuously pursues innovations, high-quality user experience, and operational efficiency. The company relentlessly builds unique products with honest prices to let everyone in the world enjoy a better life through innovative technology. Xiaomi is one of the world's leading smartphone companies. The company's market share in terms of smartphone shipments ranked no. Three globally in 2021. The company has also established the world's leading consumer AIoT (AI+IoT) platform, with more than 400 million smart devices connected to it as of September 30, 2021, excluding smartphones and laptops. Xiaomi products are present in more than 100 countries and regions worldwide. In August 2021, the company made the Fortune Global 500 list for the third time, ranking 338th, up 84 places compared to 2020.
Xiaomi is a constituent of the Hang Seng Index, Hang Seng China Enterprises Index, Hang Seng TECH Index, and Hang Seng China 50 Index.