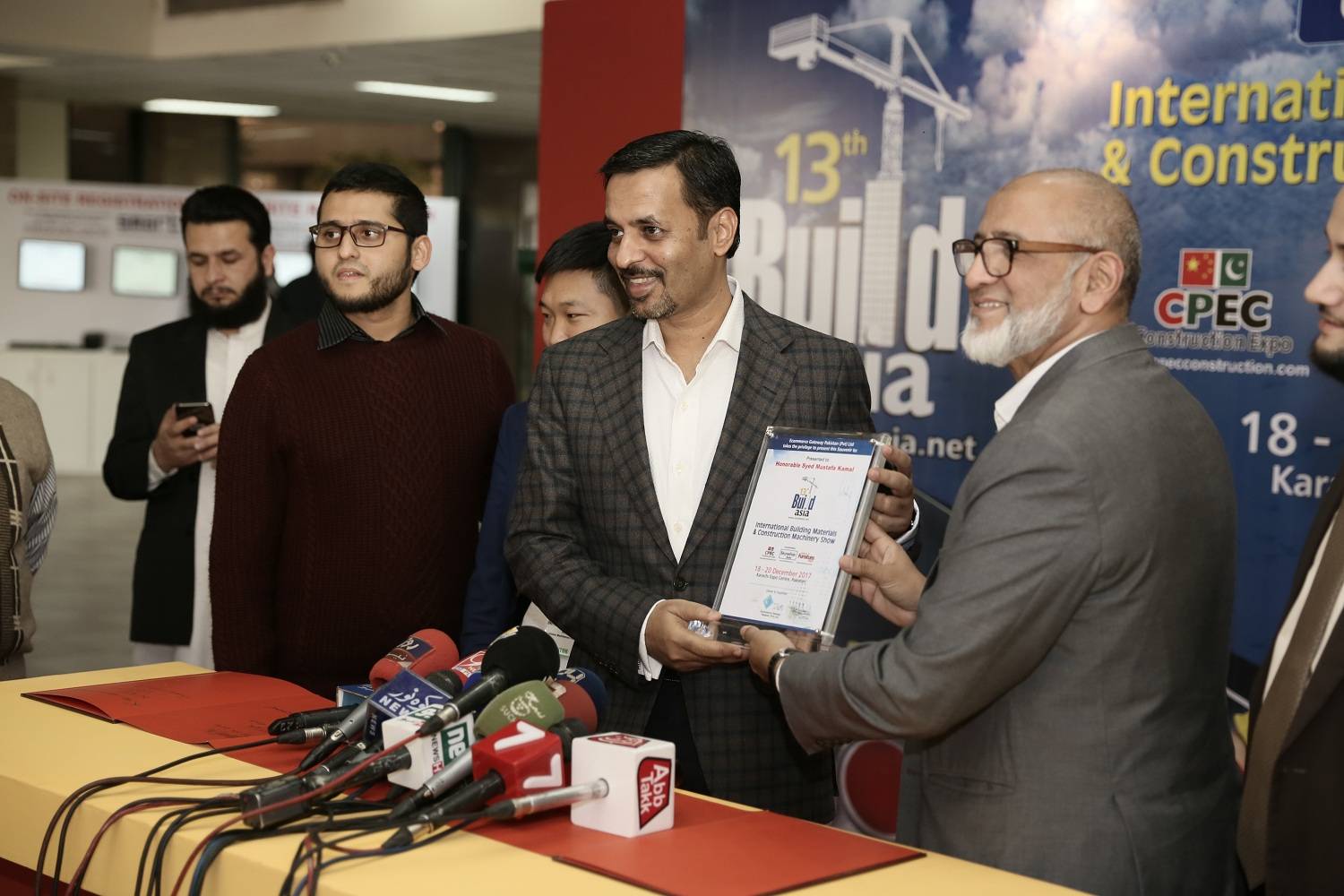 Mustafa Kamal visits 'Build Asia' Exhibition on the 2nd day
Mustafa Kamal visits 'Build Asia' Exhibition on the 2nd day
Lahore: 19th December, 2017 – On the second day of the 13th Build Asia Exhibition, Syed Mustafa Kamal, Chairman PSP visited the 3-day event being held at the Karachi Expo Center on 18th to 20th December. It is the largest exhibition of construction, real-estate and housing industry, held annually by Ecommerce Gateway Pakistan, with the support of; 'Constructors Association of Pakistan' (CAP) and 'All Karachi Marble Industries Association' (AKMIA), as it focuses on the immense potential of the Building and Construction sector.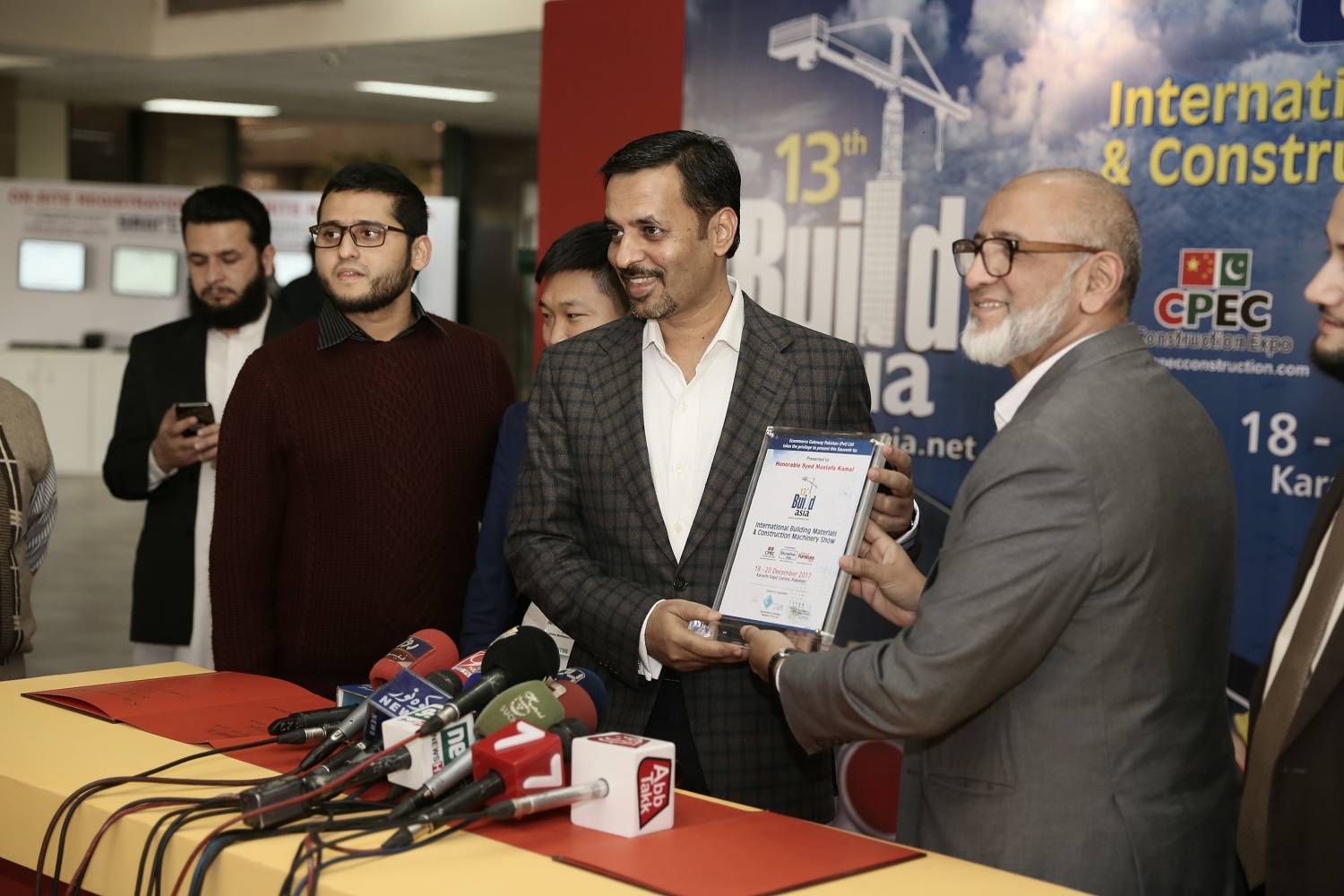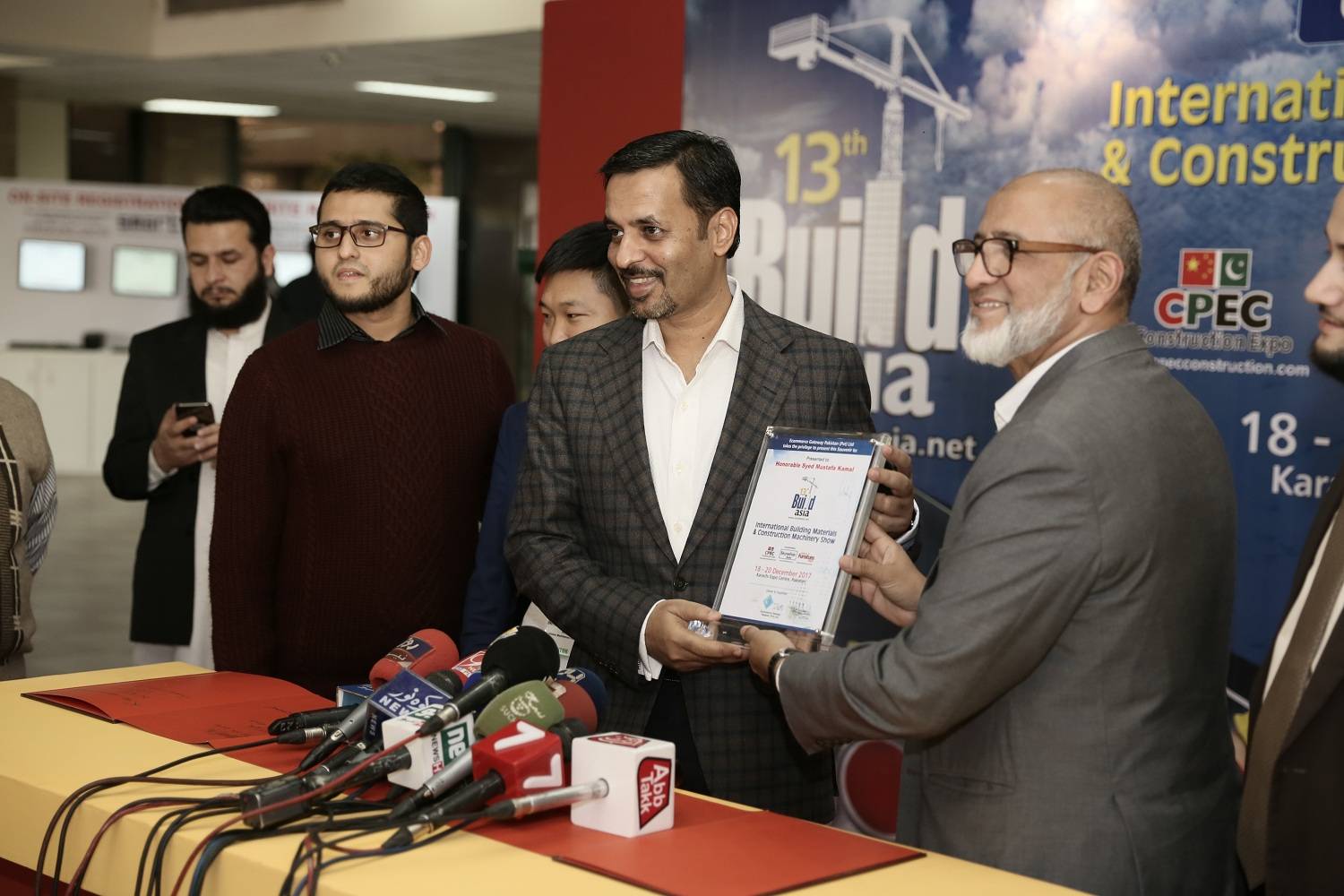 Syed Mustafa Kamal, Chairman Pak Sarzameen Party receiving the shield from Dr. Khursheed Nizam – President Ecommerce Gateway Pakistan at Build Asia Exhibition 2017.
Provincial Minster for Information Syed Nasir Hussain Shah and Sindh Chief Minister's Advisor on Katchi Abadi's & Development – Mr. Murtaza Ali Baloch inaugurated the event, where more than 350 local enterprises and 550 foreign companies have setup more than 600 stalls to display their latest technological advancements, featuring their equipments, materials, services and techniques in the related fields. Major participation has been seen from 17 progressive nations, including China, Iran, Italy, etc.
Over the past 13 years, this mega-event has successfully provided valuable opportunities to overseas exhibitors and a platform for foreign investors to interact with local entrepreneurs for collaborations, joint ventures, transfer of technologies and appointing agents, distributors and partners in Pakistan. The event also features a wide array of highly informative conferences, to provide a networking platform for engineers, contractors, builders, consultants, government officials, bankers, policy makers, stakeholders, other practitioners & professionals of this industry. The 13th Build Asia has also incorporated insightful forums like; 'CPEC Construction Conference', 'Property Asia', 'StoneFair Asia' & 'Furniture Asia'.
Build Asia offers the International and Pakistani business community a strategic launch-pad to access the vibrant Pakistani, Afghan, Chinese, Middle-Eastern markets and Central Asian Republics. The exhibition will take advantage of government's liberal investment policies to attract maximum foreign investment in Pakistan, where foreign investors can hold up to 100% equity in several economic sectors. As a result of this annual series of exhibitions, the Foreign Direct Investment (FDI) in the Country has increased substantially. Thus, Pakistan has gained the stature of an attractive destination for investors from developed countries.
The key participants also include the suppliers and manufacturers of; Fire Fighting & Alarm Systems, Scaffolding Systems, Glass Partitions, Fibre Glass, Gypsum & Asbestos Products, Housing Loan Financers, Insurance Companies, Telecom Systems, Kitchen Equipment, Lightings & Fans, Doors & Windows, Handles & Knobs, Paints & Varnishes, Pipes & Fittings, Steel products, Waste Management, Swimming Pool Equipment, Water Purification Plants, Waterproofing & Insulation, Finishes & Facades, Sealants & Adhesives, and many others.
The Build Asia Exhibition attracts over 50,000 visitors and learned speakers, including; Government regulators, policy-makers, Engineers, Architects, Town Planners, Academia & Scientists, Interior Designers, Real Estate Agents, Building Material Suppliers, Project Managers, Contractors and many other stakeholders of the industry like; FWO, Constructors Association of Pakistan, ABAD, PEC, Engro Polymers and Pakistan Stone Development Co. This event helps in Value-Addition, productivity-enhancement and cost-reduction in the industry