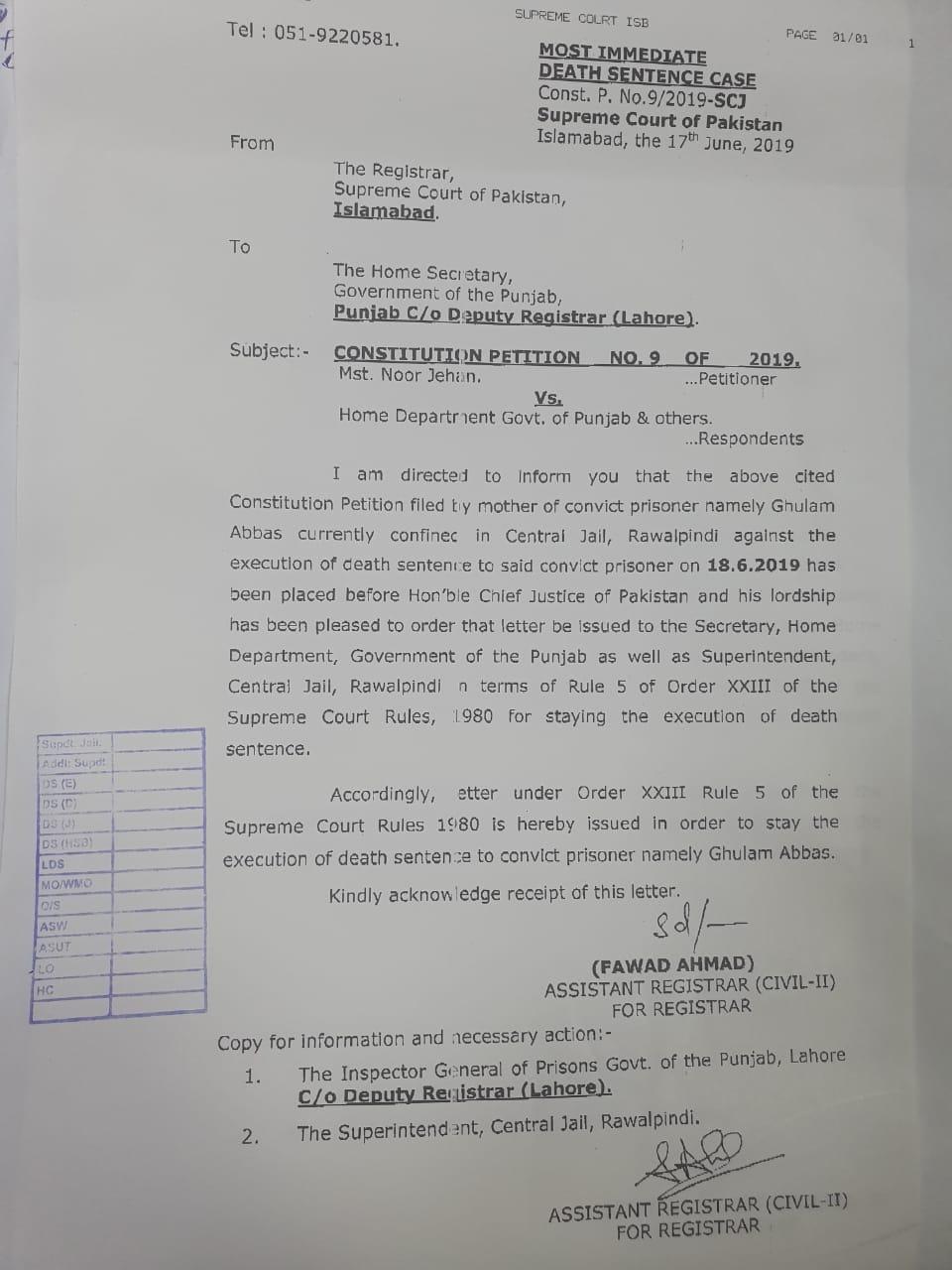 PAKISTAN SUPREME COURT STAYS EXECUTION OF SEVERELY MENTALLY ILL PRISONER
Justice Project Pakistan is relieved to learn that the Hon'ble Chief Justice of Pakistan, Asif Saeed Khosa, on Monday granted a stay on the execution of a prisoner confirmed to be severely ill by a government appointed medical board.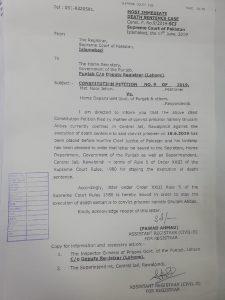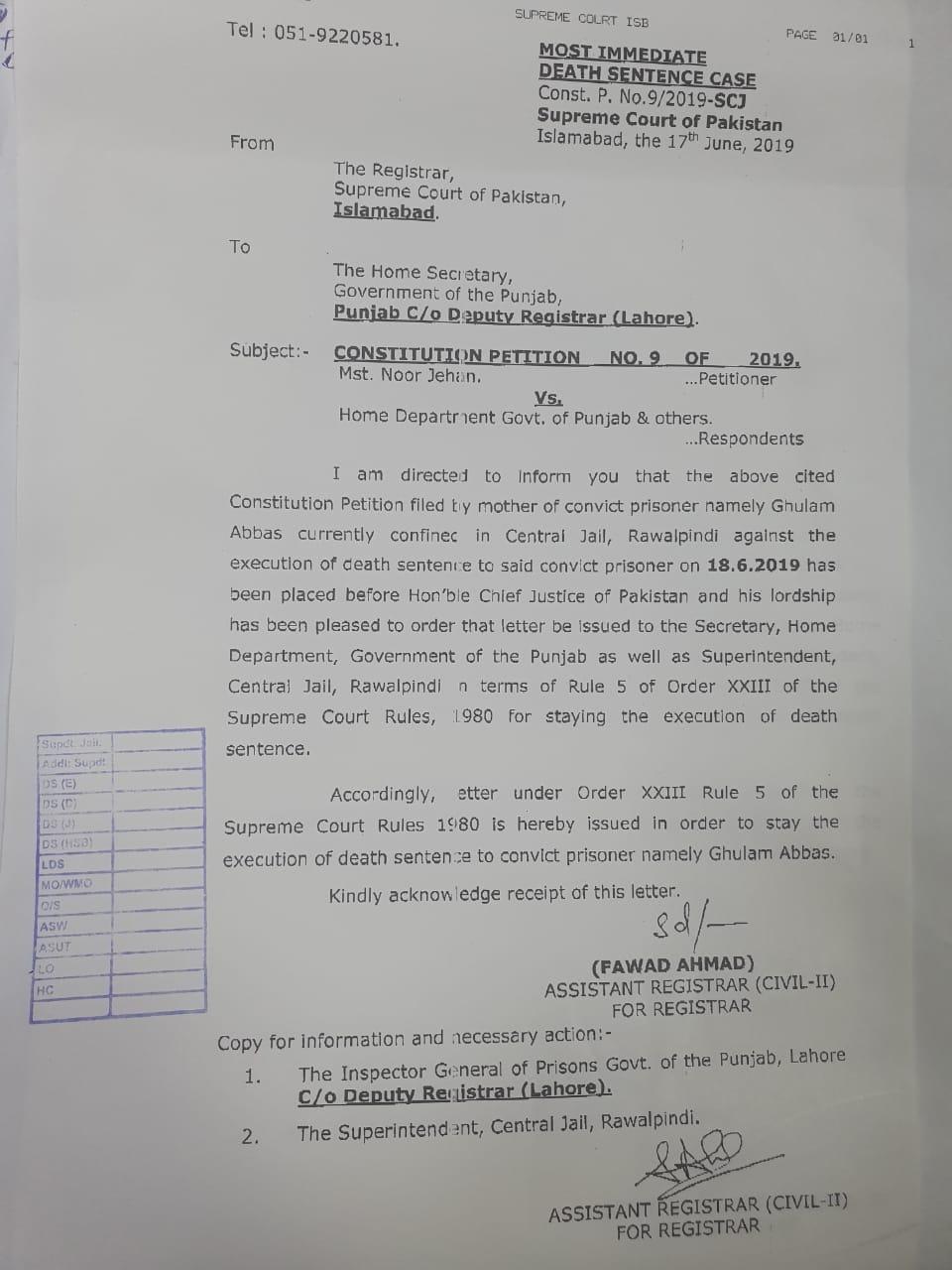 The order was issued on an application filed by Justice Project Pakistan in the Supreme Court after the Punjab Home Department withdrew its permission to allow an independent psychiatrist and two government doctors to visit Adiala Jail and evaluate Ghulam Abbas, who has spent 15 years in prison and was to be hanged on June 18 (today). The move resulted in considerable distress for the family and the widowed mother of Abbas, who is her last surviving son.
It was only due to the untiring efforts of Federal Minister for Human Rights Shireen Mazari, Member of Provincial Assembly Ayesha Chaudhry and Parliamentary Secretary for Law and Justice Maleeka Bokhari that the Punjab government constituted a medical board that evaluated Abbas on Monday morning. According to the doctors, the prisoner shows "strong evidence of epilepsy with reported episodes of fits within the jail". They added that "he has evidence of psychotic illness with hallucinations and behaviour disturbances" and also suffers from a "depressive illness and is on treatment in the jail since April 24, 2019". Moreover, there is an impression of mental retardation and he also suffers from ptosis of the right eye. The doctors recommended an MRI Brain with contrast, EEG and psychological assessment for IQ, adding that Abbas needs further assessment and treatment.
The execution of prisoners who suffer from mental illness or psycho-social disabilities is prohibited under international law. Jail psychiatrists who had been treating Abbas for the past six months, had not reviewed his family history and claimed that he was only suffering from mild depression even when he was prescribed Risperidone, a powerful antipsychotic drug.
A medical report of the condemned prisoner issued by the jail authorities  as late as Friday also stated Abbas was not suffering from any mental illness. A preliminary examination of Abbas' medical records by veteran psychiatrist Dr Malik Hussain Mubbashar, however, revealed a strong probability of psychosis and evidence of epilepsy. This was eventually confirmed by the government-appointed medical board comprising doctors from Benazir Bhutto Hospital, Rawalpindi – namely Prof Dr Asad Tamizuddin Nizami, Assistant Prof Dr Mehmood Ali Khan and Dr Muhammad Azeem Khan.
Abbas' execution, if carried out in haste,  would have been a gross violation of human rights and a cruel and inhuman punishment. It serves no penal purpose to execute the mentally ill and incapacitated. Importantly, it will be an egregious violation of Islamic law.
Imprisoned in 2004, Abbas was sentenced to death on May 31, 2006 by a District and Sessions Court for fatally stabbing a neighbour. According to his family, he suffered from learning disability as a child, which resulted in him remaining completely uneducated and devoid of even basic primary schooling. Abbas' father, who also suffered from mental illness, attempted suicide by slitting his throat but was fortunately saved. He never recovered and died a few months later. Abbas's paternal aunt also suffer from mental illness and his sister has a neurological disorder requiring regular drainage of excess fluid from her brain.
Moreover, Abbas's family claims that he has been suffering from Hepatitis and Tuberculosis (TB), but has yet to receive adequate treatment for it.
Pakistan has signed international treaties, such as the International Covenant on Civil and Political Rights (ICCPR), which prohibit the execution of mentally ill prisoners. The country's compliance with its human rights obligations is contingent upon upholding rights enshrined in these core conventions. During Pakistan's first ever state review review in July 2017, the Human Rights Committee recommended that "No one with serious psychological or mental disabilities is executed or sentenced to death". Islamic jurisprudence also disallows the death penalty for the mentally ill.
Earlier this year, another mentally ill prisoner, Khizar Hayat, passed away at a hospital after spending 16 years on death row. Diagnosed with paranoid schizophrenia, Hayat was prescribed strong antipsychotic medication and spent the last six years of his life alone in the cell of his jail hospital, effectively living in solitary confinement. Four execution warrants were issued against Hayat and it was the timely intervention of the Supreme Court that suspended the black warrant. Khizar, however, did not live very long and eventually died at the hospital on the night of March 21 this year.
Sarah Belal, Executive Director of Justice Project Pakistan, adds: "We are relieved to hear that the Supreme Court has stayed the execution of Abbas after the board of medical experts determined that he was suffering from mental disorders. We are eternally grateful to the incredible women in the government, Federal Minister for Human Rights Shireen Mazari, Member of Provincial Assembly Ayesha Chaudhry and Parliamentary Secretary for Law and Justice Maleeka Bokhari, who intervened and made the stay possible.
"There are, however, many other mentally ill prisoners on death row who may not be as fortunate as Abbas. There is a dire need for systemic change in the manner in which mercy petitions are considered as well as procedure whereby execution warrants ARE ISSUED whereby to ensure that no mentally ill patient is sentenced to death and no family has to go through the traumatic experience of scrambling to save their loved one's life hours before their scheduled execution."