Pakistan's first environment-friendly food festival to be held on 5, 6, 7 April
To discourage single-use plastics and promote sustainable food consumption, WWF-Pakistan is organising the country's first environmental-friendly food festival in the city. The festival, ReFest, aims to reduce food waste and raise awareness about eating food in a responsible way as well as adopting sustainable practices in our daily lives such as reduced use of single-use plastics.


The theme of the festival is to spread awareness about the cause and enjoy the festivals responsibly, as per WWF, festivals were one of the reasons of over littering and because of massive use of single use plastic in food festivals. The idea is to promote the sense of responsibility among citizens that how we can enjoy and be responsible at the same time.
According to the Global Hunger Index 2016 report, Pakistan ranks as a country with a serious hunger level. Approximately 40% of food in the country is wasted which amounts to close to 36 million tons of food waste per year in the country. This level of wastage is alarming when compared to the figure that 43% of the country's citizens remain food insecure with 18% facing severe shortages.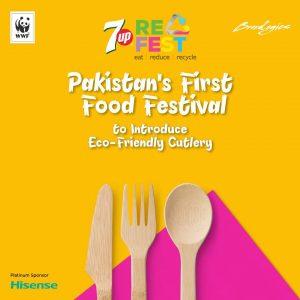 Following the theme, WWF has specially imported eco-friendly cutlery from China which will be used in the festival so that there is no more wastage of single use plastic. Special partnerships with waste management parties have been made to maintain the cleanliness after the festival.
WWF believes that if food is produced more sustainably, distributed fairly and consumed more responsibility, humans and planetary health can be improved. It also emphasizes that by changing consumption patterns and providing access to nutritious food for all, all forms of malnutrition can be tackled as well.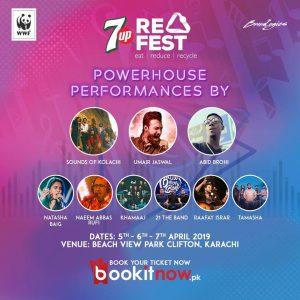 The festival is full is of entertainment and food varieties but in a responsible way, which is going to be huge as we usually don't see the focus here and see pictures circulating after the food festivals on internet with massive littering at the venue.
You'll get to listen your favorite singers there including Sounds of Kolachi, Umair Jaswal, Abid Brohi, Natasha Baig,Naeem Abbas Rufi, 21 The Band, Tamasha, Khamaaj and Raafey Israar.
Don't miss out because Sounds of Kolachi will be performing a very special piece without actual music instruments with tin, plastic bottles and other trash.
Tickets can be bought on ground and also from https://bit.ly/2Fwpdga
This three-day event will be open for general public at Beach View Park, Clifton from Friday, 5 April to Sunday 7 April, 4 pm to 11 pm. Come visit the Beach View Park with your friends and family, to Reset The Way We Fest.